NW Women Rhythm & Blues Christmas Concerts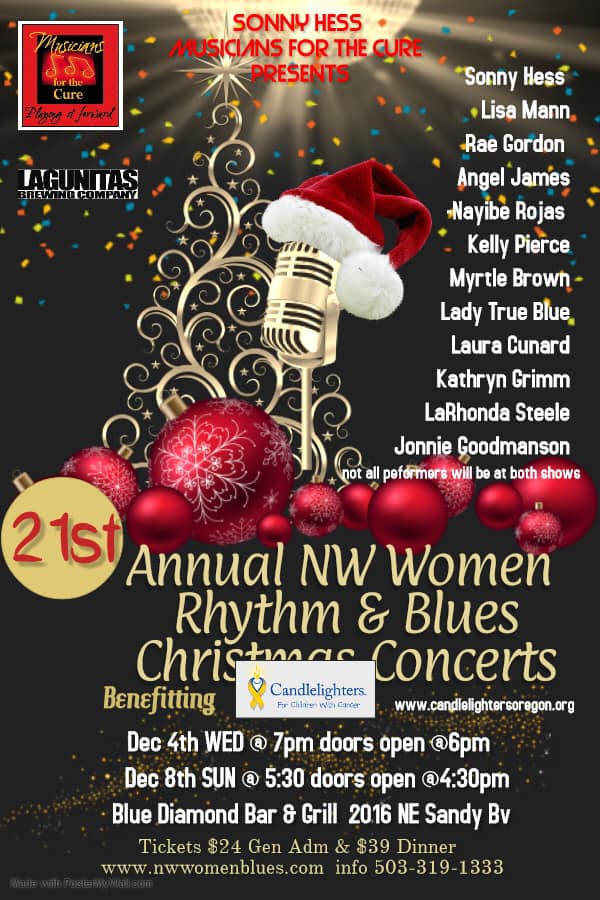 Sonny Hess' Musicians for the Cure presents the 21st annual NW Women Rhythm & Blues Christmas Concerts to be on two nights at The Blue Diamond. Performers this year will include Sonny Hess, Lisa Man, Rae Gordon, Angel Jones, Nayibe Rojas, Kelly Pierce, Myrtle Brown, Lady True Blue, Laura Cunard, Kathrym Grimm, LaRhonda Steele, and Jonnie Goodmanson (not all performers may be at each show). This favorite holiday event is a benefit for The Candlelighters of Oregon, helping families with children fighting cancer.
The Blue Diamond, 2016 NE Sandy Blvd. Wednesday, December 4 at 7:00 pm and Sunday, December 8 at 4:30 pm. Tickets are $24.00 general admission, $39.00 with dinner at nwwomenblues.com.