Paul deLay Band
Live At Notodden '97
Little Village Foundation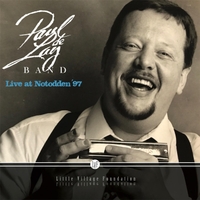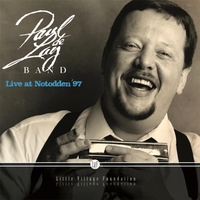 Ten years since his passing and twenty since this recording was made at the renowned Notodden Blues Festival in Norway, hearing the voice and harmonica of Paul deLay was like hearing a long lost friend that brought back fond memories and tears for someone gone way too soon. It wasn't even known until recently that these tracks existed. When hearing a song by Paul's band from a compilation disc covering the festival's history that came out a year following their appearance, the thought was generated "was there more of this performance out there?" As they dug deeper, they discovered this full set was in fact recorded and luckily for deLay fans, harmonica fans and blues fans everywhere it is now available for everyone's enjoyment.
Paul and his crackerjack band, one of the best of his career, are in stellar form, despite Paul's luggage being lost by British Airways for several days that he voices his disappoint with directly from the stage. Guitarist Peter Dammann, John Mazzocco on bass, Louis Pain on keys, Dan Fincher on sax and Mike Klobas on drums display the magic that they possessed together, each delivering masterful performances. And when it came to Paul deLay, there has never been a harmonica player before or since who could create those instantly recognizable sounds from the instrument. He simply brought forth a signature tone that one would never imagine coming out of a harmonica.
Riding on the success of their Ocean Of Tears recording, which the set list includes "What Went Wrong," the band showcases multiple tracks from their upcoming Nice And Strong album, released the following year. Numbers from that album that were featured are "Come On With It," "Love On A Roll," "I'm Gonna Miss Talking To You," "I Know You Got Another Man" and the title track "Nice And Strong." Other classic deLay numbers include "Wealthy Man" and "I Can't Quit You No." The lone cover piece on the set list is a Muddy Waters' song, "Come Home Baby (I Wish You Would)" written around 1954 that Paul jokingly states that he wrote for the legendary bluesman. Now that would've been some child prodigy for sure as Paul would've been two years old at the time.
This outstanding performance by the Paul deLay Band is very welcome. It offers a vision from our past sorely missed and showcases that great musicians last eternally in our memories through the music they delivered to us. Paul deLay is greatly missed, but Live At Notodden '97 is here now to bring a smile to us all.
Total Time: 51:07
Intro / Come On With It / Wealthy Man / Nice And Strong / Paul Talks / Come On Home Baby (I Wish You Would) / Rainy Marie / I Can't Quit You No / What Went Wrong / Say What You Mean / I Know You Got Another Man / I'm Gonna Miss Talking To You / Love On A Roll