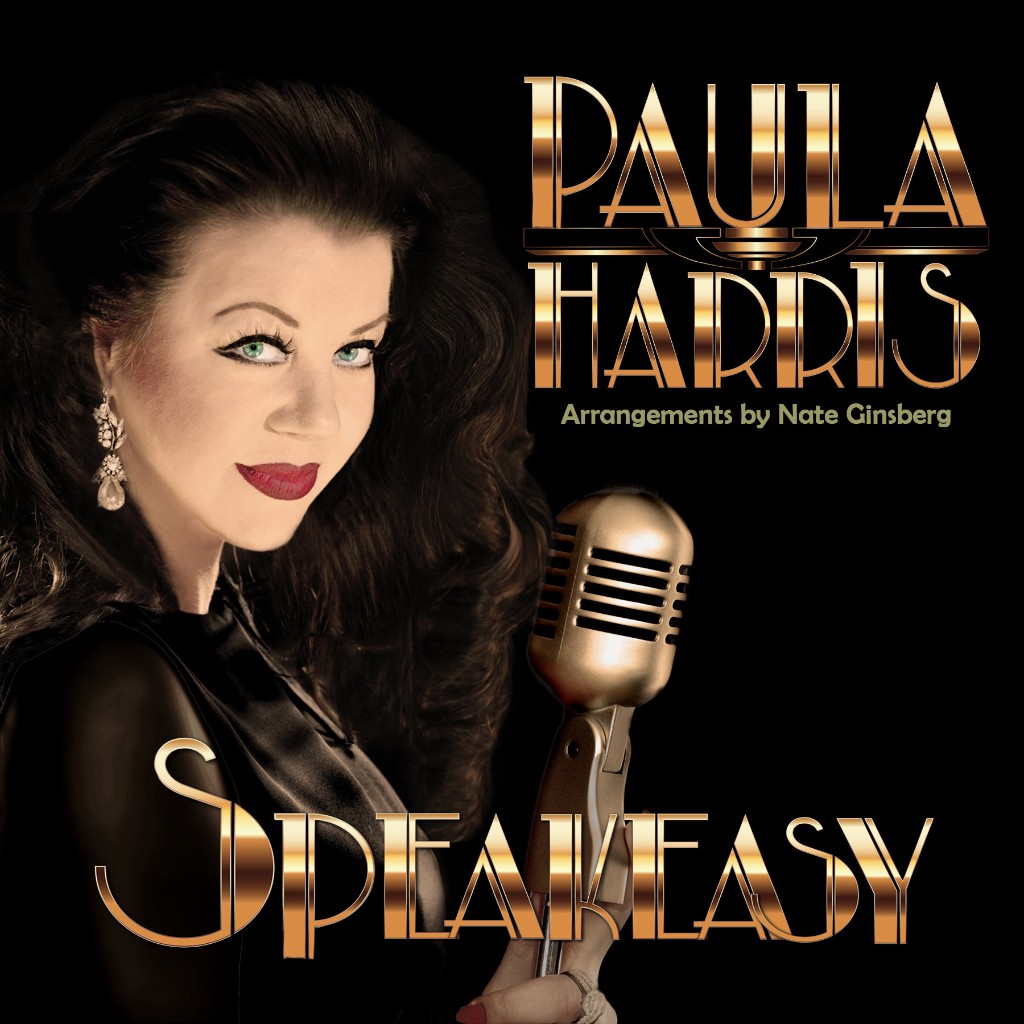 By Greg Johnson
Paula Harris made quite a statement when it came to her 2012 debut, Turning On The Naughty, with its rambunctious and bawdy blues presentation. It was a prime display of what had garnered her a third-place showing at the International Blues Challenge. It has been a few years, but Paula is back with her new disc and it is a completely different direction from that first release. Speakeasy is a very easy-listening acoustic jazzy blues style that her voice is suited to without a doubt. This is the kind of lounge-like feel you would expect from the likes of a Dinah Washington, Billie Holiday or Sarah Vaughn. It's music that you want to turn on in a dark room lit only by the glow of the fireplace and snuggled up to your significant other.
Unlike most blues albums, there is no guitar involved here. The performers are all amongst the top of their game, both blues and jazz musicians. Nate Ginsberg (Herbie Hancock, Dizzy Gillespie, Greg Allman) glides his fingers across the piano giving the basic flavor behind Paula's voice. Derrick "D'Mar" Martin (Little Richard, Anthony Paule) returns from the first album bringing his driving drums, joined by upright bassist Rich Girard (Lou Rawls, Mose Allison) for rhythm perfection. Add to that the Grammy-winning trumpet of Bill Ortiz (Santana) and Paula has assembled a quartet that would be at home in any intimate club anywhere.
The song selections are also a match suited for Paula and the band's delivery. Highlights here have to include her take on Donny Hathaway's "More Than You'll Ever Know" and Thelonius Monk's "Round Midnight" with Ginsberg and Ortiz sensational instrumentation working in tandem. The light-hearted "Is You Is Or Is You Ain't My Baby" from Louis Jordan's songbook is a nice interlude with popping bass licks from Girard and Blues Music Award winner Big Llou Johnson makes an appearance on "Something Wicked." She is also going to pull at your heartstrings on a piece like "Good Morning Heartache" and "Haunted."
Speakeasy is quite a turn-around from her first album, but she proves that she can cover the blues in any direction she sees fit. This is definitely niche that suits her well here. Paula's charmed and mystic voice makes Speakeasy an album that you can fall in love to.
Total Time: 1:08:28
Nothing Good Happens After Midnight /Wanna Hate Myself Tomorrow (For Raising Hell Tonight) / Haunted / Good Morning Heartache / Soul Suckin' Man / Love Is Gonna Do Me In / Mind Of Her Own / Something Wicked / Trouble Maker / Round Midnight / You Don't Look A Day Over Fabulous / Do Me Good / More Than You'll Ever Know / Forever And A Day / Scratches On Your Back / Is You is Or Is You Ain't My Baby / Good Morning Heartache (Radio Edit)
https://cascadebluesassociation.org/wp-content/uploads/2019/02/Paula-Harris-CD-cover.jpg
1024
1024
Greg Johnson
https://cascadebluesassociation.org/wp-content/uploads/2020/10/CBA_Logo_top_main.png
Greg Johnson
2019-02-28 05:10:16
2019-03-28 11:30:45
Paula Harris – Speakeasy (Self Produced)