Peter Ward
Blues On My Shoulders
Gandy Dancer Records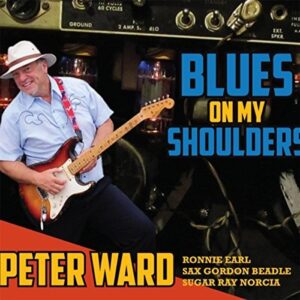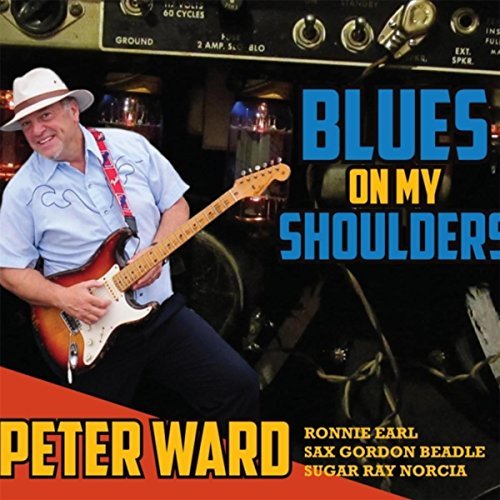 Originally from Maine, Peter Ward is no stranger to the blues scene in the musician rich Northeastern corner of the United States. Having lived in Boston for many years he has filled in for touring musicians including the likes of Jimmy Rogers, Eddie "Cleanhead" Vinson and Lowell Fulson and toured as part of The Legendary Blues Band that consisted of former members of the Muddy Waters band. His guitar playing is above reproach; he can hold his own easily amongst the best. It's filled with grooving bluesy rhythms that often have jazz inflections.
Blues On My Shoulders is a long overdue debut release from Peter Ward. It contains reflections of the guitarists and musicians that have influenced his career with tributes to several. The songs are all his original material, save for the lone take on Jim Jackson's "Kansas City Blues," performed in the style of Robert Nighthawk. Those that he also takes note of in his compositions in Robert Lockwood Jr and Lonnie Johnson in "Collaborate," Chuck Berry in "Which Hazel" and Willie "Big Eyes" Smith in "Drummin' Willie." He lists a long line of musicians that had impact on his career and playing in the latter song, too.
Peter Ward brought together a stellar cast of friends to help him create this album. Sugar Ray Norcia and The Bluetones are all on hand for the majority of the disc, Norcia on harmonica and taking the lead vocal on "Collaborate," "Monster" Mike Welch on guitar, Anthony Geraci on keys, Neil Gouvin on drums, and Peter's brother Michael "Mudcat" Ward on bass. Other notable artists include his former roommate Ronnie Earl on guitar and "Sax" Gordon Beadle on saxophone.
The musicianship and songwriting on Blues On My Shoulders is simply outstanding. It is a nice mood setting collection of blues done right. For guitar lovers or for anybody who loves good music, Peter Ward has created a recording that will fill the bill.
Total Time: 50:18
She Took It All / Which Hazel / Blues On My Shoulders / Collaborate / Shiprock / What Can I Do To You / It's On Me / Southpaw / A Little More / On The Ropes / Colletta / Kansas City Blues / Drummin' Willie