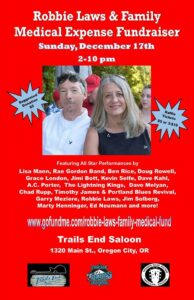 Robbie Laws is a widely recognized Pacific Northwest musician and guitar instructor from Portland Oregon.  Robbie has been, and continues to be, a pillar in the blues community.  He has given back to the blues community for over 20 years.  Now it is time for us to help him.
Robbie's wife Jerri has been ill for the past few years due to complications from an autoimmune disorder which has left her unable to work outside of the home. Medical bills have been piling up causing a great deal of hardship and stress. Jerri has gone through an extensive and costly series of tests and treatments with high insurance deductibles and out of pocket expenses maxed out over the past two years, while her health continued to decline.
The good news is that Jerri is now beginning to turn the corner and is getting stronger through her efforts of working with a very good naturopath doctor.   She is finally starting to feel better, but it's going to take some time. The naturopath is not covered by insurance and has been a high out of pocket expense as well, but it's worth it because Jerri is finally responding to a positive treatment plan. She is determined and inspired to keep going to build her health back up and have quality of life again.
Robbie has been working seven days a week doing his best to get the back medical bills paid off and could really use your help and support so that Jerri can continue focusing on her dedicated journey back to health.
As a main force on the local music scene for so many years, Robbie and Jerri have many friends. And they're coming out in force to help out. A benefit concert will be held at The Trails End Saloon on Sunday, December 17 from 2:00 until 10:00 pm. Scheduled to appear at the event will be a virtual who's who of Portland's best: Lisa Mann, Rae Gordon Band, Ben Rice, Doug Rowell, Grace London, Jimi Bott, Kevin Selfe, Dave Kahl, A.C. Porter, The Lightning Kings, Dave Melyan, Chad Rupp, Timothy James & Portland Blues Revival, Garry Meziere, Robbie Laws, Jim Solberg, Marty Henninger, Ed Neumann and more!
The Trails End Saloon is located at 1320 Main Street in downtown Oregon City. Admission is a suggested donation of $5.00. There will be a raffle with tickets for $5.00 each or three for $10.00. If you're unable to attend and would still like to help Robbie and Jerri, you can make a personal donation by visiting http://www.gofundme.com/robbie-laws-family-medical-fund.
This event is sponsored by the Trails End Saloon, Cascade Blues Association, Centaur Guitar and Old Town Music.