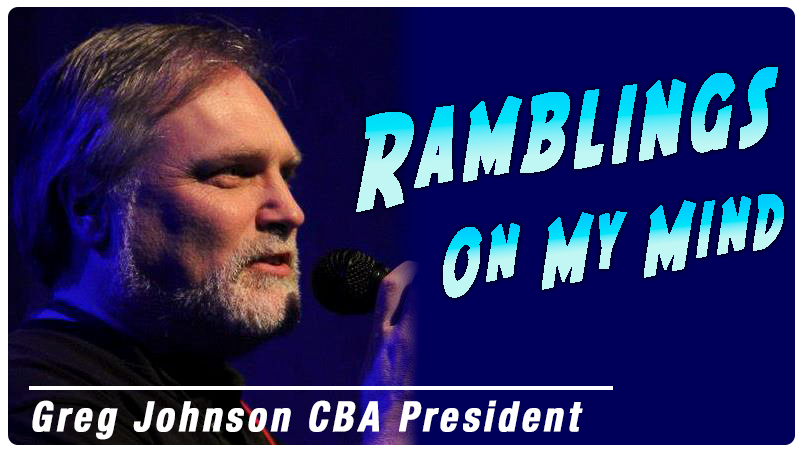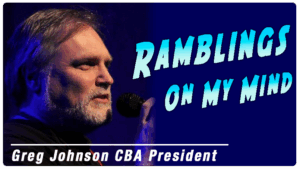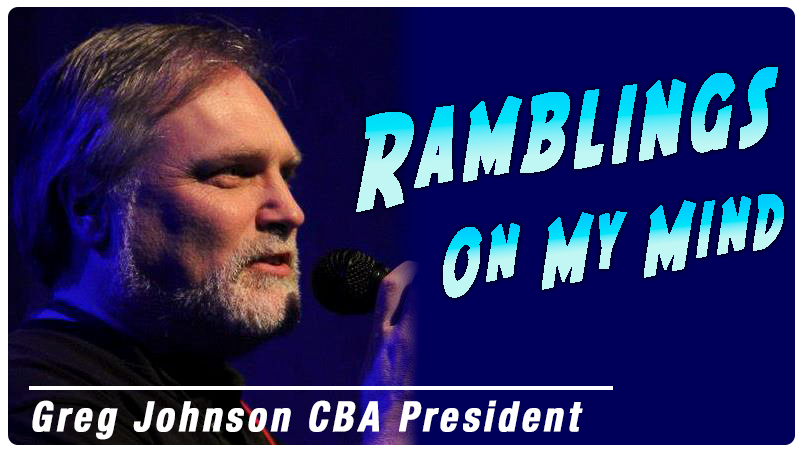 Greg Johnson, CBA President
2018 is starting off on a change of pace. For me at least. As I write this, the International Blues Challenge will be taking place this week. And after fifteen straight years volunteering to work the event, plus seven Blues Music Awards during those same years (twenty-two trips between the two as a volunteer), I have decided not to travel to Memphis this year. I love the event and have so many friends that I will miss seeing, and of course being there to support our representatives. But I have spent pretty much all of my vacation time in Tennessee over those years and because I have placed myself in so many positions during the event I was spending less and less time with friends and if the acts we sent were not in my venue I missed seeing them compete.
This past year Cherie and I have had the chance to travel to San Francisco and Austin. It opened my eyes that there are a lot of other places and events that I would like to see. I have always dreamed of going to the Chicago Blues Festival for example, but having used my vacation time in Memphis there was no way that I would be able to do much of anything else. It doesn't mean that I will never return to Memphis, it's just time to go other places, too.
I do highly recommend that you go to the International Blues Challenge if you have the opportunity. It is simply a blues dream to see new acts that will be the future of the genre. It's a smorgasbord of activity and no way is it possible for anybody to experience it all in one trip.
On another much sadder note, yet another favorite venue has decided to close. It may have been a little more of a trip to get out to The Birk, but it was one of the most welcoming, family-like atmospheres of any venue I had ever been to anywhere, often open to all ages. Mike and Wendy Ingraham literally opened their home to musicians both locally and travelling. In fact, they had become a go to destination for most every act who toured through the area. After just one visit it was a place they immediately wanted to return. Case in point, Sugaray Rayford's comments on Facebook following his hearing of the venue's closing. He would make a point of starting or ending his tours there and he'd spend extra days just soaking in the calm and beautiful landscape of the Coastal Mountain range and the comforts Mike and Wendy offered. Sugaray called it his most favorite place of anywhere in the world. And these were not just words being posted on social media, he had told me directly many times these exact same sentiments.
Over the past couple years, The Birk became a venue that hosted numerous touring shows. It seemed that they were doing more than any of the venues in Portland, despite the hour-plus drive through winding, forested roads to get there. The last few months that they were open, they were hosting five and more shows a month. And they were only open for the most part on weekends, with an occasional Monday or Thursday thrown in. Some of the acts this past summer alone included the likes of The Andy T Band, John Nemeth, Jason Ricci, Anni Piper, Alastair Greene, Curtis Salgado, Seth Walker, Danielle Nicole, Jimmy Thackery, JJ Thames, The Delgado Brothers, Crooked Eye Tommy, Nick Moss, Matt Scofield and on and on.
For Cherie and myself, it is even more personal. We had always felt that we were welcome at any time and Mike and Wendy became very good friends that we looked forward to seeing as often as we could. We could even bring our dog, as did friends Mike and Laura Osborn, too. We held our engagement party at The Birk, with Cherie working with Mike to bring in the Duffy Bishop Band for a sold out afternoon filled with friends and much love. And we were already in discussion setting up arrangements to hold our upcoming wedding there in August. Unfortunately we will have to hold it elsewhere now, much to the sadness of not only us, but Mike and Wendy, too. We'll miss The Birk, and Mike and Wendy even more, but we know that we'll be seeing them at shows around town.
Who will pick up the void that is now open to touring acts? There are a small handful of venues in Portland that offer a spot for them at times, but not as it had once been. And like many cities around the country live venues are starting to close at a more rapid rate leaving not only touring acts but local musicians looking for places to play. We know that The Birk was a trek to make at certain times of the year or in inclement weather. But we have seen other venues come and go because people were reluctant just to drive to certain areas of town or maybe over the hill to the West Side. We need to support all of these locations that are offering places for us to hear and enjoy the music we love. New places will come and others will go. But get out there. Keep them in business. Even if you have to go a little bit farther, it's worth it in the overall scheme of what we desire.
https://cascadebluesassociation.org/wp-content/uploads/2017/05/Ramblings_2017.png
453
805
Wendy Schumer
https://cascadebluesassociation.org/wp-content/uploads/2020/10/CBA_Logo_top_main.png
Wendy Schumer
2018-01-21 14:01:01
2018-01-25 19:08:14
Ramblings On My Mind – February 2018