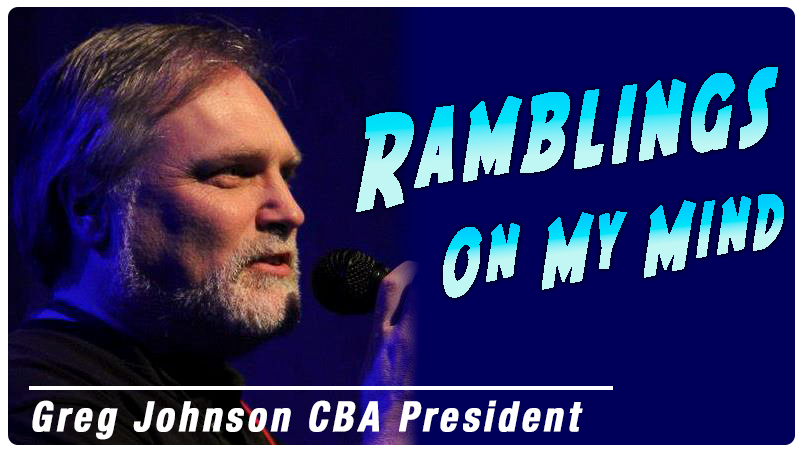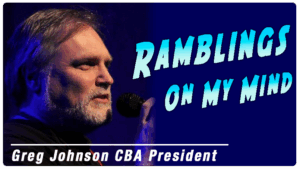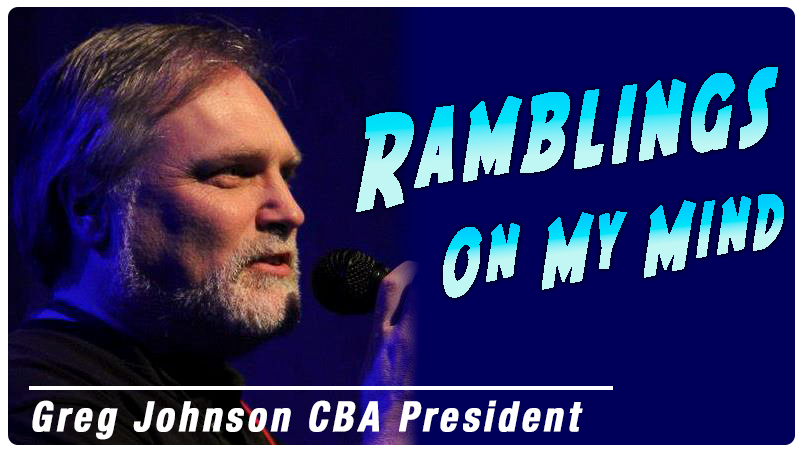 Greg Johnson, CBA President
Every year in December I devote my column to the blues recordings that have stood out to me overall during the last year. One thing it always shows is that my taste is not founded in just one aspect or direction of blues music. It's all over the map. These ten recordings were highlights for me, but don't ask me to place them in any certain order because they can all flip flop at any given time. But they are discs that held my attention and their place on my player for significant time and still do.
Curtis Salgado & Alan Hager – Rough Cut – living in Portland we already knew that Curtis and Alan have the magic touch that flows through their traditional styles with ease and perfection. From the first listen of this disc I knew right away that it was destined to be one of the year's best.
Ben Rice – Wish the World Away – I've said it before, Ben Rice frightens me. I mean how can somebody come across sounding better every time out. And I don't mean every recording, but every time I see him. And I see him a lot. Wish The World Away is an acoustic masterpiece and if he wasn't already making his name known globally with his performances, the songwriting and playing here should do the trick. Amazing is too mild a description.
Michael Osborn – Hanging On – I have always loved Michael Osborn's recordings, but this one is something special. Some of the finest guitar playing of his career and the songwriting and collaborations make this album close to perfect. Well it just may be perfect. Brilliant blues by an unsung master.
Paul Oscher – Cool Cat –  Paul Oscher has a phenomenal background as we're well aware. A multi-instrumentalist, a strong songwriter and superb story-teller, he is the full package whether traditional blues and as seen here a little jazz. Wish he'd release albums more often than he does.
Cedric Burnside – Benton County Relic – Another prime example of how Cedric Burnside is perhaps the finest purveyor of the North Mississippi Hill Country sound. It's in his blood and this fine recording shows his legacy.
Bettye LaVette – Things Have Changed – This was a brave outing by Bettye LaVette, bringing the music of Bob Dylan into a completely soulful and gritty collection filled with sass and sex appeal.
Ry Cooder – The Prodigal Son – after a six year absence from recording, Ry Cooder is back and returning to his natural place as a first-rate historian of traditional roots music while still offering a piece of his own social opinions. Oh, and just in case you've forgotten, Ry Cooder is one of the finest guitar players ever . . . ever!! And he throws down some mean mandolin, banjo, bass and keys, too, for good measure.
Marcus King Band – Carolina Confessions – Look out, he's just 22 and is already the full package as a musician, vocalist and songwriter. A surprise recording where he follows in the footsteps of Derek Trucks and Gary Clark Jr.
Johnny Rawls – I'm Still Around – Okay, anybody who follows my top ten every year already knows that Johnny Rawls is a regular. And if you saw him at the Waterfront you know that he is one of the finest soul voices out there and every one of his discs is filled with his smooth and crafty singing and songwriting.
Anthony Geraci – Why Did You Have To Go – One of the most in demand keyboard players in the blues world, Anthony Geraci proves once again that he can put together highly listenable music of his own. And the collection of musicians backing him is like a who's who of the modern blues scene, from Sugaray Rayford to Kid Ramos to Jimi Bott to Ronnie Earl, and so many more.
If you haven't heard these discs, I highly recommend every one of them. You can't go wrong.
https://cascadebluesassociation.org/wp-content/uploads/2017/05/Ramblings_2017.png
453
805
Greg Johnson
https://cascadebluesassociation.org/wp-content/uploads/2020/10/CBA_Logo_top_main.png
Greg Johnson
2018-11-20 23:36:06
2020-06-27 15:12:48
Ramblings On My Mind – December 2018