Ramblings On My Mind – December 2020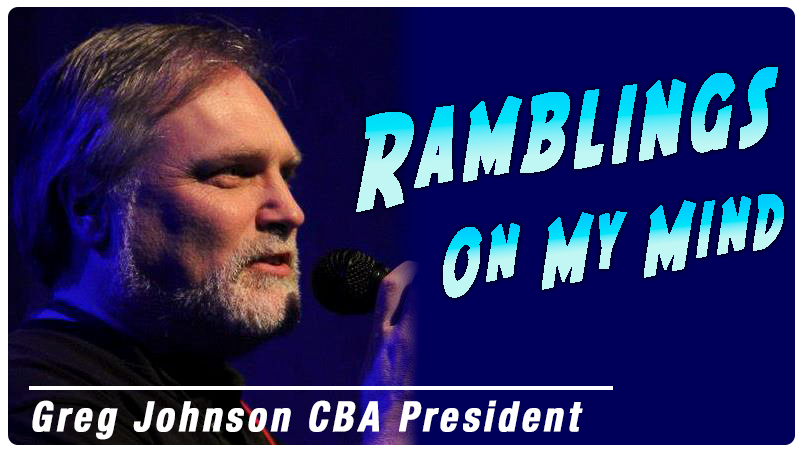 Ramblings On My Mind – December 2020
Greg Johnson, Cascade Blues Association President 
Following a tradition that I have done for several years now, my column for December will give shout out to ten albums that have caught my attention the most over the past year. Favorites that found quite a bit of listening playtime. Not necessarily the top albums for everyone, but they are definitely for me. And I am sure that there are a few that will be surprises for people who may be unfamiliar with the artists listed; but that should give you reason to check them out. As always, these are in no particular order of preference. Favorites can change day to day. But each of these have staying power for me. 
Richard Ray Farrell – Three Pints of Gin (Blue Beet Records): Now living in Spain, Richard Ray Farrell is an artist that never fails to impress me, whether playing solo or with a band. On this disc it's just himself with a guitar and rack harmonica. The playing is impeccable and the lyrics as usual are memorable, fun and well thought out. Always a pleasure to hear each release he comes out with. 
Jimmy Johnson – Every Day of Your Life (Delmark): One of Chicago's elder statesmen of the blues.Jimmy Johnson is now in his 90s, but age has not slowed him down any. His first album for Delmark in nearly 40 years and it is pure Chicago blues at its best with terrific guitar work from a master. 
Robert Cray Band – That's What I Heard (Nozzle Records/Thirty Tigers): Is it possible that Cray just seems to be a fountain of youth with every new release? There is no let down from one recording to the next; rather it seems a jump ahead every time. One of the absolute best in soulful blues and guitar work found another outstanding disc to add to his already deeply impressive catalog. 
Lloyd Jones – Tennessee Run (VizzTone): Hardly a surprise here. Lloyd Jones has always been one of my top go-to musicians locally and beyond. His recordings have always been fantastic, but Tennessee Run brought out the big guns and commanded attention from those who may have overlooked this genius. Recorded in Nashville under the eye of Kevin McKendree who has helmed the production of some of the business' best-known artists, bringing a collection of Music City's finest Lloyd's exceptionable songwriting hit the mark on all counts. Soulful, at times humorous, but always delivered with the brilliance Lloyd has within. A winner by all means. 
Jody Carroll – World of Man Anthology (Thahaylia Music): Three discs released simultaneously with every track a master work. And it was all recorded in less than a month-and-a-half. You cannot look past what an accomplishment Jody has put together, this is Americana/roots music at its very best. Available only through Bandcamp, it is something that should be sought out and heard, his playing and songwriting may have never been better. And with his previous work that is saying a lot. 
Gerald McClendon – Can't Nobody Stop Me Now (Delta Roots Records): In a city filled with so much blues and soul music as Chicago is, there will be artists that may not receive the attention outside that should be reaped upon them. Gerald McClendon is such a musician. Known in the city as the "Soulkeeper," Gerald is a living epitome of a R&B/soul vocalist with deep bluesy roots, who thrives on delivering perfect examples of the themes behind the songs we all love. Twist Turner's production brings out the voice that is pure and smooth. 
Franck L. Goldwasser – Sweet Little Black Spider (SlimByrd Records): With a guitarist and songwriter of the caliber of Franck Goldwasser (aka Paris Slim) you know that the music is going to be straight-ahead blues and nothing else. When you add Kid Andersen and June Core to the mix, you have the makings of magic as soon as they start to play. Contemporary blues with a feel for the past that harkens to the very finest of the West Coast masters. As Kid Andersen states, "This shit is real." 
John Bunzow – Concrete Paradise (Self Released): Here is another example of Americana/roots songwriting that is a listening pleasure from the very first note to the end, demanding repeated plays. Everything about this album rings to perfection. As I claimed when released, this is one of those discs that will make you go "wow!" And even several months later, it's still making me say wow! 
Johnny Burgin – No Border Blues (Delmark): The most remarkable feature of this recording is the fact that many people do not think of blues outside of America or Europe for the most part. Johnny Burgin went to Japan and gathered some of that country's most recognized blues artists, who are pretty much unheard of here in the States,proving that the music is universal. Upon first listen you may believe this is a collection Chicago-based musicians, that may be due to Johnny's exemplar guitar work, but it is so much more than just that. These players have the goods down pat and it shows. 
Linsey Alexander – Live at Rosa's (Delmark): If you want to feel like you're sitting in a bustling Chicago blues club listening to one of the city's absolute masters, reach for this disc. It has that feel because it is exactly that. Linsey Alexander has been plying his work in Chicago for many a year, and like McClendon mentioned earlier, is sadly under-recognized outside of town. It's authentic, if ever there was somebody to be referred to as "the Real deal" he is much deserved of that label. Powerful and enlightening, a live performance that shines with each listen. 
So many fine releases come out every year. Always more than can be accredited for on a small list. These are but a few that stood out for me, but it's hard not to mention stellar recordings from others like Ben Rice & RB Stone, John Nemeth, Shemekia Copeland, Anni Piper, Anthony Geraci, The Proven Ones . . .  the list is endless. Especially within a year of lockdown where listening to great blues heldmore than just a casual perspective. I hope that this list will have you reaching out to these artists if you haven't heard their music yet. You cannot go wrong with any of them. 
https://cascadebluesassociation.org/wp-content/uploads/2017/05/Ramblings_2017.png
453
805
Shelley Garrett
https://cascadebluesassociation.org/wp-content/uploads/2020/10/CBA_Logo_top_main.png
Shelley Garrett
2020-12-01 14:25:10
2020-12-01 14:29:48
Ramblings On My Mind – December 2020