Ramblings On My Mind – Greg Johnson, CBA President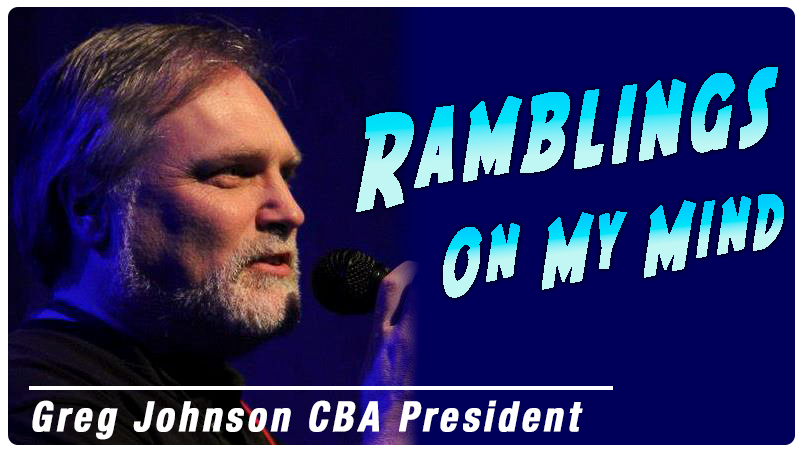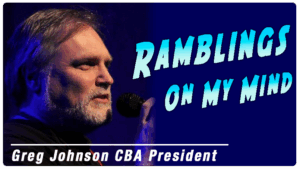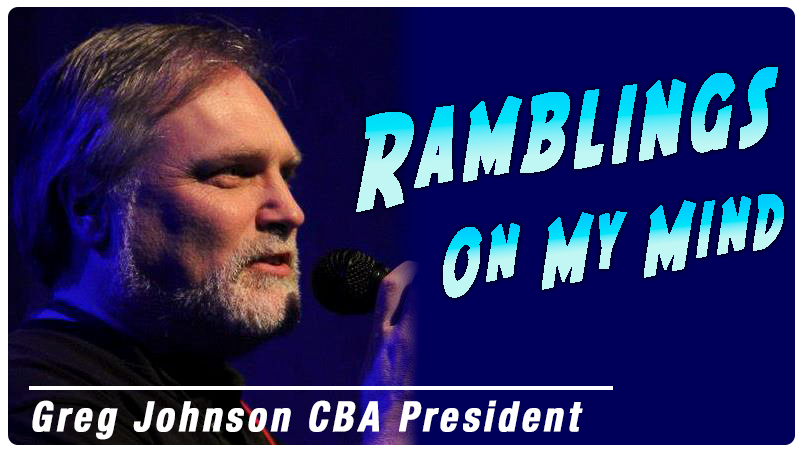 It is getting near Muddy Awards time again, and as with last year, we have sent out invites to around fifty members to be a part of the initial nominating committee. Some of the people were on this list last year, but many were not, as we want this to be open for anyone in our organization to have a chance at some point to be a part of the process.
Doing this streamlines the necessary work. It saves time and omits those who attempt to overload the ballot with their friends and/or fellow band members. From those who are nominated we take the top three (unless ties occur) and place them on the final ballot, which is sent to all members. You still have the chance to vote for somebody not on the ballot as there is also a line included for write-in choices.
This is not an unusual process. It is the same method The Blues Foundation uses for its annual Blues Music Awards, and other award groups send out a pre-selected choice of nominees. We're still keeping everything in the hands of our members though, and the nominators are not just media, venue, or musicians — they are from all groups of our members.
So keep your eyes open in September as you should receive an email to cast your votes for the final ballot. Remember, if you do a write-in on the ballot, events and releases had to be dated from September 1, 2018 to August 31, 2019. We will check to verify if choices are valid.
Doing it online also ensures that members can only vote once per their registered email. If you do not receive the ballot and you're a current member, let us know.
On another note, something that we have heard over the years from musicians not wanting to join is, "What has the CBA done for me?" I guess part of that is answered already if they're not members. The other part would be, "What is it that you expect from us?"
Using our monthly calendar is not required for you to be a member. Included in the BluesNotes and online many people use this as a go-to point to find out what is happening around town on any given night. The method to enter your information online has been improved to a more user-friendly entry system, including drop-down menus for venues and type of event you're holding.
The BluesNotes also offers a much-overlooked resource with our Bandstand. We were the first blues society newsletter to offer this, and as far as I know may still be the only one. You can write your own promotion, thank you messages, or what's going on in a couple paragraphs at absolutely no charge. We do have people who use it from time to time (Dave Kahl, Lloyd Jones, Ashbolt Stewart, etc), but far too many are not taking advantage of this unique service.
Recently we have created a Directory for the paper and website. Free to members to submit three lines that appear every month with your contact information, or for an extra $25.00 a month you can add a line or include your photo or logo. This has been beneficial in one instance already where a local promoter contacted us stating that they wanted to put together an event and use only acts that were affiliated with us on the directory. In fact, it was the directory that led them to us. But you do have to be a member to be included.
There is another outlet that is used quite a bit, and that is through social media with our Facebook page. Anybody can create a page online, but we have nearly 5000 members on our page; and many more that have not joined who read it. We allow anybody to post their events on our page; something that many societies do not permit without pre-approving the content. We do not remove entries either, unless it is political or non-blues related. It is funny to see how many of the same people claiming that the CBA doesn't do anything for them who use our page regularly.
These are just a number of ways that you can promote yourself with the CBA. If you have further ideas let us know. But remember, we are not a paid staff. We are volunteers giving our time and efforts. We do this because we love the music and want to help you, and providing that is all the compensation we need.
https://cascadebluesassociation.org/wp-content/uploads/2017/05/Ramblings_2017.png
453
805
Greg Johnson
https://cascadebluesassociation.org/wp-content/uploads/2020/10/CBA_Logo_top_main.png
Greg Johnson
2019-08-28 18:37:52
2019-08-28 13:54:54
Ramblings On My Mind – Greg Johnson, CBA President