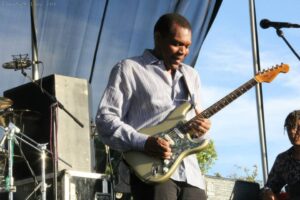 Robert Cray has created a sound that rises from American roots and arrives today both fresh and familiar. He has been bridging the lines between blues, soul and R&B for the past four decades, with five Grammy wins, over twenty acclaimed albums and has played bars, concert halls, festivals and arenas around the world. Cray has been inducted into the Blues Hall of Fame and for his most current release, Robert Cray & Hi Rhythm, he traveled to Memphis to work with producer Steve Jordan and a gathering of the musicians who helped shape the sound of classic soul.
Robert Cray and his band will be returning to Oregon where he first broke out on the blues scene for a concert in Salem at the Elsinore Theatre, 170 High Street SE on Tuesday, December 5. Tickets for this all ages event can be purchased at TicketsWest.com, ranging from $25.00 to $55.00. Special exclusive tickets packages are also available: the Premium package for $123.00 includes seating in the first ten rows, a T-shirt and an 8X10 autographed photograph; for $193.00 the Ultimate package offers seating in the first three rows, a T-shirt, autographed 8X10 photo, a commemorative laminate and a personal photo op with Robert Cray.
Robert Cray will also be appearing at The Rogue Theatre in Grants Pass on Wednesday,December 6. Check with the venue for ticket information.