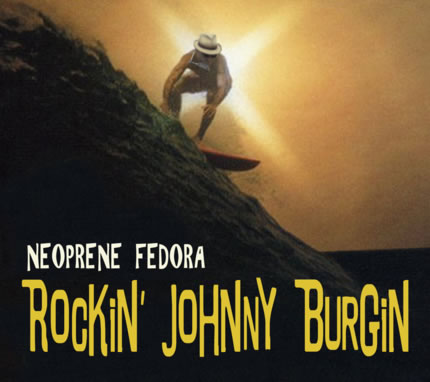 Neoprene Fedora
West Tone Records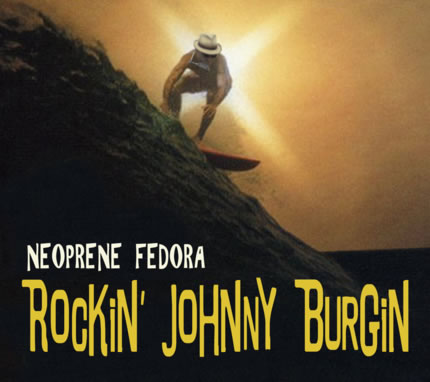 After nearly three decades performing in Chicago as one of the city's best bluesmen, Rockin' Johnny Burgin made the move to the West Coast, where as he explains in song that "there is more blues goin' on in Northern California" than back home in the city known for the blues. It's hard to argue when you look at the cast of characters he's brought with him into Greaseland Studio. It's like a virtual phone book for the blues in the region: Kid Andersen, Bob Welsh, Johnny Cat Soubrand, June Core, Nancy Wright, Alabama Mike, Aki Kumar and on and on. (Gee, is anybody not recording at Greaseland these days? Kid Andersen has the magic touch on practically everything nowadays. And that is a good thing!)
But rest assured, Burgin leads the direction behind this incredible disc — Neoprene Fedora. And as you might expect looking at the cover art depicting a surfer wearing a fedora, there is a lot of variation in the musical approaches, all featuring stunning guitar playing from Burgin. Yes, he includes some surf in the opening instrumental. There is also a taste of zydeco, funkiness, and the pure Chicago styled sound that you'd naturally expect out of somebody who helped craft the city's modern sound for so long.,
Sixteen tracks overall, with eleven penned by Burgin. The five other songs include one by Aki Kumar ("Self Made Man"), a very bluesy slow rendition of the Elvis Presley hit "(Let Me Be You) Teddy Bear," Papa John Creach's band Zulu's number"Give Me An Hour In Your Garden," one-time Howlin' Wolf bassist Andrew McMahon's "Guitar King" and Big Joe Williams "My Baby's Gone."  There are deeply personal songs of a broken marriage and a new focus on life that led him to the West Coast, which is put into his perspective on the closing piece "Goodbye Chicago." He is grateful for all of his time spent in the city, especially for the upbringing he had playing with heroes like Pinetop Perkins, Hubert Sumlin, Eddie Shaw, Sam Lay, and numerous others that he names. But he states that "on the North Side you'll always be a white boy," so he is heading out West to the coast.
The guitar playing is pure Johnny Burgin, always spectacular. He may not be in Chicago any longer, but he's certainly found a new home in California. Neoprene Fedora is off the charts good and with well over an hour's worth of tunes it is a great disc to spin hours on end. Check it out!
Total Time: 1:17:41
Neoprene Fedora / Guitar King / Won't Get Married Again / Give Me An Hour In Your Garden / Kinda Wild Woman / Please Tell Me / Out Time Is Short / (Let Me Be Your) Teddy Bear / Smoke And Mirrors / I Did The Best I Could / Self Made Man / My Baby's Gone / You Gotta Work Fast / I Ain't Gonna Be A Working Man No More / My Life's Enough For Me / Goodbye Chicago
https://cascadebluesassociation.org/wp-content/uploads/2017/09/Rockin-Johnny-Burgin-CD-cover.jpg
382
430
Wendy Schumer
https://cascadebluesassociation.org/wp-content/uploads/2020/06/CBA_Logo-header2-300x66.png
Wendy Schumer
2017-09-24 19:00:56
2019-10-07 18:42:01
Rockin' Johnny Burgin