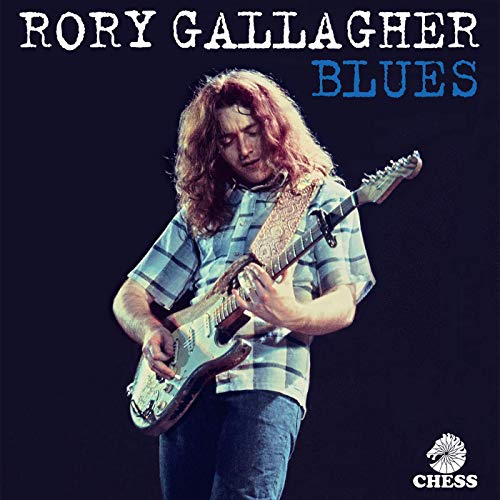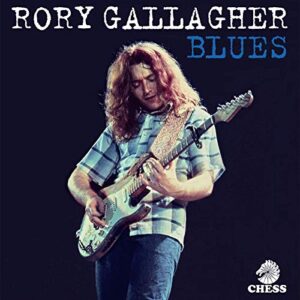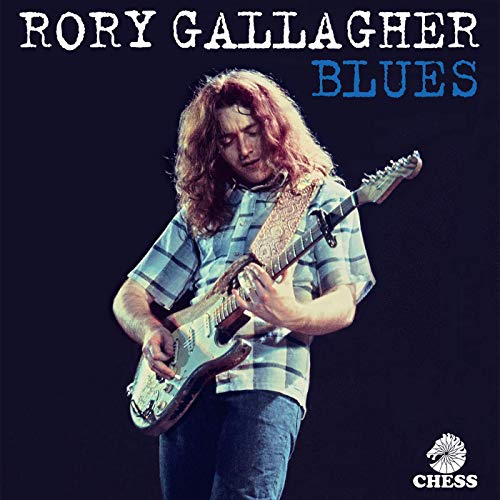 Blues
Chess / UMC
Review by Greg Johnson
Celebrating what would have been the fiftieth anniversary of the start of his solo career, Blues, the latest release from the archives of Rory Gallagher is a treasure trove of amazing guitar work. A bona fide legend in Ireland and arguably one of the greatest blues rockers to ever strap a plank with strings over his shoulder, this is an essential addition to any followers of Rory Gallagher's career and music. Released in three formats, as a single CD with 16 tracks, a two-LP package on blue vinyl with 15 numbers, or as a triple-disc CD package containing 36 selections including an interview at the end. Do yourself a favor and buy the three-disc set — you're going to want all of these songs.
Though the numbers on the recordings are mostly familiar, the majority are basically new as they're previously unreleased. They include Gallagher favorites and gems such as "A Million Miles Away," "Bullfrog Blues," "Pistol Slapper Blues," "As The Crow Flies," and so many more.  The three-disc collection is divided into three categories: Electric, Acoustic and Live. There are outtakes from his albums, collaborations with people like Chris Barber, Jack Bruce, Muddy Waters and Albert King, and rare radio broadcasts.
Rory Gallagher left this world way too young, but had already made his mark on the world of blues rock as one of the best guitarists of his time. This is a masterfully compiled collection that leaves us always to wonder just how much more he could've accomplished.
Total Time: 3:06:51
Don't Start Me Talkin' / Nothin' But The Devil / Tore Down / Off The Handle / I Could've Had Religion / As The Crow Flies / A Million Miles Away / Should've Learnt My Lesson / Leaving Town Blues / Drop Down Baby / I'm Ready / Bullfrog Blues / Who's That Coming / Should've Learnt My Lesson / Prison Blues / Secret Agent / Blow Wind Blow / Bankers Blues / Whole Lot Of People / Loanshark Blues / Pistol Slapper Blues / Can't Be Satisfied / Want Ad Blues / Walkin' Blues / When My Baby She Left Me / Nothin' But The Devil / What In The World / Messin' With The Kid / Tore Down / Garbage Man Blues / All Around Man / Born Under A Bad Sign / You Upset Me / Comin' Home Baby / Rory Talking Blues
https://cascadebluesassociation.org/wp-content/uploads/2019/06/Rory-Gallagher-CD-cover-1.jpg
500
500
Greg Johnson
https://cascadebluesassociation.org/wp-content/uploads/2020/06/CBA_Logo-header2-300x66.png
Greg Johnson
2019-06-28 05:47:09
2019-07-01 09:53:08
Rory Gallagher