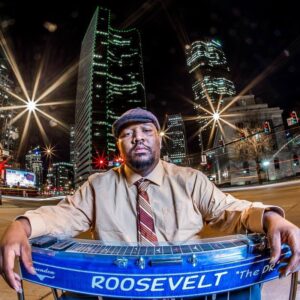 One of the finest pedal steel guitarist on the scene today is heading to Oregon for a pair of shows in Bend and Portland. A finalist in Guitar Center's 2009 King of the Blues competition, South Florida native Collier was brought up in the sacred steel tradition of the House of God Church and built his reputation with uncles and cousins in The Lee Boys, known for their spirited, soul-shaking live performances. Collier has appeared at festivals all around the country with acts ranging from the Allman Brothers and Los Lobos to the Tedeschi-Trucks Band.
Collier will bring his fiery act to Bend on Thursday, November 2 at The Domino Room, 51 Northwest Greenwood Avenue, at 9:00 pm. Advance tickets are $12.00 at Bendticket.com, or $15.00 at the door. This is a 21 & over show. Portland's Asher Fulero Band will open. Joining Collier will be Bay Area bassist Reed Mathis and drummer Cliff Porter from Jellyroll.
On Friday, November 3, Roosevelt Collier will perform at the Jack London Revue in Portland at 9:00 pm. Along with Mathis and Porter, Collier will also be joined by Jay Cobb from Fruition. Tickets are $10.00 and available at Ticketweb.com. 21 & over only. The Jack London Revue is located at 529 SW 4th Avenue.