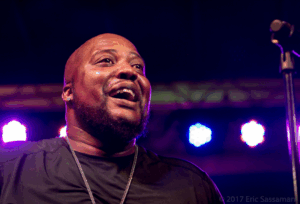 The 68th Annual Salem Art Fair & Festival hosts a range of entertainment on two stages in Bush's Pasture Parkover the weekend of Friday, July 21 through Sunday, July 23, with a main stage located in a natural amphitheater setting, under a canopy of towering, old-growth oaks and in close proximity to food and drink booths. Headlining this year's event on Friday night is one of blues scene's most powerful forces, Sugaray Rayford.
With deep roots in gospel, Rayford is a commanding performer who has fronted his own band since 2010 that features stellar musicians including guitarist Gino Matteo, drummer Lavell Jones, keyboardist Drake Munkihaid Shining, horn players Allan Walker and George Pandas, and Portland bassist Allen Markel. Rayford also can be found performing with The Mannish Boys and has perennially been found nominated for Blues Music Awards, including two this year for the prestigious BB King Entertainer Award, and Contemporary Blues Male Artist.
Admission to the Salem Art Fair is $5.00 a day, or a three-day pass can be purchased for $10.00. $3 Youth Student on Saturday (with Student ID), children 12 & younger are free, those with a Oregon Trail Card are free, and Sunday from 3:00 – 5:00 pm is free for everyone. Hours are 10:00 am to 9:00 pm Friday and Saturday, 10:00 am – 5:00 pm Sunday. Headline performances begin at 7:30 pm (Sugaray Rayford on Friday, jazz band Orgone on Saturday). Guests are encouraged to bring lawn chairs or blankets to sit on the grass, but a limited number of chairs and tables are also available. Bush's Pasture Park is located at 890 Mission St Se in downtown Salem.