Seattle's Nick Mardon Blues Trio Hits Catfish Lou's For First Visit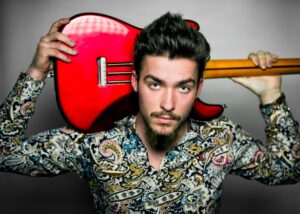 The Nick Mardon Blues Trio hails from Seattle and plays Texas blues with influences from psychedelic rock to jazz fusion.  Nick Mardon fronts the band with smooth vocals and an endless supply of blazing guitar licks.  In the bands over the top live performances Nick often plays the guitar behind his head, behind his back, or one handed.  The rhythm section features the dynamic groove of Greg Olson on the fretless electric bass and the tasteful drumming of Andy Emery.  Greg and Andy lay down a solid groove and can go from loud and rocking to whisper quiet in one beat.  Their high energy performances leaves audiences astounded and call the group the "Future of the Blues" and the band was recently nominated for the Washington Blues Society's BB Awards as best new act.
On Friday, August 10, the Nick Mardon Blues Trio will be making their debut performance at Catfish Lou's, 2640 NW 24th. The start time is 9:00 pm. This is a free show.