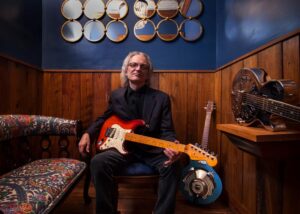 After a dozen acclaimed albums, virtuoso slide guitarist and bandleader Sonny Landreth found himself at an artistic crossroads. He wanted to finally create the full-length acoustic collection his fans had long requested. But he was also itching to capture the sound of his stalwart electric trio augmented by a couple of his favorite collaborators. And the time was certainly right for an elastic, career-spanning double-live album. The results came about as his latest, sensational release, Recorded Live In Lafayette, featuring his his acoustic and electric bottleneck lightning.
Landreth has collaborated with the very top names in guitar over the years: Eric Clapton, Mark Knopfler, Eric Johnson, Derek Trucks – the list goes on. The noted slideman cut his musical teeth in The Red Hot Louisiana Band of zydeco king Clifton Chenier, and Landreth has since recorded and toured with artists ranging from John Mayall to John Hiatt. 'Recorded Live in Lafayette' adds another major chapter to his tale, as new vocal and instrumental colors emerge.
Sonny Landreth will be bringing his blazing guitar mastery to the Aladdin Theater on Friday, August 3, for an 8:00 pm all ages event. Tickets are $27.50 to $30.00 and can be purchased in advance at Ticketfly.com. The Aladdin Theater is located at 3017 SE Milwaukie Avenue.