The Essential Sonny Rhodes: Songs & Stories
Need To Know Music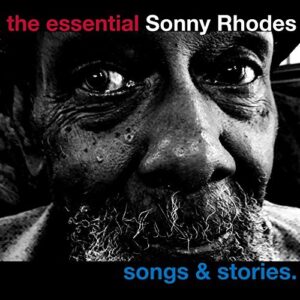 Clarence Smith, better known to the world as Sonny Rhodes, is part of that long rich line of superior blues guitarists originating from Texas. With a career ranging for more than 60 years, first working alongside greats like Freddie King and Albert Collins, to the constant touring road warrior that he has charged forward on his own, he is one of those must see artists. One of those drive the extra mileage and go out of your way artists. I once drove from Portland through the Columbia River Gorge during an ice storm to catch his show in Hood River. Crazy am I? We are talking about Sonny Rhodes here.
I do not usually do reviews for retrospective or best of recordings. So why is this one different? Because though these songs cover the history of Sonny Rhodes they are new recordings featuring a crack band of Rich Kirch, Frank Stewart, and Dawn Richardson. The disc alternates between Sonny relating key points of his life story and the music. You learn how he grew up in a small town in Texas, received his first guitar, playing bass with the aforementioned King and Collins' bands, he tells you about the turban he wore for many years, the tribulations of love and so much more. It is truly a personal selection of tunes stemming his life's work.
It goes back to the very beginning with his first single recorded for Domino Records in 1958, "I'll Never Let You Go," and the album closes out with "The Ballad Of Serenity" recorded for the television show Firefly. Also included are numbers like his 1978 song "Cigarette Blues" that he recorded two times again before this release on the albums Disciple of the Blues (1991) and Just Blues (1995), "House Without Love," "Blues Is My religion," "Born To Be Blue" and "Ain't No Blues In Town."
This is a very well done production combining classic Sonny Rhodes' material and stories that are fun and enlightening. For true fans of his and those looking for an introduction to a masterful performer. This one gains a full recommendation.
Total Time: 63:00
My Name Is Sonny Rhoades / I Am Sonny Rhodes / First Guitar / Born To Be Blue / Freddie King & Albert Collins / Blues Is My Religion / Transformed / House Without Love / 1130 Midway Street / I'll Never Let You Go / A Blues Prayer / Hen Pecked Man / The Turban / Cigarette Blues / That's John Lee Hooker! / Finding Out About Myself / She Didn't Love Me / Half Smart Woman / I Got Hip To It / Nothin' On The Radio / Ain't No Blues In Town / Tears Of Joy / Happiness And Cheer / Texas Christmas / Johnny Copeland & Albert Collins / BB King Says / Ballad Of Serenity / Clarence Smith
https://cascadebluesassociation.org/wp-content/uploads/2017/10/Sonny-Rhodes-CD-cover.jpg
500
500
Wendy Schumer
https://cascadebluesassociation.org/wp-content/uploads/2020/06/CBA_Logo-header2-300x66.png
Wendy Schumer
2017-10-30 11:46:12
2017-10-31 10:58:05
Sonny Rhodes