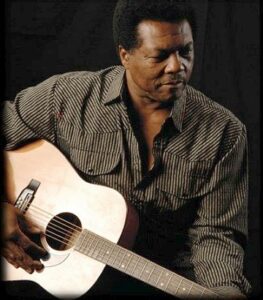 Growing up in the Delta, blues vocalist Terry Evans began singing as part of the church choir, where he jokes that he wasn't allowed to sing the "rough stuff" like rock & roll. He was only permitted to sing gospel and would have to slip away to sing secular songs. While listening to people like Elmore James, Little Walter, Albert King, and BB King he decided that he wanted to be a soul singer.
In the sixties, Terry worked with an a cappella group called The Knights, touring throughout the South in clubs and juke joints. From there Terry was lured to the west coast where he first picked up the guitar, started writing music and soon became a prolific songwriter. Pops Staples, as well as the late, great Louis Jordan (among others) have recorded his songs. He worked for years as one of the most sought-after session artists, working with the likes of John Fogarty, Ry Cooder, Joan Armatrading, John Lee Hooker, Boz Scaggs, and others. Along with fellow vocalist Bobby King, Evans toured with Ry Cooder throughout the US, Europe and Japan. Since then he has recorded two albums with King and eight under his name.
Terry Evans is a terrific live performer and he will be heading back to the Portland area for one night at The Cascade Bar & Grill, 15000 SE Mill Plain in Vancouver, WA. This June 8 show will start at 8:00 pm with a $7.00 cover at the door. Joining Evans will be local blues greats Jesse Samsel, Ken Scandlyn and Mark Shark on guitars, with the rhythm section of Cary Samsel and Nate Powell laying down the fatback.
Do yourself a favor and see why Ry Cooder has considered him to be one of the best front men around. To see him perform is to understand why. Terry is one of the most dynamic soul and blues singers performing today.