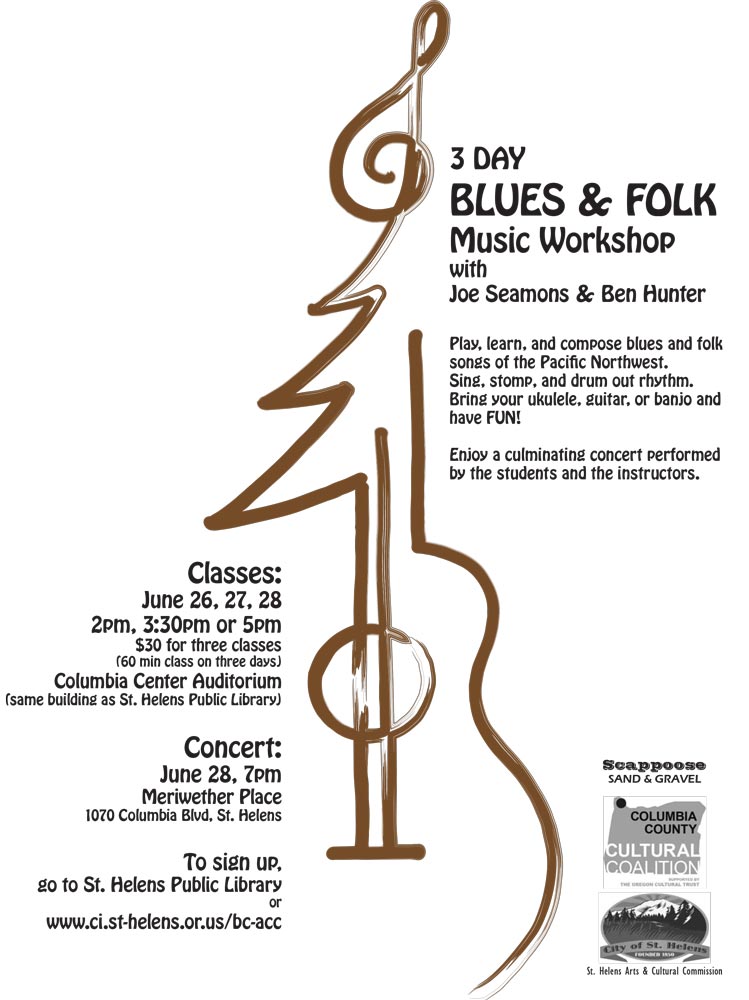 The St Helens Arts & Cultural Commission will be presenting a Blues & Folk Music Workshop with three 60-minute classes held over three consecutive days, Tuesday, June 26 through Thursday, June 28, at Columbia Center Auditorium 375 South 18th Street, St. Helens. Classes are spread out three times through each day at 2:00 pm, 3:30 pm and 5:00 pm, and are filled on a first come, first served basis.
Workshop participants will learn to play or compose blues and folk songs of the Pacific Northwest and sing, stomp, and drum out rhythm. If they have access to an instrument, attendees should bring a guitar, banjo, mandolin, fiddle or ukulele. If participants do not have an instrument but would like to play one, there are seven ukuleles available to use during the class. Request an instrument reservation when signing up for the class.
The workshop program concludes with a 90-minute concert at Columbia River Receptions & Events at Meriwether Place, 1070 Columbia Blvd., St. Helens, on June 28 at 7 p.m. The concert program will begin with the students' performance of songs that they learned in the workshop and is followed by a performance by 2016 International Blues Challenge winners Ben Hunter & Joe Seamons. The concert is free for the students' families.
This workshop is for people aged 10 and older. There is a registration fee of $30. People can sign up at the St. Helens Public Library or mail a completed registration form and a check payable to City of St. Helens Arts & Cultural Commission to:
St. Helens Public Library
375 S. 18th Street
St. Helens, OR 97051
To download a registration form, go to www.ci.st-helens.or.us/bc-acc.