Superstars of Harp Workshop with Lee Oskar, Jerry Portnoy and Magic Dick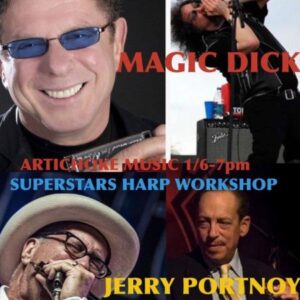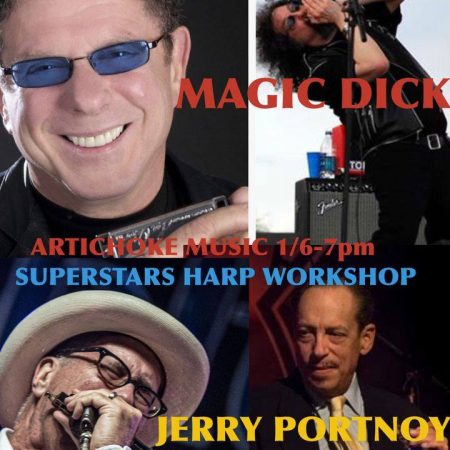 A once in a lifetime chance to meet & talk with these superstar harp blowers about the ins & outs of harmonica and their careers! Magic Dick, famed harp man of the J Geils Band who played on their biggest hits, plus created the harp masterpice "Whammer Jammer"!! Lee Oskar, formed the famed rock-soul band War with Eric Burdon that recorded hits like "Cisco Kid," "The World Is A Ghetto," "Slipping Into Darkness," "Lowrider" and many more. Lee also owns Lee Oskar Harmonicas. Jerry Portnoy. Who played in Muddy Waters Band for years, plus four years with Eric Clapton, performing at such venues as Madison Square Garden, Royal Albert Hall and The White House.
Mark Hummel, Grammy nominated blues harp legend will be the evenings moderator and will interview the guests. This will be a moderated workshop with question & answer, harp tips, a minimum of instruction and songs by each artist with accompaniment by Bob Welsh (Charlie Musselwhite and Elvin Bishop bands) on piano & guitar.
Artichoke Music, 2007 SE Powell Blvd., Monday, January 6, 7:00. $65.00 Artichokemusic.org