Terry Robb – Confessin' My Dues Album Release Show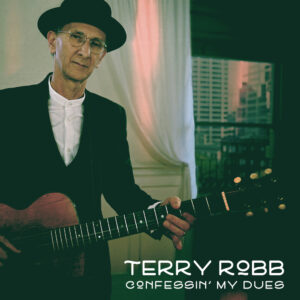 NiaSounds and Cascade Blues Association are pleased to present a record release concert by Terry Robb, Portland's own finger-style blues guitar virtuoso. In his latest release, Confessin' My Dues, Robb displays his mastery of acoustic and bottleneck guitar, drawing on his deep knowledge of Delta blues, ragtime, and swing in thirteen original compositions ranging from blistering instrumental blues and melodic ragtime fingerpicking to soulful singing backed by a powerhouse rhythm section. Robb will be joined on stage by renowned jazz musicians Gary Hobbs and Dave Captein, who are featured throughout the album, and blues guitarist Adam Scramstad.
Terry Robb is one of the top acoustic blues guitarists of our time. His signature fingerpicking style has earned him international acclaim from worldwide audiences, music critics, and his distinguished peers. Incorporating elements of the Mississippi Delta music tradition, ragtime, country, swing, and free jazz, Robb has built a unique blues sound that has made him a legend during a prolific music career spanning more than four decades. The multitude of awards Robb has received speak to his seminal talent as a blues guitarist. He has been inducted into the Oregon Music Hall of Fame and the Cascade Blues Association Muddy Awards Lifetime Achievement and Hall of Fame.
The Secret Society, 116 NE Russell St. Friday, March 8, 9:00 pm.  $22.00 advance Ticketfly.com, $25.00 at the door. CBA members $20.00 advance online only with the code "CBA19"
Terry Robb will also be doing an in-store performance at Music Millennium on Friday, March 1 at 6:00 pm.