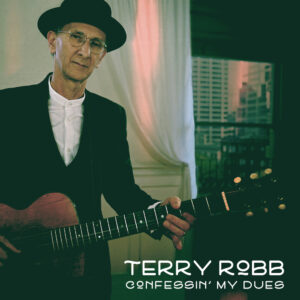 Confessin' My Dues
NiaSounds
Terry Robb delivers his sophomore release on the NiaSounds label titled Confessin' My Blues and in pure Robb fashion it is done with precision, technique and a sense of beauty in tone and delivery. Everything that you'd expect from the master guitarist. Opening with the rag "Butch Holler Stomp," the album takes you on a journey through a variety of acoustic playing in styles exploring Delta and Piedmont fingerpicking and bottleneck slide. As a solo instrumentalist, I am forever amazed at just how much one man with a guitar can express such intense feelings, producing such visual images without singing a single word. This is captured nicely on stunning pieces such as "Now Vestapol" and "Death Of Blind Arthur."
He is joined on a handful of numbers by drummer Gary Hobbs and stand-up bassist Dave Captein, both renowned jazz musicians in their own right. The pair lay down an expressive ambiance to the album, especially of note on the numbers "It Might Get Sweaty" and "Three Times The Blues" where the strong bass flow and percussiveness play the perfect foil to Robb's bouncy run of riffs, propelling the pace as the music moves forward. On "Keep Your Judgement" the group tosses in a fun little rockier rhythm with Adam Scramstad on electric guitar and Stuart (from NiaSounds) on background vocals.
Two tracks on the disc are reworkings from previous albums. "Heart Made Of Steel" (from the 2000 release of the same name) focuses on the trio here whereas originally the song was recorded with a horn backing. It comes across as more bare-boned and personal. Also, "Darkest Road I'm Told" (originally from 1996's Stop This World), is delivered with a brightness in sound and vocals that seems so much clearer. There is something to be said when a musician isn't afraid to rework a song they've already recorded. As good as it may have been the first time, everything can be a work in progress with different approaches over time. It can make something you've done in the past come across as fresh and new. Even when it was exceptional to begin with. Robb has done exactly that with these numbers.
Every release that Terry Robb puts out is a cause to celebrate. There are not many guitarists in the blues or any genre that you can come by that are as detailed and clever with their creativity. Confessin' My Dues is yet another example of Terry Robb doing what he does best – leaving us with a sense of awe and joy with every note he plays. It's a winning formula that continues to lead the pack.
Total Time: 40:43
Butch Holler Stomp / Still On 101 / How A Free Man Feels / It Might Get Sweaty / Heart Made Of Steel / Now Vestapol / Darkest Road I'm Told / Three Times The Blues / Confessin' My Dues / Death Of Blind Arthur / High Desert Everywhere / Keep Your Judgement / Blood Red Moon
Reviewed by Greg Johnson