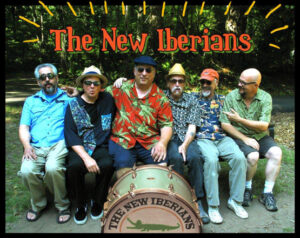 The New Iberians have been one of the leading forces of celebrating the musical traditions of Louisiana since the 1990s, creating their own style by blending the regional sounds alongside a mix of Chicago blues and Northwest rock that they call "Stumptown Zydeco." Named after the Queen City of the Bayou, Iberia is located deep in the Cajun country and is known for its Shrimp Festival and for being the world's center of red pepper hot sauce production.
For the past ten years, The New Iberians have been bringing to Portland their own Mardi Gras celebration, which will be happening again this year at Catfish Lou's, 2460 NW 24th Avenue, on Fat Tuesday, February 13. The party will feature beads, masks, King Cake and gumbo.
The New Iberians, led by accordion player Evan Shlaes, also includes Paul Bassett on rub-board, Linc McGrath on bass, Fred Ingram on drums, Clark Salisbury on guitar, and Micharl "Buck" Brummell on harmonica and saxophone. Also on the bill will be The Paul Brainard Carnival All-Stars.
The Mardi Gras Party starts at 8:00 pm. Admission is $10.00. This is a Cascade Blues Association co-sponsored event, so remember to show your current membership card at the door to receive a $1.00 discount on admission.
Dress up in finest revelry ware and celebrate Fat Tuesday New Iberian style. Laissez les bons temps rouler!