Ice Cream in Hell
Alligator Records
Review by Randy Murphy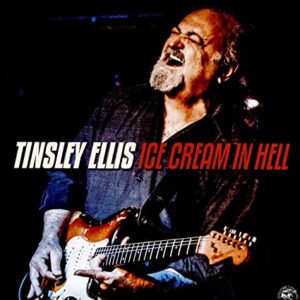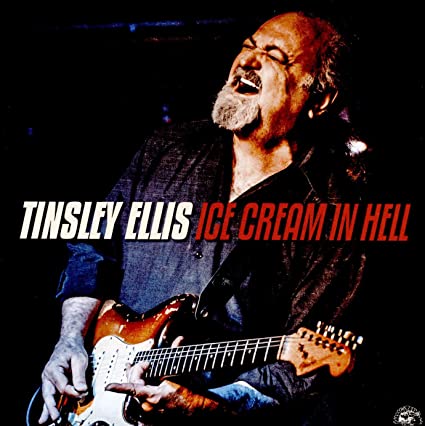 One could quite quickly exhaust a long list of adjectives trying to describe Tinsley Ellis's new album, Ice Cream in Hell. "Searing? Sure. "Gutsy?" You bet. "Combustable?" Beyond any doubt. But this recording, Ellis's 18th to date, never succumbs to the shopworn guitar pyrotechnics or vapid blues postering one hears in many new blues-rock releases nowadays. A subtle power lies beneath Ellis's guitar playing and earnest vocals that he always uses in the service of the tune, never to call attention to his own considerable talent. It's a neat trick to maintain some musical constraint while still offering boozy, gut-chomping, and heat-igniting blues. Not many can pull it off, but Ellis, judging from this release, has obviously sorted out how it's done.
The album has several standout cuts: the raw but understated "Hole in My Heart," the funky groove-laden "Evil Till Sunrise," and the horn-drenched, mid-tempo "Last One To Know" that features some of Ellis's finest guitar playing. All of these tunes, indeed the whole album, illustrate the appeal of Ellis's music—while flirting with other musical styles and offering hints of other genres, Ellis remains rooted firmly in rich blues soil.
But the pinnacle of the album is its title track, "Ice Cream in Hell," that soars light-years beyond the routine, cliche-ridden "woman-done-me-wrong" theme through the use of a delightful metaphor: "I won't face another day puttin' up with all of your crap/ When they serve ice cream in hell/ I'm going to take you back." "Ice cream in hell" is a brilliant analogy for "ain't gonna happen." One does wonder though if that ice cream's going to be served with Devil's food cake on the side.
This is a simply a terrific album that stands up to repeated listing and never fails to reward a listening session. Highly recommended.
Total Time: 50:54
Last One To Know / Don't Know Beans / Ice Cream In Hell / Foolin' Yourself / Hole In My Heart / Sit Tight Mama / No Stroll In The Park / Evil Till Sunrise / Everything And Everyone / Unlock My Heart / Your Love's Like Heroin
https://cascadebluesassociation.org/wp-content/uploads/2020/03/Tinsley-Ellis-CD-cover.jpg
426
425
Greg Johnson
https://cascadebluesassociation.org/wp-content/uploads/2020/10/CBA_Logo_top_main.png
Greg Johnson
2020-03-28 13:30:37
2020-04-30 13:31:02
Tinsley Ellis