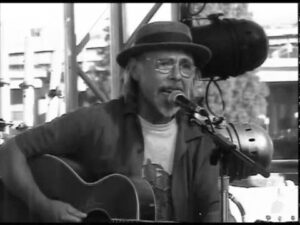 Local music legend, Turtle VanDemarr, has performed in many influential bands over the years. As lead guitarist for Dan Hicks and the Hot Licks, The Fly By Nite Jass Band, The Freak Mountain Ramblers, and Anita Margarita and the Rattlesnakes, VanDemarr has been a regular in the Portland Music scene since the late 60s and is widely known for the versatility of his guitar playing styles. He has been compared to Django Reinhardt and Jerry Garcia by The San Francisco Chronicle, and as a member of the Oregon Music Hall of Fame, he is routinely hired by nationally touring acts.
About six months ago he gathered together some of Portland's premier guitar players to form what is now known as "Turtle's Guitar Mafia". They play every first Friday at McMenamins Edgefield Winery, and folks are loving it. A mix and match of Portland's older guitar legends with some of the hottest young guns that have been revving up the Portland music scene. Different guitar styles, stealin' licks from each other and having way too much fun. Turtle aka known as "Zeus" is moving slow and easy and attempting to keep up with these amazing guitar slingers.
Turtle's Guitar Mafia will be holding a residency at Al's Den, 303 SW 12th, from Sunday, April 15 through Saturday, April 21, with a different line-up each day. On Sunday, Turtle will be joined by Terry Robb & Chris Olson; Monday will be Matt Cadenelli & Kris Stuart; Tuesday with Stevie Wright James & Peter Dammann; Wednesday has  Jimmy Russell & Stevie Wright James; on Thursday Sonny Hess & Jimmy Russell; Friday with Ian Miller & Darren Craig; and Saturday's grouping TBA.
Each night starts at 7:00 pm and admission is free. 21 & over only.