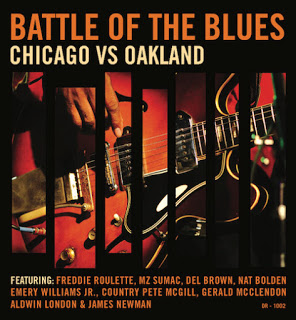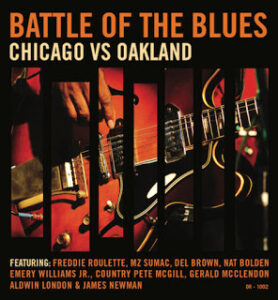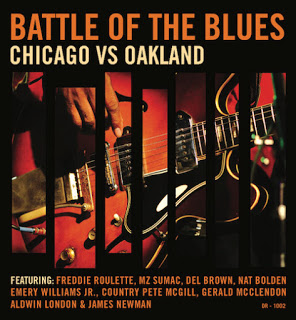 Various Artists – Battle of the Blues Chicago vs Oakland
Delta Roots Records
By Greg Johnson
During the twentieth century, African Americans undertook a Great Migration from the Southern states to other areas of the nation to search for more prosperous futures. Many headed toward the Midwest and to the Pacific Coast, with Chicago and Oakland being two prime destinations. Talented musicians were part of this movement and blues music thrived and grew in these cities. Both have their share of renowned artists that amongst the first call in the annals of the genre; but there are so many that often go unnoticed outside of their own cities.
Battle of the Blues: Chicago vs. Oakland compiles an outstanding selection of several musicians that deserve more recognition. The music is soulful, instrumentally superb, and bleeds pure blues at its finest. California is showcased by the vocal talents of Mz Sumac, Nat Bolden, Aldwin London, the late Country Pete McGill and two instrumentals by lap steel guitarist Freddie Roulette (perhaps the best-known artist on the disc). Chicago is represented by vocalists Gerald McClendon, Del Brown, Emery Williams Jr and James Newman. I cannot stress one number over another because they're all highlights.
The people performing behind these artists are a who's who of blues, including the likes of Rusty Zinn, Dave Workman, Maurice John Vaughn, and Roosevelt Purify. What ties it all together is producer, multi-instrumentalist and songwriter Twist Turner, who started this project several years ago, plays on all tracks and wrote all but two songs. The album is a love letter from Turner of the music from these two cities he has called home, and it is music that will make you fall in love with these performances as well.
Total Time: 55:19
Broke Ass Man / Funny How Time Slips Away / Take It Easy / Good Morning Mr. Blues / Hit And Run Lover / Hurtin' On You / Now That I've Gone / Red Tide / Cold In The Streets / Me And My Guitar / Time Slippin' Away / Hoochie Coochie Mama / Mama Don't Weep
https://cascadebluesassociation.org/wp-content/uploads/2019/09/Battle-of-the-Blues-CD-cover.jpg
320
296
Greg Johnson
https://cascadebluesassociation.org/wp-content/uploads/2020/06/CBA_Logo-header2-300x66.png
Greg Johnson
2019-09-27 18:41:39
2019-10-07 17:39:55
Various Artists – Battle of the Blues Chicago vs Oakland