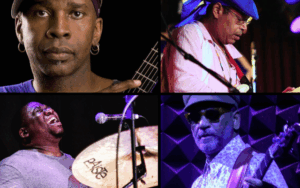 Recorded live at The Fillmore East in New York City N.Y. on December 31, 1969 and January 1, 1970, the Band of Gypsys with Jimi Hendrix, Billy Cox and Buddy Miles debut recording consisted of six tracks released to the public on March 25th, 1970 – close to fifty years ago. That vinyl record established the template for the Funk & Roll genre. The re-releases, with new tracks & multiple versions of the six tracks from the Fillmore shows, illuminated that the band never played a tune the same way twice, breaking away from the "note-by-note" live renditions prevalent in Pop & Rock hit songs at that time.
The Vernon Reid Band of Gypsys Revisited Band further extends the music of Hendrix's most jazz-oriented band, and Reid has assembled a prodigious quartet drawn mostly from the soul-jazz-hip-hop collective Burnt Sugar Arkestra for this one time visit to the West coast. The group includes drummer/vocalist James "Biscuit" Rouse, bassist/vocalist Jared Michael Nickerson, and guitarist/vocalist André "Dré Glo" Lassalle. As a trailblazing rocker Vernon Reid is the ideal artist to celebrate the legacy of Jimi Hendrix on the occasion of the late guitar icon's 76th birthday.
Jack London Revue, 529 SW 4th Ave. Saturday November 3,  2 shows 9:00 pm & 11:00 pm. 21 & over. $25.00 Ticketweb.com.