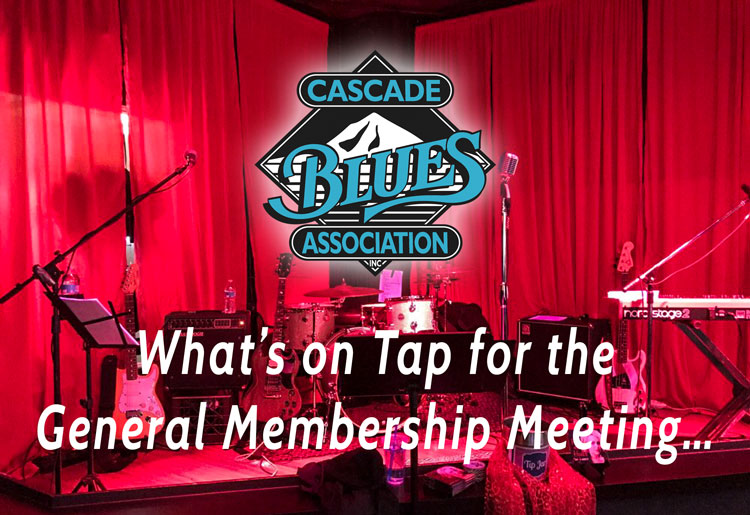 Wednesday, July 11 – 7:00 pm
Catfish Lou's, 2460 NW 24th Ave, Portland
Members always Free – Non-Members $5.00
(Members please show your current cards at the door)
First Acoustic Set – Mojo Holler
Second Electric Set – Hudson Rocket Band
Please make note that this month's meeting will be the second Wednesday of the month due to the Waterfront Blues Festival and 4th of July holiday occurring the week before.
Attending the monthly Cascade Blues Association's membership meeting following several days at the Waterfront Blues Festival is certainly a statement for true blues fans. You know, those who just can't get enough of the great music. It's also fun to get back together after catching our breaths to talk about the fun we had and preparation for so much more coming up over the summer.
Opening the evening will be blues newlyweds Missi & John Baker, better known as Mojo Holler. Mojo Holler weaves threads from mountain ranges to the Mississippi Delta into a tapestry of indie alt-folk music. Mister Baker channels innate genius through lap steel, slide, and dobro. Missi is a genuine Appalachian 'Mountain Mama' whose vocals bring burning intensity to each song. The pair were lauded by South by Southwest founder Louis Black, who called them the 'godchildren of Mississippi Fred McDowell." Bass guitarist Eric Shirazi lends an infectious, funky groove to mix that takes the group to a higher plane.
Formed in 2012 as a duo, they released their debut album, Where Black Ravens Flew, in late 2014, and were tapped to showcase at South By Southwest in 2016. The late Lisa Lepine, a Portland legend in music promotion, said of their mission: "They weave their dark, modern spirituals from shared roots in magic, 'mericana, and metaphysics. Mister Baker, like Robert Johnson before him, may have made a deal with the devil — channelling an innate genius through lap steel, slide and dobro. Missi's earthy voice brings burning intensity to each song. Picture them sitting knee-to-knee on a Southern Delta, watching the dark moon rise and singing from their eternal souls."
Following our break between sets, where we will be making announcements and holding our free ticket drawing, we will be having the Hudson Rocket Band take over to get the house jumping for the second set. Hudsons' guidance has taken the band to many fantastic festivals and performances. The band followed him to the International Blues Challenge in Memphis, five years at the Waterfront Blues Festival, eight years at the Blues By The Sea Festival, Oregon GI Blues, The Bite of Portland, Rock Cut Blues Festival, Sunbanks Music Festival and headlining the Southern Oregon Blues Festival, to name a few. The band has followed him to countless benefits, local clubs and venues of all kinds.
The founding members, (Tommy Lister, Art Viloria, Ken Johnson, Leon Holder & Richie Bean), set the stage for all who followed. As it goes with bands, there have been many personnel changes over the years. The Hudson Rocket Band has performed alongside such greats as Mel Solomon, Paul DeLay, Lloyd Jones, Jim Mesi, Franco Paletta, Robbie Laws, Rae Gordon, Ellen Whyte, Candye Kane, Eric "Two Scoops" More, Kid Lopez, Sonny James and Little Joe Washington. The band has had the pleasure of playing with so many great performers over the years, they all cannot be named.
Hudson (always the missing member) finds a way to get the message to just the right people when it is time. Through his uncanny and extraordinary efforts, some of Portland Oregon's finest talent has come together in The Hudson Rocket Band. With the current lineup of Cliff Ashmon on harmonica and vocals, Mickie Will on bass and vocals, Gary Jaskowiak on keyboards, Paul Johnson on guitar and vocals and Bill Dutkovik on drums, The Hudson Rocket Band has solidified its membership with a true "Blue" direction, leaving our fans wanting more wherever we go! Like Cliff always says, "Too Much Fun!"
https://cascadebluesassociation.org/wp-content/uploads/2017/09/whats-on-tap_catfish.jpg
515
750
Wendy Schumer
https://cascadebluesassociation.org/wp-content/uploads/2020/10/CBA_Logo_top_main.png
Wendy Schumer
2018-06-26 14:01:15
2018-07-01 20:06:17
What's on Tap for July's General Membership Meeting . . .