What's on Tap for June's General Membership Meeting …
Melody Ballroom, 615 SE Alder Street, Portland
Wednesday, June 7 – 7:00 pm
Members Always Free – Non-members $5.00
Opening Acoustic Set – Mojo Holler
Second Electric Set – Rae Gordon Band
The summer months are directly upon us and for Portland that means there's a lot going on, especially when it comes to music. And as I have stated before, the true method to get into the spirit of the music in Portland is through the blues and there's no better place to kick each month off than the Cascade Blues Association's monthly general membership meeting. If you're not familiar with our meetings, there's really not much in the way of business going on, but a whole lot of fun and of course great music. This month we're going to feature a couple acts that everybody should know. Outstanding performers and good friends of the CBA.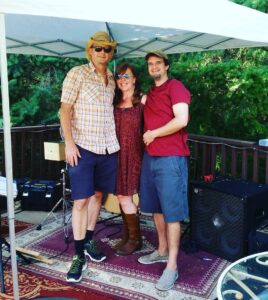 Starting off the evening will be Mojo Holler, the new collaboration Missi & Mister Baker as they add a bassist to their outfit.. This trio weaves threads from mountain ranges to the Mississippi Delta into a tapestry of indie folk rock.  Mister Baker channels innate genius through lap steel, slide, and dobro.  Missi is a genuine Appalachian 'Mountain Mama' whose vocals bring burning intensity to each song.  The pair were lauded by South by Southwest founder Louis Black, who called them the 'godchildren of Mississippi Fred McDowell."  Bass guitarist Eric Shirazi lends an infectious, funky groove to mix that takes the group to a higher plane.
The band formed in 2012 as the duo, "Missi & Mister Baker."  The pair released their debut album, "Where Black Ravens Flew," in late 2014, and were tapped to showcase at South By Southwest in 2016 and the accolades have been tremendous since.
South By Southwest founder, Louis Black, said of the pair: "Why Missi had to move to Portland from Austin in order for The Bakers to channel their inner Mississippi Fred McDowell, I do not know.  But she did, and they did."  The album combines complex rock guitar and country blues stylings with rich vocals that hearken Joplin and Fleetwood Mac.
Jackpot Recording producer and Tape Op Magazine publisher Larry Crane says the pair's Americana-styled original songs were some of his favorites.  "Missi's fabulous voice, along with Mister Baker's deft fretwork, brings the whole show home."
And the late Lisa Lepine, a Portland legend in music promotion, said of their mission:  "They weave their dark, modern spirituals from shared roots in magic, 'mericana, and metaphysics.  Mister Baker, like Robert Johnson before him, may have made a deal with the devil — channelling an innate genius through lap steel, slide and dobro.  Missi's earthy voice brings burning intensity to each song.  Picture them sitting knee-to-knee on a Southern Delta, watching the dark moon rise and singing from their eternal souls."
And if that isn't enough to bring you down to the monthly meeting, the second act of the night will be the CBA's recent representatives at the International Blues Challenge, bringing home third place, the Rae Gordon Band.
The Rae Gordon Band is fronted by Muddy Award Hall of Fame inductee , vocalist Rae Gordon  and is made up of seasoned players who been a fixture in the local blues scene for years.   She wanted a new project that could ride in that sweet spot between a gritty slide groove with an exciting hard driving horn section. Something she likes to call a downtown gritty with uptown city.
The band itself is a combination of amazing musicians, including Kivett Bednar, fast becoming known for his gracious grooves and ability on guitar; bassist Al Hooten laying down the foundation; in-demand horn players Allan Kalik on trumpet and Scott Franklin on saxophone; versatile drummer Ed Pierce; and award-winning keyboardist Pat McDougall. All of these musicians have played with a virtual who's who of the Pacific Northwest.
They are now working on their debut CD recording Better Than I Was, for release summer 2017 and looking forward to a  summer full of traveling and blues festivals that include the Winthrop Blues Festival, Waterfront Blues Festival and the Big Blues Bender in Las Vegas.
Of course, we will be holding the usual free ticket drawings where everybody can win just by attending the meeting. And the $1.00 multi-CD winner take all drawing will also be held and we'll let in on what is going on in our region during the upcoming month. Not really your normal style of meeting, we're all here for fun.
See you there!!