Cascade Blues Association
and the Portland Trailblazers
at Moda Center

Come support the Cascade Blues Association when the Portland Trail Blazers take on the Minnesota Timberwolves on Wednesday, January 24th at 7:00pm. A portion of every ticket purchased through the link using the promo code below will go back to the Cascade Blues Association to help preserve and promote blue and roots music in the Great Northwest!
Specifically funds raised for CBA will help send local musicians to the International Blues Competition in Memphis, support the Muddy Awards as well as the musician relief fund.
Click on 'find tickets' to select the seats you would like and enter your promo code [CBA] to access the exclusive pricing.
www.rosequarter.com/cascadeblues
Promo Code: CBA
ORDER DEADLINE: FRIDAY, DECEMBER 22ND
ticket prices will increase after deadline.
Featrure
Mick Schafer's Voice Will Draw You in
and You'll be Tapping Your Toes in No Time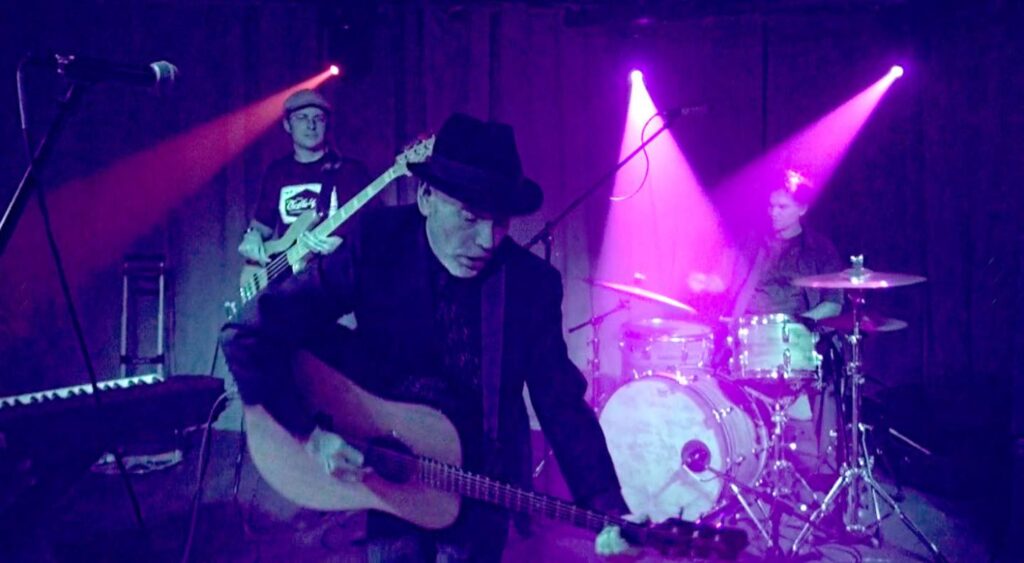 Guitarist and vocalist Mick Schafer has been singing since childhood, but ventured to Europe when he was 20 to perform for tips and meals. He spent the early 70's playing music around Europe. He always wanted to perform professionally but when he moved back to the states, he was beset with depression and couldn't manage it.
In the early 2000's he started getting paid gigs fronting Blackberry Jam (later known as Tree Top Tribe.) They started in such venues as Spring Creek Coffee House in Milwaukie and Pizza Schmizza in Raleigh Hills, working up to the White Eagle, Buffalo Gap, O'Conners, Laurelthirst Tavern, Alberta Street Pub, the Melody Ballroom and the Brickhouse.
"We also played larger outdoor venues during the summer, including corporate engagements, and some fundraising jobs for regional nonprofits. Now I have the distinct pleasure of playing shows with an array of stellar local musicians as The Mick Schafer Band in support of my new record, One Silken Scarf," according to Mick...
Mick Schafer with Tree Top Tribe
December 15, 2017 – Robbie Laws


5:00 pm, Zarz on First

December 15, 2017 – Norman Sylvester


8:00 pm, Vinyl Tap Bar & Grill

December 15, 2017 – Nobody's Sweetheart


8:30 pm, Trail's End Saloon

December 15, 2017 – Arrogant Bastards


9:00 pm, Shanahan's Pub and Grill

December 15, 2017 – Bottleneck Blues Band


9:00 pm, Blue Diamond

December 15, 2017 – Gabe Cox


9:00 pm, Catfish Lou's

December 15, 2017 – Red & White Affair


9:00 pm, Jack London Bar

December 16, 2017 – Stumptown Soul Holiday Spectacular


7:30 pm, Wonder Ballroom

December 16, 2017 – A Very Special Evening with Lisa Kent


8:00 pm, Vinyl Tap Bar & Grill

December 16, 2017 – Harvey Brindell & The Tablerockers


8:00 pm, The Garages

December 16, 2017 – Kevin Selfe and The Portland Blues All Stars


8:00 pm, Highway 99 Blues Club

December 16, 2017 – Have a Merry SISTER MERCY Christmas


8:30 pm, Gemini Bar & Grill

December 16, 2017 – Rae Gordon Band


8:30 pm, Trail's End Saloon

December 16, 2017 – JR Simms


9:00 pm, Blue Diamond

December 16, 2017 – Lisa Mann & Her Really Great and


9:00 pm, Catfish Lou's

December 16, 2017 – Norman Sylvester Band


9:00 pm, The Half Penny Public House