Rae Gordon & the Backseat Drivers — Blues in the Fast Lane
Rae Gordon is a familiar name in the local blues community. Not only for her music talent, but for her amazing support of musicians and their craft. Rae and her band,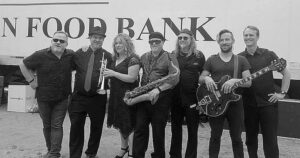 the Backseat Drivers, will be representing the Cascade Blues Association at the 2017 International Blues Challenge in Memphis in January. This month, Saturday, October 8, Rae has organized a blues cruise fundraiser to help them get to Memphis. Rae and the band answered some questions to let us know more about them...
...Rae – I started my music career in the piano bars and comedy clubs of Los Angeles, opening for comedians and running an open mic that brought the best of music and comedy together. It was an interesting but awesome start, where I learned to bring a little humor into my shows and be able to connect with an audience...
...The Backseat Drivers is the bigger version of my new band project. I will continue to play trios and have other fun projects in the works, including the original gospel project and new CD, but the Drivers are my main focus. Now that I am fully self-employed, I intend to fully stay musical busy! Stay tuned!...
October 25, 2016 – Acoustic Jam with Big Yellow Taxi
7:00 pm, Trail's End Saloon
October 25, 2016 – Knuckleheads
8:00 pm, Clydes
October 25, 2016 – Mt. St. Hood
8:00 pm, Duff's Garage
October 25, 2016 – A.C. Porter
8:30 pm, Blue Diamond