Feature
Jolie Clausen is Banging Buckets All Around Portland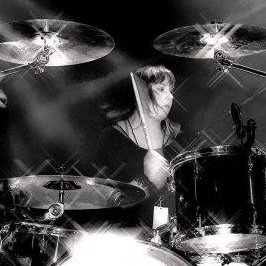 Who is that gal drumming that crazy beat? None other than the talented Jolie Clausen. Being a performer wasn't exactly a plan for Jolie, it just sort of happened. "I never thought about growing up—I still don't! I guess I just kept getting calls for gigs so I kept playing. I never sat down and thought, 'Man, I'd really like to play some gigs.' I was already doing that. I love performing and plan to do it forever!" she said.
She started playing with the Walla Walla Symphony when she was 14 and did all the musical theatre productions in town. She joined the Community College Jazz Band. "I also had a rock band then, we played at Frat parties at Whitman College."
She plays with a variety of local bands which cover different genres of music. "When I play with Michelle DeCourcy and The Rocktarts its heavy rock, although we are currently working on some new originals that have a bit more of a southern swamp rock feel. With Bill Rhoades and the Party Kings and Queens we play traditional blues. With Malachi Graham it's alt country."...
Jolie Clausen with Rocktarts
Jolie Clausen with Malachi Graham
Today's Events
February 20, 2017 – Bridge Over Troubled Water: A Tribute to the Music of Simon & Garfunkel and a Benefit for Refugees
7:00 pm, Lake Theater & Cafe
February 20, 2017 – Kevin Selfe, Lisa Mann, Dean Mueller - Lake Theater, Blues Dance
7:00 pm, Lake Theater & Cafe
February 20, 2017 – Lloyd Jones
8:00 pm, Muddy Rudder
February 20, 2017 – Hot Tea Cold
8:30 pm, Blue Diamond