CURRENT MEMBERS!!
2017 MUDDY AWARD VOTING HAS BEGUN,
AND ENDS OCT. 9th
The voting process for 2017 will be done online. We have worked hard to improve the process from last year. What you need to know:
 You need to have an email on file with us
 Voting opens Sept. 21st and ends October 9th 

 One entry per email address. 

 You MUST be a current member.

Once you submit your entries you will not be able to edit or access the submission.
If you are a current member and you have an accurate email address on file with us, you would have received an email from the CBA with the details of how to vote. If you did not receive this and you are a current member please contact us so that we can update our records and check contact accuracy. Family membership permit 2 submissions. Each family membership would have received 2 emails which would allow for 2 separate submissions.
NOTE:  If you did not receive the email and you are a current member OR if you opted out of the nominations then you would not receive the email for final voting. If this is in error please contact cbamuddyawards@gmail.com.
If you have questions or issues please send an email to the following address:
CBAMUDDYAWARDS@GMAIL.COM
Feature
The Randy Morrison Band -
Veterans Who Rock the Local Blues Scene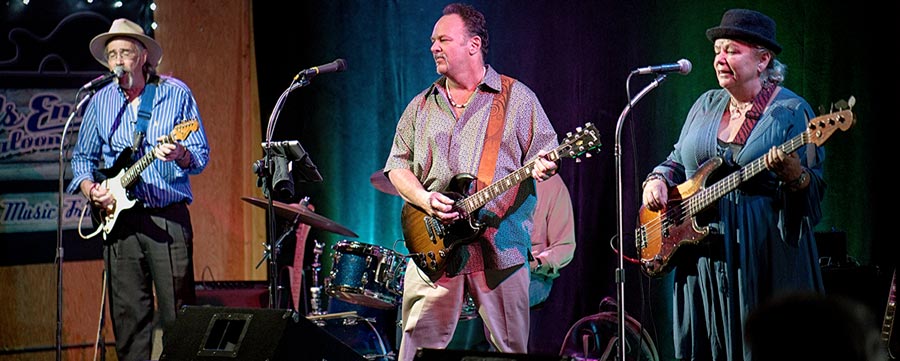 The Randy Morrison Band is one of the best in the Portland area. They proved that by being one of four finalists in the 2017 Journey to Memphis competition. The band consists of Randy Morrison on guitar and vocals, Steve "Midnight" Anderson on guitar and vocals, Laura Petch on bass and vocals, and Dusty Hill on drums. Everybody in the band is self-taught for the most part, though all have taken lessons from time to time.
Music was a part of Randy's upbringing—singing and playing violin from an early age. He picked up a guitar in the ninth grade and has been performing off and on, both in bands and solo, for over 35 years.
Steve and Laura are lifelong musicians and have been playing together for 36 years, although not continuously. At times, both have played in separate bands. They played with Dusty in a previous band called Midnight Blue here in Portland for three or four years.
Dusty has studied with the best and toured with various groups such as The Coasters and The Drifters. He was also the drummer for the popular Portland band The Sleazy Pieces. He has a solid background playing rock, country, top 40, and jazz.
But here's the real story of the band...
September 25, 2017 – Bill Coones Daniel Noland Quartet


6:00 pm, Catfish Lou's

September 25, 2017 – Ben Rice


7:00 pm, Catfish Lou's

September 25, 2017 – Johnny Nicholas & Scrappy Jud Newcomb W/ Steve James


7:00 pm, Lake Theater & Cafe

September 25, 2017 – Lloyd Jones


8:00 pm, Muddy Rudder

September 26, 2017 – Acoustic Jam with Big Yellow Taxi


7:00 pm, Trail's End Saloon

September 26, 2017 – Billy D & Kathryn Grimm


8:00 pm, Catfish Lou's

September 26, 2017 – Heavy Sugar


8:00 pm, Clydes

September 26, 2017 – A.C. Porter & The Livewires


8:30 pm, Blue Diamond