Muddy Awards
CBA Muddy Awards Moves to a New Venue

The 2018 Cascade Blues Association Muddy Awards are just around the corner, taking place on Wednesday, November 14. We have a lot of ideas floating around for the event, but the biggest, newest thing is that this year's ceremony and concert will take place at the Alberta Rose Theatre. Always one of the most exciting and anticipated nights in our local blues community of the year, we will be bringing you the excitement of those being honored and of course there will be plenty of live music, including our annual Muddy All Star Band, this year pieced together and hosted by Muddy Hall of Fame member Rae Gordon.
Portland Blues Cruise
To Feature the Journey to Memphis All Stars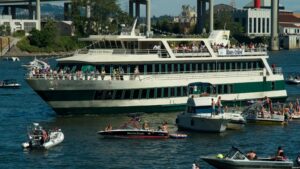 Join the Rae Gordon Band on October 6 for the biggest party and Fall Floating Fundraiser of the year! Once again, Rae and the guys will be hosting a Willamette River party on The Portland Spirit, featuring the acts who won the Cascade Blues Association's Journey To Memphis competition this year at the Waterfront Blues Festival. Those winning acts, Ben Rice and The Fenix Project, will be traveling to Memphis, TN in January to represent the CBA and the region at the International Blues Challenge, one of the largest blues events in the world. Acts from around the globe will descend on Memphis' famed Beale Street for four days of competition to help find some of the best unsigned Blues bands on earth.
2 Days Events
October 11, 2018 8:00 pm
Ben Rice
Clydes
October 15, 2018 7:00 pm
Red Bird Album Release
Lake Theater & Cafe
October 15, 2018 7:00 pm
Wayne Richards with Jeff Knudson
Cork Screw Wine Bar
October 15, 2018 7:30 pm
Bayou Boyz Family Style
Mekong Bistro
October 15, 2018 8:00 pm
Ben Rice Monday Spud Monkey's Blues Jam
Spud Monkey
October 15, 2018 8:00 pm
Lloyd Jones (solo)
Muddy Rudder
October 16, 2018 7:00 pm
AC Porter Blues Jam with guest Ed Neumann
Mekong Bistro
October 16, 2018 7:00 pm
Ben Rice Colossal Organ Trio
Catfish Lou's
October 16, 2018 7:00 pm
Kivett Bednar Jam, guest Vyasa Dodson
Vinyl Tap Bar & Grill
October 16, 2018 7:00 pm
Tay Conti and Ken Brewer's Showcase Jam
Trail's End Saloon
October 16, 2018 8:00 pm
Alan Hager, John Mazzocco, Carlton Jackson
Clydes
October 16, 2018 8:00 pm
Hot Tea Cold
Blue Diamond