Muddy Award Voting
Muddy Awards Voting Has Started.
To make sure that everyone gets their chance to nominate we have extended the nominations to end September 30th at 11:59pm. This year the Muddy Awards voting will be online. All memberships have been registered and the nominations have started. If you have a Band or Family membership that allows you more than one vote please register with your full number (include all the zeros) with the addition of an A,B or C for each additional Family or Band member and a new email address. 
Thanx Buko.
The Ted Vaughn Blues Band Plays Blues and A Whole Lot More
Playing with artists such as John Fogerty, Robben Ford, Corey Stevens, Doug MacLeod, Savoy Brown, and Big George Brock, The Ted Vaughn Blues Band is no stranger to the stage. They have been featured with everyone from John Nemeth to Kenny Loggins to Texas Blues Legends "Smokin' Joe Kubek and Bnois King.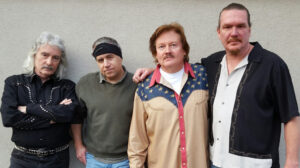 The band is heavily blues based, but they also venture into many other musical territories. "We play a mix of originals, old, and sometimes obscure blues songs that we rearrange, as well as some rockabilly and more modern blues rock. Something for just about everyone," explains band leader Ted Vaughn...
...Each band member has been performing since his early teens — either as a solo artist or in a variety of bands. Growing up they all had the desire to perform professionally, but sometimes life got in the way. "None of us ever wanted to grow up and most folks that know us would say we never have," Ted comments.
The Ted Vaughn Blues Band – Killin' Floor
September 26, 2016 – Muddy Waters Tribute
7:00 pm, Lake Theater & Cafe
September 26, 2016 – Tracey Fordice Band
7:00 pm, Music Millenium
September 26, 2016 – Franco's Blue Monday Jam
8:00 pm, 45th St Pub
September 26, 2016 – Lloyd Jones
8:00 pm, Muddy Rudder
September 26, 2016 – The Record Company
8:00 pm, Mississippi Studios
September 26, 2016 – Hot Tea Cold
8:30 pm, Blue Diamond