Feature
What's on Tap for February's General Membership Meeting …
Wednesday, February 7 – 7:00 pm

Catfish Lou's, 2460 NW 24th, Portland
Members always Free, Non-Members $5.00 (Please show your membership card at the door)
Opening Acoustic Set – David Brothers
Second Electric Set – Timothy James & The Portland Blues Revival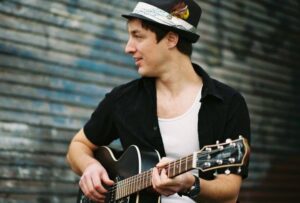 As the year gets in full swing, we're going to keep things our tradition of bringing the best in blues to our members each and every month. In February we're pleased to bring a couple acts that display just how strong our blues scene has been through the progression of younger musicians carrying on the genre.
Opening the night for our acoustic set will be guitarist David Brothers. Playing his own material, he mixes the influences of artists like John Coltrane, Freddie King, Muddy Waters, Django Reinhart, and John Fahey. Certainly a diverse blend of musical approaches, but David has the talent to bring them all together...
The second set of the night will feature our International Blues Challenge Youth Showcase representatives Timothy James & The Portland Blues Revival. Fresh from their trip from Memphis, this group of artists are all under the age of twenty and have been making quite the name for themselves with appearances at festivals and on television...
February 24, 2018 – Harvey Brindell & The Tablerockers


11:00 am, Portland Farmer's Market at PSU

February 24, 2018 – Lisa Mann Trio


7:00 pm, Top Shelf

February 24, 2018 – Sonny Hess Lady True Blue


8:00 pm, Vinyl Tap Bar & Grill

February 24, 2018 – Mike Branch Band


8:30 pm, Trail's End Saloon

February 24, 2018 – Arrogant Bastards


9:00 pm, Mock Crest

February 24, 2018 – Jimmy Haggard Band


9:00 pm, Catfish Lou's

February 25, 2018 – Area 52 Bar & Music Venue Sunday Jam


4:00 pm, Area 52

February 25, 2018 – Steve Cheseborough


4:00 pm, Upright Brewing

February 25, 2018 – Bill Coones Daniel Noland Quartet


6:00 pm, Catfish Lou's

February 25, 2018 – Kevin Selfe Blues Jam


6:00 pm, Blue Diamond

February 25, 2018 – Robbie's Laws Sunday Jam


6:00 pm, Trail's End Saloon

February 25, 2018 – Arthur Moore's Harmonica Party


6:30 pm, Vinyl Tap Bar & Grill