Feature
The Sportin' Lifers Bring Jump Blues to Local Venues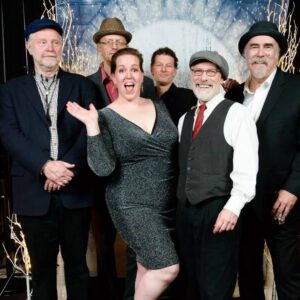 The Sportin' Lifers describe their music as a mixture of "jump blues," "rhythm and blues," "boogie woogie," and "swing," and the longer they perform as a unit the more their music fuses eras and bends genres. "As much as possible, we play what inspires us."
Who are the band members and what part do they play in the band?
Erin Wallace – vocals
Whit Draper – guitar and vocals
Don Campbell – bass and vocals
Steve Cleveland – keys and vocals
Fred Ingram – drums and vocals...
...How would you describe your music?
Steve: I think this music we play is swingin', danceable, and drenched in the blues.
Erin: My personal musical endeavors are pretty broad. Right around the time I joined The Sportin' Lifers, I also started with a band called The Sentiments--a big, fun, energetic 9-piece soulful ska and rocksteady band. It is a complete blast to play with those folks as well and a whole different world than my other projects. The connections I made in that band led to me having the opportunity to do a couple of tours singing with the amazing Ernest Ranglin – Jamaican jazz guitar legend.
Don: My music? Anything roots based played with soul and inspiration. I love authentic country, blues, jazz, reggae, rock, soul, world beat, and anything that draws or melds or pushes the envelopes of those. I hate music with no lineage, no historical sensibility, and no soul...