Feature
Portland Organist Dennis Lusk
Continues His Long Musical Journey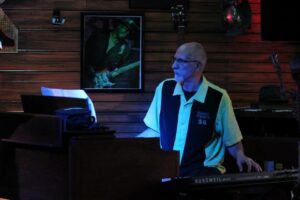 Born and raised in Oklahoma City, Dennis Lusk took organ lessons from age nine until sixteen. "I joined my first band in Oklahoma City when I was thirteen. I played several nights per week from age sixteen until age twenty-four, when I left Oklahoma. Mostly, I played in OKC with the band 'Squatty and The Bottys.' We performed in Oklahoma, Kansas and Texas on the weekends. During the week we played all five nights, for months at a time, at the local Hilton and Holiday Inns. I can actually thank Grant Perry, aka 'Squatty' for my transitioning from a Farfisa Combo Compact to Hammond B-3. Because I was so self-conscious and embarrassed at having to do dance steps with the rest of the band, Grant said if I bought a B-3 and two Leslie speakers he would let me sit down," Dennis said.
"When I was younger, I just wanted to play music, but my family convinced me that I needed a 'real job', so I stopped playing music completely after finishing college. I moved from Oklahoma just days after graduation. Since I moved to Seattle without knowing anyone there or having anywhere to stay, I sold everything I owned that wouldn't fit in my VW Scirocco. Of course, this included my beloved B-3 and two Leslie speakers."
Dennis moved to Portland around 1986. After an extensive break from performing, about 34 years, Dennis started taking lessons from Dover Weinberg about eight years ago. That got him back gigging. "I began playing blues in Portland just over seven years ago when Kevin Selfe finally convinced me to come to the jam he was hosting at The Refectory."
Dennis Lusk with the Tornados
Cascade Blues Association
and the Portland Trailblazers
at Moda Center

Come support the Cascade Blues Association when the Portland Trail Blazers take on the Minnesota Timberwolves on Wednesday, January 24th at 7:00pm. A portion of every ticket purchased through the link using the promo code below will go back to the Cascade Blues Association to help preserve and promote blue and roots music in the Great Northwest!
Specifically funds raised for CBA will help send local musicians to the International Blues Competition in Memphis, support the Muddy Awards as well as the musician relief fund.
Click on 'find tickets' to select the seats you would like and enter your promo code [CBA] to access the exclusive pricing.
www.rosequarter.com/cascadeblues
Promo Code: CBA
ORDER DEADLINE: FRIDAY, DECEMBER 22ND
November 23, 2017 – Steve Cheseborough


7:00 pm, EaT: an Oyster Bar

November 23, 2017 – Just Friends


9:00 pm, Blue Diamond

November 24, 2017 – JT Wise Band


4:00 pm, White Eagle Saloon

November 24, 2017 – Robbie Laws


5:00 pm, Zarz on First

November 24, 2017 – Kevin Selfe and the Tornadoes


8:00 pm, Tigardville Station

November 24, 2017 – Lisa Mann Trio


8:00 pm, Blue Diamond

November 24, 2017 – Robbie Laws


8:00 pm, Vinyl Tap Bar & Grill

November 24, 2017 – Curtis Salgado


8:30 pm, Trail's End Saloon

November 24, 2017 – Karen Lovely


9:00 pm, Catfish Lou's

November 24, 2017 – Midnight's Children


9:00 pm, Jack London Bar