Save this date!

CBA Holiday Party Sunday 12/8 
12pm

at the Moose Lodge 16411 NE Halsey St. 
December's General Membership Meeting
Set To Raise The Roof
Wednesday, December 4, 7pm

The East Portland Eagles Lodge, 4904 SE Hawthorne St.
First set; Mark Shark
Second set; Ken DeRouchie Band
Members are Free, non-members $5.00.

All ages.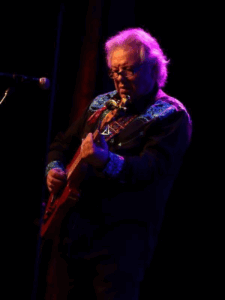 Well, the end of another year is upon us and your CBA has seen a number of changes during that time — moving our memberships meetings from Catfish Lou's to a temporary home at The Mission Theater, then finding a permanent location at The East Portland Eagles Lodge, along with adding color to BluesNotes and kicking off a Musicians Directory...
We'll be starting the night off with Mark Shark. With over forty years of guitar playing experience he brought his unique talents to the Pacific Northwest a few years back...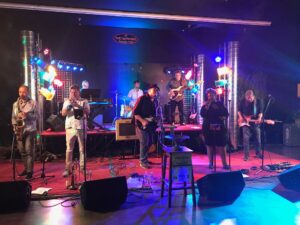 ...the second set of the night will also be a thrill-ride as six-time Muddy Award nominees for the "Lloyd Jones" R&B Act, the Ken DeRouchie Band will ignite the Eagles Lodge with their get down and funky good time music...
2 Days Events
December 12, 2019 6:30 pm
Open Mic Nite!
The Garages Satellite Pub
December 12, 2019 7:00 pm
Dave Roberts Westside Blues Jam
Jimmy Macs (Eugene)
December 12, 2019 7:00 pm
Pat Stilwell Band
Trail's End Saloon
December 12, 2019 7:00 pm
Steve Cheseborough
EaT: an Oyster Bar
December 12, 2019 8:00 pm
Ben Rice Band
Clydes
December 12, 2019 8:00 pm
Chadd Rupp 1-4-5 Blues Party
Lair Bar and Grill
December 12, 2019 8:00 pm
Ed Neumann & Friends w/Ken Scandlyn
CI Bar & Grill
December 12, 2019 8:00 pm
Steve Kerin
McMenamins Chapel Pub
December 12, 2019 9:00 pm
Hot Tea Cold
Blue Diamond
December 13, 2019 8:00 pm
Kevin Selfe and the Tornadoes
CI Bar & Grill
December 13, 2019 8:00 pm
Sister Mercy
Catfish Lou's
December 13, 2019 8:00 pm
The Norman Sylvester Band
Elks Lodge (Hillsboro)
December 13, 2019 9:00 pm
Myrtle Brown Band
Blue Diamond