CBA Membership Meeting Location change
for this date only!
September General Membership Meeting
Wednesday, September 4, 7pm


The Garages, 4810 SW Western Ave. Beaverton
The Garages, 4810 SW Western Ave. Beaverton
First set; Julie Amici & Dean Mueller with Thad Beckman
Second set; Sister Mercy
Members are Free, non-members $5.00.

all ages until 9pm
It may be September, but the summer heat is a long way from being over. Especially when it comes to blues performances in Portland and its region. That'll certainly be true for the September Cascade Blues Association General Membership Meeting. And to make sure that's the case we're bringing back two of our strongest acts over the past few years, both who represented our organization in Memphis and continue to do the Northwest proud every time they take the stage.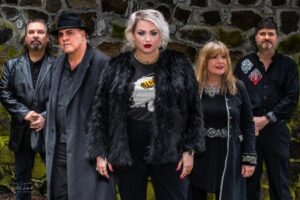 Julie Amici and Dean Mueller will be kicking off the meeting with the help of Thad Beckman on guitar. Julie and Dean just recently finished their upcoming album "I Loved You So,"and since the early feedback has been so strong, they're holding off officially releasing the album while they prepare to launch it nationally. Many of the tunes from the album will be presented during their set at the meeting, giving the CBA membership early access their original music.
For the second set of the night, we will be bringing back Sister Mercy. Fonted by the amazing vocal prowess of April Brown, they've quickly become one of Portland's favorite blues band.  Winner of the Journey to Memphis in both 2015 and 2017, Sister Mercy went on to compete in in the International Blues Challenge in Memphis and placed in the semi-finals in 2016 and 2018.  Their latest album "Diamonds" has steadily been gaining critical international acclaim for the band's powerhouse vocals and original songwriting.
Julie Amici and Dean Mueller
2 Days Events
September 19, 2019 6:00 pm
Lloyd Jones
Barrel 47
September 19, 2019 7:00 pm
Dave Roberts Westside Blues Jam
Jimmy Macs Overtime Grill & Bar
September 19, 2019 7:00 pm
Sonny Hess
McMenamins Gearhart Hotel
September 19, 2019 7:00 pm
Steve Cheseborough
EaT: an Oyster Bar
September 19, 2019 8:00 pm
Ben Rice Band
Clydes
September 19, 2019 8:00 pm
Chadd Rupp 1-4-5 Blues Party
Lair Bar and Grill
September 19, 2019 8:00 pm
Ed Neumann & Friends w/guest Jason "JT" Thomas
CI Bar & Grill
September 19, 2019 8:00 pm
Mick Schafer Band
Clark's Bistro and Pub
September 19, 2019 8:00 pm
Steve Kerin
McMenamins Chapel Pub
September 19, 2019 9:00 pm
Harvey Brindell & The Tablerockers
Spare Room
September 19, 2019 9:00 pm
Hot Tea Cold
Blue Diamond
September 20, 2019 5:00 pm
James Clem
Mark's on the Channel
September 20, 2019 7:00 pm
JT Wise Band
McMenamins Edgefield
September 20, 2019 8:00 pm
Kevin Selfe and The Tornadoes
Tigardville Station
September 20, 2019 8:00 pm
The Ventilators
The Garages Satellite Pub
September 20, 2019 9:00 pm
Joanne Broh Band w/Garry Meziere
Blue Diamond