March's General Membership Meeting
Wednesday, March 6 ~ 7:00 pm
The Mission Theater, 1624 NW Glisan Street, Portland

(New Location)

Members always Free ~ Non-Members $5.00
(Members please show your current cards at the door)
Opening Acoustic Set ~ Mary Flower
Second Electric Set ~ Lisa Mann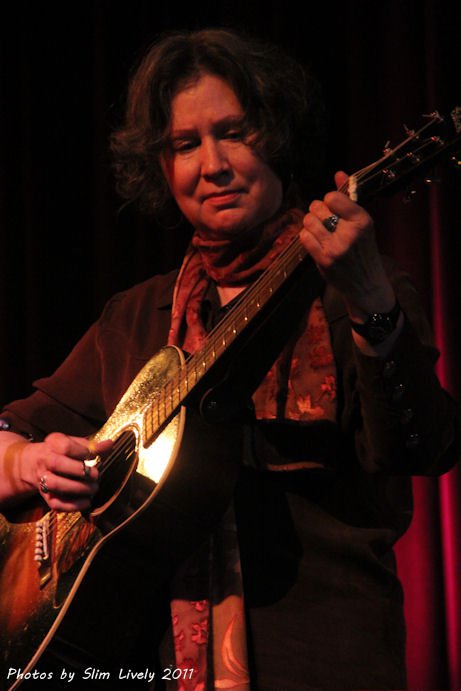 March will find us again in our temporary home — The Mission Theater — for our monthly meetings. This is our next to last meeting here before we move in May into our permanent location at The East Eagles Lodge on Hawthorne. During our tenure at The Mission we wanted to showcase some of the most popular blues acts in our area and we've certainly succeeded doing so for our March meeting.
Opening our March meeting will be one of the world's most recognized acoustic guitarists, Mary Flower. Mary is fluent in and master of the artistically tricky Piedmont style of acoustic guitar, a genre that requires intricate picking and an innate sense of subtle harmonics. But Mary — who relocated from Denver to Portland, Oregon in 2004 — is equally rooted in Mississippi blues...
As we had for the February meeting with Lloyd Jones, I asked Lisa Mann if she wouldn't mind performing at the March meeting. Like Lloyd, Lisa has put together a terrific collection of musicians you're likely not going to see too often working together in this type of format...
2 Days Events
March 25, 2019 6:00 pm
Bill Coones Daniel Noland Quartet
Catfish Lou's
March 25, 2019 8:00 pm
Ben Rice Monday Jam
Spud Monkey
March 25, 2019 8:00 pm
Lloyd Jones "Blue Monday"
Muddy Rudder
March 26, 2019 7:00 pm
Ben Rice and the Colossal Organ Trio
Catfish Lou's
March 26, 2019 8:00 pm
Heavy Sugar, Alan Hager, John Mazzocco, Carlton Jackson, may include "Satellite Malone"
Clydes