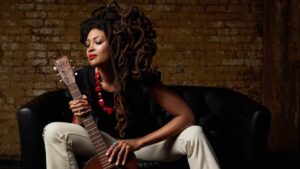 Multi-instrumentalist and Tennessee native Valerie June performs a diverse conglomeration of American roots music that encompasses traditional spirituals, Americana, classic blues, folk, soul, and bluegrass. Through stark acoustic rhythms and uncanny slide guitar, she effortlessly shifts between eras and genres. She can be haunting and melancholic while singing of the ghostly darkness of loneliness, or full of warmth and charm, at one moment seductive in a sensual come-on, fragile and vulnerable, the next in a display of naked honesty. Valerie June transports you to another world the moment you hear her voice. It is a voice that has been winning over audiences around the world in a seemingly short few years since she first burst upon the music scene.
June is currently on tour in support of her highly-acclaimed new album The Order Of Time. The follow-up to her breakout 2013 release Pushin' Against A Stone, the new disc seals her place amongst the finest of roots musicians exploring new paths while maintaining a truthfulness to the past.
Her last appearance in Portland last June sold out quickly, so in anticipation of the demand for tickets, Valerie June is scheduled for two shows at the Aladdin Theater on Friday, December 8 and Saturday, December 9. Tickets for both shows are $27.50 advance through Ticketfly.com or $29.00 at the door day of show. The Aladdin Theater is located at 3017 SE Milwaukie Avenue. This is an all ages event, with minors accompanied by a parent or guardian. Both nights start at 8:00 pm with Louisiana-based guitarist from the band Old Crow Medicine Show Gill Landry opening.