The Ted Vaughn Blues Band Plays Blues and A Whole Lot More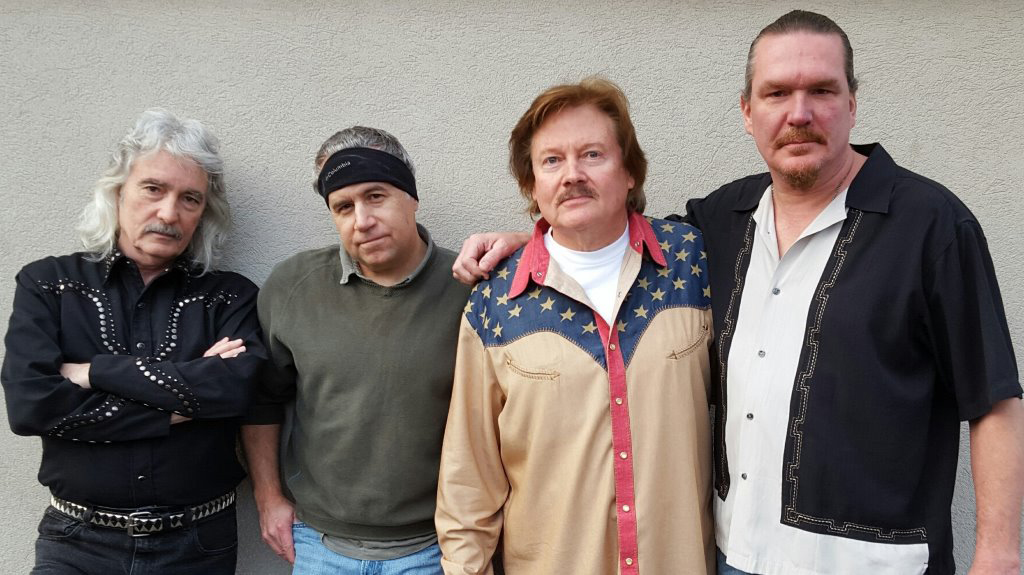 Playing with artists such as John Fogerty, Robben Ford, Corey Stevens, Doug MacLeod, Savoy Brown, and Big George Brock, The Ted Vaughn Blues Band is no stranger to the stage. They have been featured with everyone from John Nemeth to Kenny Loggins to Texas Blues Legends "Smokin' Joe Kubek and Bnois King.
The band is heavily blues based, but they also venture into many other musical territories. "We play a mix of originals, old, and sometimes obscure blues songs that we rearrange, as well as some rockabilly and more modern blues rock. Something for just about everyone," explains band leader Ted Vaughn.
The Ted Vaughn Blues Band includes Ted Vaughn on vocals and blues harp, Clay "Bone" King on guitars and vocals; Dave Stump on bass and vocals, and John King manning the drums. From time to time when he's available, Leon-Forrest, plays keyboards and contributes vocals.
Ted is Texas born and raised, and he lived not far from the home of Stevie Ray and Jimmie Vaughan. Clay is from Southern California and spent many years performing around L.A. Leon is from California as well and is a longtime resident and fixture on the music scene in Lincoln City. Dave Stump is from Monmouth, and John King hails from Salem.
Each band member has been performing since his early teens — either as a solo artist or in a variety of bands. Growing up they all had the desire to perform professionally, but sometimes life got in the way. "None of us ever wanted to grow up and most folks that know us would say we never have," Ted comments.
When asked about their day jobs, Ted explains that, "because income from music is so inconsistent, we are also working stiffs." Ted is a meteorologist and president of Southwest Weather, Inc. He contracts with the National Weather Service to run the upper air site in Salem, OR, gathering data from weather balloons.
Clay "Bone" is a psychotherapist in the mental health field and works with Kaiser Permanente. He also teaches guitar. Dave is the Regulatory and Food Safety Programs Director for Truitt Bros., Inc. John has been involved in several fields and currently works in the food industry processing game and meat.
Leon-Forrest runs his own studio and production company for music and video as well as the Harbinger Northwest record label. He has partnered with Paul Carlsen, who has worked with everyone from Greg Allman to Etta James and holds a platinum award for his work on Nirvanas Nevermind album.
Music Influences
"We have all been influenced by some of the same musicians, especially when it comes to blues," according to Ted. He was influenced by a lot of the musicians in Texas and the south, from "Lightnin" Hopkins to Fats Domino and later, Stevie Ray Vaughan, and Anson Funderburg. Harmonica wise, Ted was heavily influenced by Sam Myers and James Harman. "The list could go on and on…" he said.
Clay's big influences are all over the map and would include everyone from Cream, Pink Floyd, Spencer Davis, and all of the early blues players — too many to mention. Dave was influenced by John Paul Jones of Led Zeppelin, Mars Cowling of Pat Travers Band, and Berry Oakley of the Allman Bros. John's influences range from Bill Bruford to Phil Collins and Leon's range from Leon Russell to Taj Mahal. Leon has been fortunate enough to work with many of his influences either in studio or at live shows.
Training
All of the band members have had a mix of formal training and learning on their own. Ted studied music starting in grade school and was a trumpet player all the way through a stint in the Navy where he performed in the Navy Jazz Band, as well as getting vocal instruction in various choirs and singing groups. Clay studied with jazz greats Joe Pass, Warne Marsh, and Jimmy Wyble (Bob Wills and the Texas Playboys). Dave started with basic music lessons and then took jazz and theory classes at OCE (now WOU) and Mt. Hood Community College. John studied under jazz drummer Herb Brennon and in L.A. at the Musicians Institute. Leon studied formally at many music schools as well as rubbing shoulders and absorbing knowledge from some of the world's best known musicians.
CD's
All of the band members have recorded with a variety of bands through the years. Their current self-titled CD, The Ted Vaughn Blues Band, was released in 2012 and was nominated as CD of the Year in 2013 by Indie Music Digest. It was recorded at Leon- Forrest Studio and released on Harbinger Northwest Records and Paul Carlsen served as engineer. They'll be back in studio in October to start their next CD.
Former Band Members
"Bob Jasper, who just passed away, was a good friend and an amazing guitarist. Bob was immensely helpful in getting the band off the ground. He leaves a huge void in the Portland music scene," Ted said when discussing former members. "There have been other musicians that, although not members, have helped bring the band to where it is today—folks like Garry Meziere, John Pounds, Larry London, and several others. I am just amazed at the level of talent in this area."
Closing Comments
"We just signed with Peter Holmstedt of Sweden for our European PR. Peter represented and managed public relations for the late Merle Haggard and currently represents acts such as The Indigo Girls, Judy Collins, Ginger Baker, Rodney Crowell, and Katey Sagal. Our radio play across the pond has exploded and I've done scores of interviews from Belgium to Germany, France, Sweden, you name it. We have been featured in some of the top music magazines as well, including Rootstime and Blues Matters. Looks as if we'll hit Europe for our first international tour soon," according to Ted.
For more information where to find them on this side of the pond, visit www.tedvaughnbluesband.com.
https://cascadebluesassociation.org/wp-content/uploads/2016/08/The-Ted-Vaughn-Blues-Band-photo-by-Peggy-Vaughn.jpg
575
1024
Wendy Schumer
https://cascadebluesassociation.org/wp-content/uploads/2020/10/CBA_Logo_top_main.png
Wendy Schumer
2016-08-28 15:58:15
2016-08-29 16:36:49
The Ted Vaughn Blues Band Plays Blues and A Whole Lot More