Blue Vancouver: Vancouver Wine and Jazz Festival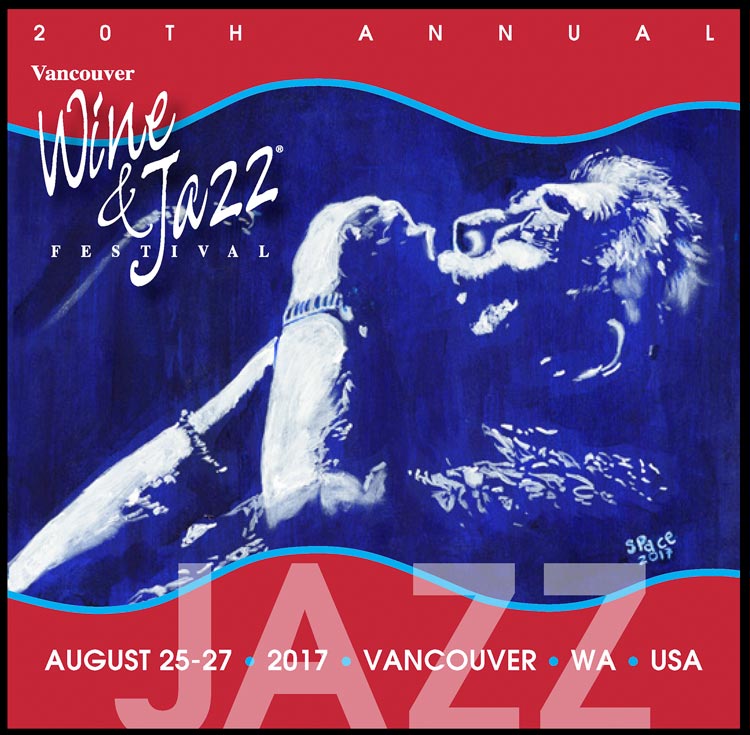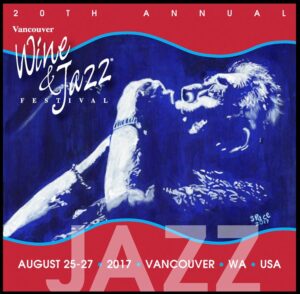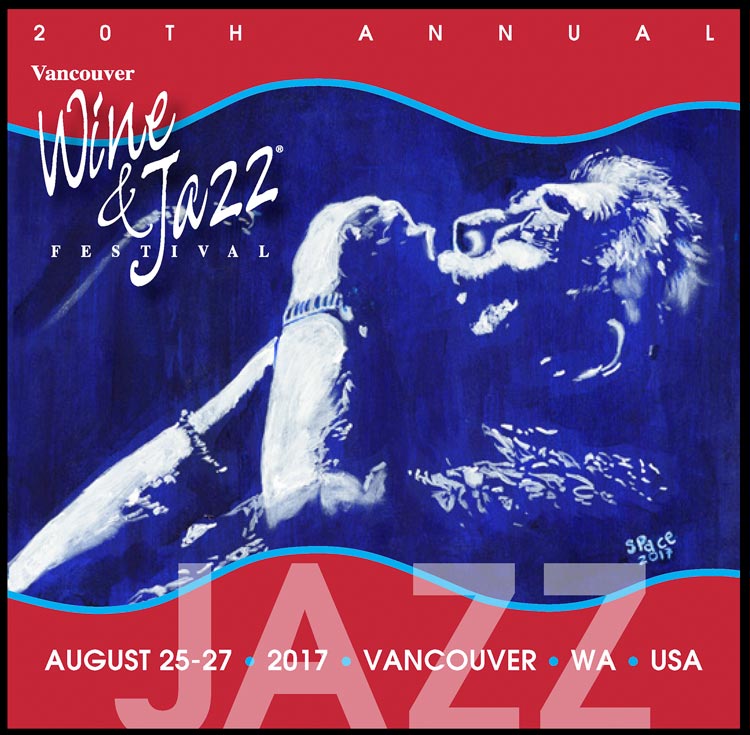 By Jeff LeVine
Every year for the last 20 years, Bravo! Northwest has hosted the Vancouver Wine and Jazz Festival as a benefit to support its concert ensembles and concert series. True to the vision of the organizers, this is a world class cultural event. And it is just the other side of the mighty Columbia River in downtown Vancouver, Washington.
Granted, the traffic over the bridge of the clods can be an impediment. The trip up for the Friday night show took me 90 minutes. Still, this gem of a festival is right in our back yard and gets very little coverage in Portland. Now the Cascade Blues Association was hip to the event this year, with a staffed tent selling memberships and CBA swag.
For blues festival lovers, this spectacular event offers top stars, with few crowds in a shaded comfortable park with very reasonable ticket prices.
The festival features jazz and blues starts, here is breakdown to the 2017 blues shows.
Ruthie Foster
Headlining Friday night Ruthie's trio brought her unique mix of blues and gospel to the 'couve. Ruthie opened with songs of devotion and praise and the "Promise of a Brand New Day." Her "Small Town Blues" brought the dancers out. Just when I thought this was all about gospel, Ruthie went back to the blues roots with Mississippi John Hurt's "Richland Women Blues" and a modern cover "When It Don't Come Easy." And once again Ruthie switches styles and plays a jazzed up version of "Ring of Fire" by Johnny Cash. The fans were out in force, and I could see why! The show is uplifting and covers the timeless praise and pain of the blues. If you have not listened to Ruthie, give her a try!
Shemekia Copeland
Saturday afternoon featured a lady with blues legacy. Shemekia is the daughter of Johnny Copeland and shared several tales of growing up Copeland in Harlem when blues was out and hip-hop reigned supreme. Two fine guitar players and a bass and drum rhythm section backed Shemekia . Shemekia is promoting her new CD Outskirts of Love and opened with the rocking title track. Following was a very dark song called "Cross-Bone Beach", which tells a scary crime story. Shemekia followed with a song that hits close to home for many, she couldn't find love and wound up "Married to the Blues" featuring a clean guitar solo. Shemekia covered one of her daddy's songs, about the devil. Then informed us she was a full service blues singer, singing about the lord and about the devil. Shemekia brought it down with "Salt in My Wounds" and I felt the deep sadness of the song. She covered several of her father's songs "Circumstances" and "Ghetto Child" about a boy who couldn't go to school because he had no shoes. The Vancouver Wine and Jazz Festival does offers a chance to meet some of the artists. I got a chance to speak to Shemekia for a few minutes and she recounted the time her father brought home the Grammy for the album Showdown (with Albert Collins and Robert Cray).
Ronnie Baker Brooks
Sunday afternoon brought my favorite show of the festival with another legacy. Ronnie is the son of Lonnie Brooks. Ronnie lead the group on the Gibson 339 guitar and was backed by an amazing keyboard player and bass and drum. Chicago electric blues is my favorite. Ronnie opened with "I'll Play the Blues for You" just as sultry as the original with an amazing organ solo. Ronnie was promoting the Times Have Changed album, co-written by Big Head Todd. "Doin' Too Much" featured a modern chord progression, but Ronnie's solo was pure Chicago. Ronnie covered several of the blues forefathers with a John Lee Hooker tribute and covers of Howlin Wolf and a fantastic version of "Let Me Love You Baby". Ronnie was my favorite performer. As blues lover's we can listen to the old records, or we can listen to rocked out versions of the old songs. Ronnie is one of the few performers I've heard who offers a truly updated version of the Chicago blues with the passion and the pain adapted for today.
John Mayall
John was the closing act for the festival. Sadly, he exposed one of the weaknesses of the event. The sound check took 45 minutes for a trio. John Mayall is not young, he was a very early British Invasion blues star. His voice was creaky, but his harmonica playing was as tight as ever. John switched between two keyboards, harmonica and guitar. He played his own songs like "Moving Grovin Blues" and covers like Sonny Boy Williamson's "Help Me." John closed the show with an awesome version of "Congo Square". John did come back for an encore and played his big hit "Room to Move." This was the highlight of his show.
So if you have the chance next summer, try to catch the Vancouver Wine and Jazz Festival. You are sure to catch some excellent acts in a very enjoyable park with none of the crowds we have at the waterfront.
https://cascadebluesassociation.org/wp-content/uploads/2017/07/Poster-Vancouver_wine_and_jazz.jpg
735
750
Wendy Schumer
https://cascadebluesassociation.org/wp-content/uploads/2020/10/CBA_Logo_top_main.png
Wendy Schumer
2017-09-24 18:57:15
2019-02-21 14:53:38
Blue Vancouver: Vancouver Wine and Jazz Festival