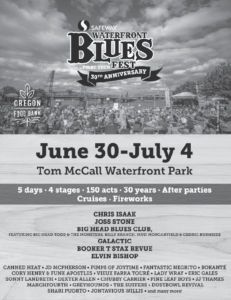 Join blues legends, up-and-comers, and local acts to mark the 30th Anniversary of the Safeway Waterfront Blues Festival, presented by First Tech Federal Credit Union, June 30 – July 4, 2017 at Tom McCall Waterfront Park. This year's festival will run five days and feature 150 blues acts on four stages. Festival proceeds help Oregon Food Bank fight hunger in Oregon and Clark County, Washington.
"Five days, four stages and more than 150 eclectic performances. For just $10 a day, Waterfront Blues Festival is the concert deal of the summer," explained Artistic Director Peter Dammann. "But it's much more than that. For three decades this event has supported Oregon Food Bank while reaffirming and strengthening the threads that bind us as a community. This has become one of the nation's great community music festivals and it could only happen in Portland."
Oregon Food Bank CEO Susannah Morgan remarked that "[w]e are truly humbled to mark 30 years of support from the blues community to feed the human spirit of the 1 in 5 people facing hunger in our state. Since 1988, this iconic festival has raised more than $10 million and 1,000 tons of food for hunger relief. This is an achievement we are extremely proud of – and an achievement that is unprecedented in the concert festival business."
Major sponsors include Safeway, First Tech Federal Credit Union, Buick GMC of Beaverton, FedEx, KINK.fm, KOIN-TV, The Oregonian, Coors Light, and Deschutes Brewery. For information on DME Blues Cruises and After Hours All Stars, see separate article following this article.
Friday, June 30
Chris Isaak
Songwriter Chris Isaak clearly loves the reverb-laden rockabilly and country of Sun Studios. Isaak began performing after he graduated from college, forming the rockabilly band Silvertone. The group featured bassist Rowland Salley and drummer Kenney Dale Johnson, who remain the backbone of the singer/guitarist's permanent supporting band (rounded out for the past two decades by the superb, Portland-based guitarist Herschel Yatovitz).
Elvin Bishop
Elvin Bishop has been performing his rollicking brand of electrified front porch blues for over 50 years (his first professional gig was as guitarist for Junior Wells' band in 1962.) He is as vital and creative an artist today as he was when he first hit the national scene in 1965 with The Paul Butterfield Blues Band—with whom he was inducted into the Rock & Roll Hall of Fame in 2015. He is still as slyly good-humored and instantly crowd-pleasing as he was when he was effortlessly creating solo hits during the 1970s. His reemergence on Alligator Records in the late 1980s and into the 1990s, along with his more recent releases on Blind Pig and Delta Groove, insure his place on the short list of bona fide blues guitar heroes. Elvin's music mixes thick blues grooves with timeless rock flavors spiced with a touch of country, a dab of Moms Mabley's and Pigmeat Markham's ribald black comedy, and the laid back feel of his Northern California home. His guitar playing seems to improve with every performance, and his songwriting is filled with clever revelations and homespun wisdom.
Fantastic Negrito
Fantastic Negrito, who this year won a Grammy for Best Contemporary Blues Album, is a man's truth told in the form of black roots music. Each song tells the true story of a musician from Oakland who experienced the highs of a million dollar record deal, the lows of a near fatal car accident that put him in a coma, and is now in the phase of rebirth.
Cedric Burnside Project
Born and raised around Holly Springs, Mississippi, Cedric Burnside, grandson of legendary R.L. Burnside and son of drummer Calvin Jackson, has been playing music all his life. He has developed a relentless, highly rhythmic style that takes the blues to another level. This five-time winner of the prestigious Blues Music Award's Drummer of the Year (2010-2016) is widely regarded as one of the best drummers in the world and has begun to make a name for himself as a traditional blues guitarist, as well.
JJ Thames "Mississippi Blues Diva"
JJ Thames has literally and metaphorically come a long way in the last few years. From busking in New York City subway tunnels in 2008 to having the No. 1 Hot Single on the Billboard Charts in March 2014, and now in 2017 having two chart-topping and critically-acclaimed releases and international tours under her belt…Thames has arrived. Her story reads like a classic Hollywood biopic, full of early joys, tragic losses, and a seemingly predestined turn to music as a career.
Dirty Bourbon River Show
New Orleans' Dirty Bourbon River Show deftly melds sounds that range from hard-edged blues to whimsical piano driven ballads to Crescent City brass into a result that is truly a blast of new energy into the musical landscape. Dirty Bourbon grabs hold of audiences, fascinated by their eccentricity and dexterity coupled with their ability to harken back to by-gone eras in music.
The Revelers
The Revelers, a Louisiana supergroup created by founding members of the Red Stick Ramblers and The Pine Leaf Boys—unquestionably the two groups at the vanguard of the Louisiana cultural renaissance—combines swamp-pop, Cajun, country, blues and zydeco into a powerful tonic of roots music that could only come from southwest Louisiana.
Brother Yusef
Brother Yusef has been described as a master solo guitarist, and passionate vocalist. He has honed his guitar skills and vocals for over 30 years into a sound he calls "Fattback Blues." Fattback Blues combines "traditional" finger-picking and slide-guitar playing with the contemporary feel of urban blues to create a full band sound with one guitar. YUSEF uses his right hand thumb to beat out a percussive bass-line and shuffle, while the index finger plays rhythm and lead lines. A favorite with young blues and swing dancers, Yusef is sure to pack the dance floor at the festival's Front Porch Stage.
Dirty Revival
"Big, gritty, and honest. Our sound is unique but pulls elements of our favorite genres: soul, funk, hip-hop, R&B, jazz, gospel, and rock," says Sarah Clarke, the resounding, and resonating, front woman for Portland-based Dirty Revival. Also comprised of Evan "evv'n'flo" Simko (M.C., guitar), Terry Drysdale (drums), Karl Ludwigsen (keyboards), Jon Shaw (bass), Chris Hardin (tenor sax), and Jon Clay (trumpet), the septet shines on their self-titled, debut full-length recording.
Saturday, July 1
Big Head Todd Blues Club
Platinum-selling Colorado-based rockers Big Head Todd and The Monsters [BHTM] team up with blues royalty Billy Branch, Mud Morganfield and Cedric Burnside to pay tribute to one of the most influential songwriters of the blues and rock and roll: Willie Dixon. If you're a fan of Muddy Waters and Bo Diddley, or even Led Zeppelin and the Rolling Stones, then you've heard the immortal hits of Willie Dixon, a Rock & Roll Hall of Famer dubbed the "poet laureate of the blues."
Three-time Grammy nominee Billy Branch was discovered by Willie Dixon while Branch was still in college. Dixon encouraged Branch to finish his college education, which he did, but instead of going to law school after receiving his political science degree, Branch began touring with Willie Dixon's Chicago Blues All-Stars, initially as an understudy for legendary harmonica ace Carey Bell who was planning to leave to form his own band. When Carey took his leave, the young Billy Branch took his place, touring with Willie Dixon for 6 years.
The special collaboration features Muddy Waters' son, Mud Morganfield, on vocals, whose moan and growl is conjures the spirit of Muddy as well as anyone on the planet. This will be Mud's Portland debut.
Rounding out the project is third generation Mississippi bluesman Cedric Burnside (see Friday listings for more on Cedric.)
JD McPherson
JD McPherson, not yet 40, has managed the near-impossible; he is at once a classic rock revivalist and a musical pioneer, all on the same albums. He's knocking at the door of something that arguably hasn't yet been accomplished—a spirited, almost spiritual hybrid that brings the forgotten lessons from the earliest days of rock & roll into a future that has room for the modernities of studio technique and 21st century singer/songwriter idiosyncrasies.
Eric Gales
Eric Gales was a child prodigy, heralded as the second coming of Jimi Hendrix, when he released his debut album The Eric Gales Band in 1991 as a 16-year-old on Elektra Records. It was the first of 10 albums on a major label through a blistering career.  One of those projects led him to work with producer Fabrizio Grossi (Alice Cooper, Joe Bonamassa, Billy Gibbons, Ice T, Leslie West, Slash, Walter Trout, Steve Lukather), who says, "I've been a fan of Eric since I first worked with him 15 years ago on a project with George Clinton & P.Funk. His tone and his playing was wicked. I know very few musicians with such musicality. Eric is simply Miles Davis' and Jimi Hendrix' love child, that's my story and I'm sticking to it."
Greyhounds
As Greyhounds, guitarist Andrew Trube and keyboardist Anthony Farrell have been making music and touring for 15 years, refining and developing a sound Trube calls "Hall and Oates meet ZZ Top." The band also has long ties to Memphis, home of the soul that inspires them. Trube and Farrell previously appeared at the Festival as part of JJ Grey's & Mofro.
Southern Avenue
Southern Avenue, named for a Memphis street that runs from the city limits all the way to Soulsville, the original home of Stax Records, is a fiery young Memphis quintet that embodies its home city's soul, blues and gospel traditions, while adding a youthful spirit and dynamic energy all their own. "The most talked-about band from Memphis right now."
Christone "Kingfish" Ingram
The Festival is thrilled to welcome back to Waterfront Park the young Mississippi bluesman Christone "Kingfish" Ingram, who will be celebrating not only the Festival's 30th Anniversary, but also his own recent graduation from high school! This will be Christone's third visit to Waterfront. His first outing, for those of you who missed it during that record-breaking heat wave that hit us in 2015, proved one of the most stunning debuts ever seen at Waterfront Blues Festival, as the young guitar shredder all but stole the show on a lineup that included such legends as Gregg Allman and Buddy Guy.
Big Monti
His name is Monti Amundson but most people call him Big Monti. Not just because of the man's physical appearance, but also because of his obvious talent and sheer presence. When Big Monti takes the stage, it's clear that there's more going on than the usual extended guitar solos – the man plays and sings larger than life. When Big Monti gets compared to Stevie Ray Vaughan or Johnny Winter he just says "thank you." The fact is, the big man has his own style. "I'm a blues guitar player in a band that plays rock n' roll," says Monti, who recently moved to Nashville. He doesn't so much as straddle the line between the genres as bend it, ignore it, or race back and forth across it until both sides go up in flames.
Lady "True Blue" Kat
With her low, rich, full-bodied voice— one that fuses Etta James' power to Wynonna's twang and Della Reese's depth— Lady Kat has been a surprisingly well kept secret on Portland's music scene, appearing relatively infrequently as a special guest—and always hitting it out of the park—for various special projects and collaborations. But Lady Kat's low-profile, under-the-radar status, we suspect, is about to change. "The Gift of Song truly is a gift of power. A singer should cherish and respect it! For you never know who's out there watching and listening and taking away a memory of your gift. It is my mission to respect and represent the art of music," according to Lady True Blue.
Shari Puorto Band
Shari Puorto Band is a Southern California blues/rock/roots band with a lot of soul who have been touring together for years. With notable nominations and awards under their belt they continue to electrify audiences from Coast to Coast and abroad, and make their Portland debut at this year's Waterfront Blues Festival. The band combines today's modern blues/rock with yesteryear's traditional blues. Their performances, and their connection with the audience, are infectious.
Chubby Carrier & the Bayou Swamp Band
Chubby Carrier and The Bayou Swamp Band, return as unofficial host and house band for Waterfront's Cajun-Zydeco dances on the Oregonian Front Porch Stage. Mixing the traditional accordion and washboard farmhouse porch boogie of the Cajun prairie with dashes of '70s funk, the spices of classic R&B, and refreshing, swampy twists on classic songs as only authentic Louisiana ambassadors can do.
Jeffery Broussard & The Creole Cowboys
One of the most influential accordionists and vocalists in modern Zydeco music, Jeffery Broussard is one of the genre's most dynamic performers. He began his career in traditional Creole Zydeco music playing drums in his father's band, Delton Broussard & The Lawtell Playboys, then moving on to develop the nouveau Zydeco sound in Zydeco Force, and returning to the more traditional Zydeco sound with his own band, Jeffery Broussard And The Creole Cowboys.
Donna Angelle & her Zydeco Posse
Donna Angelle is a veteran and a staple of the American south who, after overcoming devastating injuries from a 1994 car crash, has been steadily building her music career through hard work, perseverance, and sheer talent.
Pine Leaf Boys
Louisiana's four-time Grammy-nominated Pine Leaf Boys have made a name presenting their own inimitable brand of Cajun music. Hailing from southwest Louisiana, the Pine Leaf Boys, known for their wild shows and thoughtful arrangements, have breathed new life into Cajun music, reviving ancient songs and bringing them to the bandstand.
NW Women Rhythm & Blues, Featuring Claudette King
The NW Women R&B group has performed specialty shows produced by Sonny Hess since the early 80's. These shows are comprised of the top female performers in the region but most importantly, Sonny exposes new-found talent to the Portland Blues scene. Here are a few names you might recognize that got their start in the area with the NW Women Rhythm & Blues: Lisa Mann, Ellen Whyte, Rae Gordon, Naomi T, Lady Kat "Lady True Blue" are just a few who have gone on to win multiple awards locally, regionally and nationally. The group's performance on the Festival's July 1 afternoon  "Sail on Sister" Blues Cruise will showcase such seasoned performers as Sonny Hess, Sheila Wilcoxson, Lady True Blue, Kelly Pierce, and special guest, Claudette King, daughter of the late legendary blues man, BB King.
Greta Kohan and Juan Soria
Greta Kohan is a singer/songwriter from La Cumbre, Córdoba, Argentina now based In Brooklyn, New York. Greta is considered one the best blues voices in the new generation of Argentine singers with more than 12 years performing and studying.  Her voice has a wide range that makes it possible for her to sing different styles— going from a soft sound to a raspy voice—in one song interpretation. Her repertoire includes the standards and her own original compositions in both English and Spanish.
Juan M. Soria is a singer-songwriter from Buenos Aires, Argentina who now resides in Brooklyn, NY.  His music style is blues/rock/folk with a bit of slide guitar for good measure and his influences include The Beatles, Dave Matthews, Jimi Hendrix, Amos Lee and Gustavo Cerati.
Marilyn Keller "Dapipes And Da Killer Band"
Marilyn T. Keller, 2016 Jazz Society of Oregon Hall of Fame Inductee, brings a special magic to the stage with her charming presence and flawless vocal stylings. Her musical roots are diverse. She joined Black Swan Classic Jazz Band in 1997, quickly establishing a loyal following in the Dixieland and Ragtime scene. She has also remained active in a wide variety of other performance ensembles and styles: The Don Latarski Group, Darrell Grant, Thara Memory, Tall Jazz, Tom Grant, Michael Allen Harrison, Disciples in Song, and the Augustana Jazz Quartet to name a few. Marilyn's formative jazz training was as a member of the Mt. Hood Community College Vocal Jazz Ensemble and as the vocalist fronting the award-winning MHCC Jazz Lab Band. She is featured at the Jazz Worship Service at Augustana Lutheran Church every Sunday and can be seen frequently at restaurants, clubs, festivals and holiday events throughout the Pacific Northwest. Marilyn's versatility extends to the recording studio and she has contributed her talents to various original CD's, albums, demos and commercials. Keller debuts her killer new project, "Dapipes & Da Killer Band", on the Saturday night 'Rock the Boat' dance cruise.
Sunday, July 2
Galactic
Galactic is a uniquely New Orleans phenomenon; a 20-year instrumental project that synthesizes the full spectrum of New Orleans music into an edgy, urban fusion incorporating New Orleans horn-driven funk, the region's exuberant jazz, blues, hip hop, electronica, blues, "second line" marching brass, and the local frenetic funk-rock style called bounce.  The brightest lights of Louisiana also appear as guest artists on Galactic's 11 albums, which have featured blues legend Walter Wolfman Washington, R&B queen Irma Thomas, cult "sissy bounce" legend Big Freedia, R&B/soul star Macy Gray (who appeared with Galactic previously at Waterfront), and their current touring partner, the phenomenal Crescent City vocalist Erica Falls.
Pimps of Joytime
When it comes to throwing a party, the Pimps of Joytime raise the bar with swagger to spare. Rhythms and textures drawn from New Orleans funk, '90s club house, '60s salsa, and hip-hop all collide and fracture upon one another on their new LP, Jukestone Paradise. Dubbed "raucous and captivating" by Okayplayer, their album cuts play like the soundtrack for a ride through Brooklyn's diverse neighborhoods, where the group's sound materialized.
Sonny Landreth
Sonny Landreth, the lean Mississippi native, who grew up in Lafayette, Louisiana, has enjoyed a prolific career for decades, dating back to his solo debut album Blues Attack in 1981. Although that album fanned the flames of his reputation as an emerging force in roots music, Landreth kept a parallel career going as a celebrated sideman and session player. Over the years he performed and recorded with artists that include John Hiatt, British blues innovator John Mayall, and toured as a member of Jimmy Buffett's Coral Reefer Band. He also collaborated with Eric Clapton, and has performed at all of Clapton's prestigious Crossroads Guitar Festivals since 2004.
Vieux Farke Touré
Often referred to as "The Hendrix of the Sahara", Vieux Farka Touré was born in Niafunké, Mali in 1981. He is the son of legendary Malian guitar player Ali Farka Touré, who died in 2006. Vieux pays homage to his father and follows Ali's musical tradition, giving new versions of the West African music that is echoed in the American blues.
Blynd
The unique band Blynd (formerly Legally Blynd) is one of the most artistic soul-blues bands performing today, comprised of an elite group of top session musicians who've spent years on the road and in the studio with the likes of Whitney Houston, Janet Jackson, Mick Jagger, Elton John, Alicia Keys, John Legend, Frankie Beverly & Maze, Chrisette Michele, Jill Scott, Justin Timberlake, and Stevie Wonder. Blynd features the stunning soul/blues guitar chops of John "Jubu" Smith.
Sons of the Soul Revivers
For those of us who don't get to hear traditional gospel quartets very often, if ever, the fact that the Sons Of The Soul Revivers are breaking out of the four walls of the church to perform for secular audiences is something of a musical blessing. The Vallejo, California-based group performed a gospel dinner show this spring at Rancho Nicasio that was recorded live by the Little Village Foundation, a nonprofit founded by blues keyboardist Jim Pugh to put out music that would otherwise be overlooked by commercial record labels. (LVF brought soul singer Wee Willie Walker, Mariachi Mestizo and slide guitar ace Ron Thompson to Waterfront in recent years). The Sons are an example of an authentic American roots music that, sadly, is in danger of becoming extinct.
Dexter Allen
Dexter Allen, born in Crystal Springs, MS., the son of musical Pastors Lee and Ruthie Allen, was raised on a farm and grew up understanding that life can still be wholesome with only the bare necessities. Dexter began playing bass guitar at the age of 12 for his father's gospel group, traveling around the central Mississippi area. After several years touring in the band of Mississippi blues legend Bobby Rush, Dexter's own blend of Blues, R&B, Soul and Funk landed him a record deal in 1995 with Airtight Records, an independent label based in Mississippi.
King Louie's Blues Revue: LaRhonda Steele, Andy Stokes, Lisa Mann
King Louie's Blues Revue, a bluesier version of the Portland Soul All-Stars, was first put together by organist Louis Pain for a series of 2012 shows at Bend, Oregon's prestigious Jazz At The Oxford series.  The shows were a wild success, leading series creator Marshall Glickman to break one of his principle rules: "never book the same act twice."  It happened all over again in 2013…and again in 2014!  Each year, the revue sold out more quickly than the year before, and each year the performances were even more exciting.  The group also brought the house down at the 2014 Waterfront Blues Festival (billed as "The Oxford All-Stars").  The following year, this super-group was the closing act on July 4th at the festival. Then, in March 2017, the band sold out both of its shows at Marshall Glickman's new Riverhouse Jazz series in Bend, receiving one standing ovation after another.
Monday, July 3
Joss Stone
British soul singer and songwriter Joss Stone was only 17 when her first album The Soul Sessions went multi-platinum. Since then the Grammy-winning artist has sold 14 million albums. Her enormous, gritty voice and creative songwriting has made her one of the most successful British soul artists of all time. "We've been trying to bring Stone to the Blues Festival since we first heard her riveting Soul Sessions disc nearly 15 years ago," says Festival Artistic Director, Dammann. "She hasn't toured stateside often, and hasn't done a NW date in over five years. We're thrilled to finally bring Joss Stone to Waterfront Park."
Bokanté
This breathtaking new side-project of Grammy-winning funk/fusion group Snarky Puppy fuses the Creole groove of the Caribbean to the grit and howl of the Mississippi Delta. Features Roosevelt Collier (who appeared at Waterfront previously with the 'sacred steel' gospel group, the Lee Boys) on pedal steel; and the stunning vocalist Malika Tirolean. "Bokante is nothing less than a world music super-group…" – Pulse.
Booker T Stax Revue
Booker T's Stax Revue features an eight-piece band with two lead vocalists, a two-piece horn section and BOOKER'S usual rhythm section and delivers a high-energy experience curated to take the audience on a journey through Booker's eyes. His brief personal anecdotes provide wonderful context for the music and Booker's legendary history with Stax makes him the perfect artist to present such a revue.
Cory Henry & the Funk Apostles
One of the finest Hammond B-3 organ players of his generation, Cory Henry has worked in the studio and toured with countless artists, including Yolanda Adams, Stanley Brown, Israel Houghton, P. Diddy, Kirk Franklin, Kenny Garrett, Donnie McClurkin, Boyz II Men, Michael McDonald, Bruce Springsteen, the Roots, and many others. Since 2012, Henry has been a member of the acclaimed experimental jazz and funk ensemble Snarky Puppy, with whom he won a 2014 Grammy Award for Best R&B Performance and a 2015 Grammy for Best Contemporary Instrumental Album. In 2016, Henry released the gospel infused solo effort The Revival.
Chris Cain
"Nowadays most young blues players are Strat-wielding Stevie Ray Vaughan-a-bes. Not Chris Cain. With a voice that recalls B.B. King and a thick toned Gibson guitar sound reminiscent of Albert King, Cain is forging a unique style. … one of the most compelling bluesmen on today's scene." – Larry Nager (syndicated Scripps-Howard music critic)
Chris Cain didn't come out of this scene- he was born into it. A father who took him everywhere to see everybody—BB, JT, Stevie Ray and Count Basie —when the rest of us were still playing with our toys. So he plays guitar and sings like a bird. But he also plays piano (like Ray) and alto sax (like Ray). He does it all. His feel cannot be surpassed.
Dustbowl Revival
Dustbowl Revival is a Venice, California-based roots collective that merges old school bluegrass, gospel, jug-band, swamp blues and the hot swing of the 1930's to form a spicy roots cocktail. Known for their inspired live sets, Dustbowl Revival boldly brings together many styles of traditional American music. Critics have proclaimed that this eclectic eight-piece "would have sounded utterly at home within the hallowed confines of Preservation Hall in New Orleans' French Quarter" (Los Angeles Times) and their "upbeat, old-school, All-American sonic safaris exemplify everything shows should be: hot, spontaneous, engaging and, best of all, a pleasure to hear" (L.A. Weekly).
Lady Wray
Virginia-born singer/songwriter Nicole Wray has everything you'd want in a singer: an infectious Jackson-5-family-member flare, a range like Aretha's, and a church upbringing that's brought a pure, healing texture to her voice. It's been put to good use in background vocals on a number of high profile projects, including the Black Keys' Grammy-winning Brothers LP. On her recent solo debut, Queen Alone, Wray teams up with the Daptones team that powered Sharon Jones and Lee Fields to the front of the neo-soul wave.
Tuesday, July 4
MarchFourth
MarchFourth is a joy-inducing force of entertainment. This colorful explosion of brassy funk, rock, and jazz emanates from musicians, acrobats, stilters and more, touring the country year-round, taking audiences on a booty-shaking, soul-stirring journey that defies categorization. The band embodies the flavor of two of America's most eccentric and creative cities, Portland and New Orleans. Formed in Portland, the act includes 20 musicians, dancers and artisans. Most recently, 15 of those artists journeyed to New Orleans to join forces with Galactic producer and horn player Ben Ellman and engineer and producer Mikael "Count" Eldridge whose credentials include Galactic and Trombone Shorty. The resulting album Magic Number is full of the captivating grooves and brassy swagger of New Orleans with the wonderful quirkiness of Portland.
Canned Heat
Canned Heat has been world famous for its tradition-rich style of blues and rock longer than most current pop stars have been alive.  The band rose to fame because its members' knowledge and love of blues music was both wide and deep.
The Suffers
The Suffers, Houston's award-winning 10-piece ensemble, has redefined the sound of Gulf Coast Soul.  Established in 2011, The Suffers' lineup was curated by bassist Adam Castaneda and vocalist/keyboardist Pat Kelly, who brought on trumpet player Jon Durbin, trombonist Michael Razo, guitarist Kevin Bernier, percussionist Jose "Chapy" Luna, and drummer/vocalist Nick Zamora. Jazz saxophonist Cory Wilson and guitarist/vocalist Alex Zamora filled out the rhythm section, while frontwoman Kam Franklin topped off the group with soaring vocals.
Monkeyjunk
For over eight years, the name Monkeyjunk has been synonymous with the emergence of a new kind of blues on the Canadian and international scenes. Continually pushing boundaries and blurring genre lines, the Ottawa-based trio has added an edge to their music by incorporating swampy blues and rock with thoughtful and intelligent lyrics. Their fifth Stony Plain Records release, Time To Roll incorporates elements of all four of their previous recordings with added maturity in songwriting and instrumentation, cementing Monkeyjunk's originality and sound as its own. These Canadian ambassadors of blues/rock are constantly working to up their game in terms of songwriting and musicianship, with the results evident on Time To Roll. Monkeyjunk has delivered 10 top-notch tracks that are consistent with the quality and passionate delivery they are known for.
Rae Gordon Band
The seven-piece band rides along in that sweet sexy spot between uptown and downtown, with a haunting, gritty groove of a slide guitar with the power of a hard-driving horn section, a sound which has recently gained them national and international attention. The band recently found new fans at the International Blues Challenge in Memphis, Tennessee, where they placed 3rd in the entire contest and a much-anticipated release of a new CD recording in summer of 2017.  RGB, based in the Portland, Oregon area is fronted by the Muddy Award Hall of Fame Winner for Best Female Vocalist (Cascade Blues Association), Rae Gordon, who started her music career in the piano bars and comedy clubs of Los Angeles and brings that intimate feel and sense of humor to every one of her shows, whether it's a crowd of 10 or thousands.  The seasoned players, who have played the big and little stages of the Northwest and beyond, include Kivett Bednar on guitar, Al Hooton on bass, Ed Pierce on drums, Pat McDougall on keys, Scott Franklin on saxophone and Allan Kalik on trumpet.
The Duffy Bishop Band
Duffy Bishop and her husband, guitarist Chris Carlson met in Seattle in 1983. Duffy from California, Chris from the East Coast. They had separately been honing their musical and theatrical skills, and when good fortune brought them together, they began a collaboration that lasts to this day.
In 1991, Duffy and Chris started The Duffy Bishop Band, and have enjoyed being included in Portland's Waterfront Blues Festival many times through the years. The two moved to Portland in 1994 having already fallen in love with the city and its musicians. They were welcomed and embraced by the Blues community, and have been blessed to play and record with many of Oregon's finest artists. The Band made four albums for the legendary Burnside Records label, as well as one for Trillium Records.
Just This One: A Paul Delay Tribute
Just This One celebrates Portland's own harmonica and songwriting hero Paul deLay—who passed away 10 years ago this spring from leukemia— with a stage full of hometown all-stars to sing, shout, and dance their way through a set of Paulzilla's best songs. Andy Stokes, Lisa Mann, LaRhonda Steele, and Saeeda Wright sing Paul's great tunes, backed by Dave Fleschner, Hank Shreve, Carlton Jackson, Freddy Trujillo, and Ben Rice. Maybe some guest stars, too. And a special number from United By Music. That's multiple Blues Music and Muddy award-winners giving their all for Paul. Part of a developing musical theatre production by Portland playwright Wayne Harrel, Just This One shows how deLay's poignant words, hilarious rhymes, and soulful melodies continue to touch hearts and minds a decade after his untimely death. "Fourteen Dollars in the Bank", "Maybe Our Luck Will Change", "Chalk and Roll"…it's hard to keep it to just one set. Join the cast afterwards at the Crossroads stage for more songs and stories from the life of Paul deLay.
Jontavious Willis
Every generation or so a young bluesman bursts onto the scene who sends a jolt through blues lovers, who has not only mastered the craft but who has the blues deep down in his heart and soul. At the age of 20, young Georgia bluesman Jontavious Willis may be the one. "That's my Wonderboy, the Wunderkind," Taj Mahal said after inviting Jontavious to play on stage in 2015. "He's a great new voice of the twenty-first century in the acoustic blues. I just love the way he plays."
As BluesNotes went to press, the lineup was still developing, with many regional acts yet to be announced. Line up subject to change.
The Following Five-Day Passes Are Offered This Year
Basic 5-Day Pass ($40 early bird) — Five-day pass, priority re-entry. (Single-day tickets, available in June, do not allow for re-entry).
Blues Buddy Pass ($89 early bird) — Five-day pass, EARLY entry, priority re-entry, commemorative Blues Buddy button and discount admission to Waterfront After Hours All-Stars Concerts in the Marriott Ballroom (first-come, first-served).
For information on VIP Patron and Benefactor passes — as well as artist bios, tentative schedule, videos and music samples — visit waterfrontbluesfest.com.