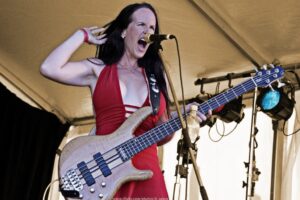 "Anni Piper, fresh to the US from Australia, is a vixen, a vamp, a tease, and every woman scorned….Thing is, what strikes me most about Anni Piper is her incredibly fun sense of humor, a trait that shows itself from beginning to end of her latest release: More Guitars Than Friends." Wolfmann's Music
I first heard that sexy, sultry voice of Anni Piper on stage in the small town of Joseph, Oregon, and it can now be heard at local venues. Fans are blessed to have this Aussie blues sensation call Portland home.
Anni was born and raised in Sydney Australia, although she spent some time living in the USA as a child. "My father was a professor and taught at the University of Illinois and UC Davis during my elementary school years. I have been living in the USA continuously for about four years, and Portland has been home now since last fall," she said.
Starting with the flute when she was eight and bass when she was fourteen, Anni always wanted to be a musician. "I had music lessons as a child and completed a Bachelor of Contemporary Music at 19 years of age."
Stevie Ray Vaughan was a huge influence in terms of blues and she said she dearly loves that Texas style. "You have to keep in mind that, growing up in Australia in the '90s, there was no internet so I still had to go to a local record store to buy CDs. Often their blues selection was limited. I enjoy Freddie King and Bobby Blue Bland, if I'm in a more retro mood. I also did a lot of study of Jaco Pastorius and Stanley Clarke in my early bass learning years."
Her musical style may be attributed to her unique history. At 17 years of age she started performing professionally. "I moved to an area near the famous Byron Bay surf beaches that is known for its' alternative lifestyle. I lived in a hippie commune with solar power, rain water, and kangaroos hopping around my front lawn….I'm serious. There were many students in the area, so there was a lot going on musically for such a small town," she said.
Anni describes her music style as fluid and malleable. "I get different moods as a human being and as an artist. My life is shaped so much by my environment and varied stimuli can produce interesting compositional outcomes. Texas Blues is often how I am pigeonholed, but if you listen to my 2010 album, Chasin' Tail, it is, without a shadow of a doubt, blues rock. Having said that, I adore jazz too and would like to explore more of that vocally in the future."
Anni's talent has won her numerous awards, including:
2004 – ABC radio national Fresh Air contest winner
2005 – Winner – Best New Talent at the Australian Blues Music Awards
2005 – Finalist – best female vocal at the Australian Blues Music Awards
2005 – Musicoz awards top 5 finalist
2005 – Australian National songwriting contest 2nd place
2009 – APRA professional development awards finalist; finalist best female vocal at Australian Blues Music Awards; Rudy Brandsma nominee at Australian National Song Contest
2015 -Top 5 finalist UK songwriting contest
She currently has five recordings out: Jailbait – 2004,  Black Market Music; Texas Hold 'Em – 2007, Black Market Music; Chasin' Tail  – 2010, Black Market Music; Split Second – 2013, Blues Leaf Records (this was the label Janiva Magness first signed with); and More Guitars Than Friends – 2016,  Sugar Daddy Records. Anni says she hopes to record more in the future.
In the Portlasnd blues scene she has played with Karen Lovely, Ben Rice, Kris Deelane, and Dan Hess. "I'm currently looking for a guitarist based in Portland to do some shows with me."
I think Jeremy Loome of The Edmondton Sun, Canada sums it up best, "Piper has the kind of voice that lulls men to their doom. It's soft and sweet when it wants to be, scared and vulnerable a moment later, then ripping through you like a razor… Piper commands songs utterly."
She'll be touring around the USA part of this summer, but be sure and catch her when she makes it back to Portland. For more information about Anni and to find out where you can find her performing, check out her website at http://www.annipiper.com.