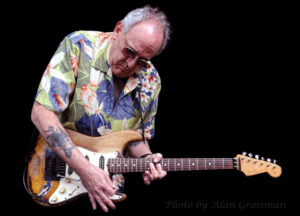 The Boston Globe describes Jimmy Thackery as "a four hour performer. That's not how long he plays, but how long one should travel to see him. He is a phenomenal guitarist, one of the best we've seen."
Well, you won't have to travel four hours to see Jimmy Thackery & The Drivers as they will be appearing in two shows within an hour or so of Portland. This is a trip well worth taking to catch one of the finest blues bands in the world.
Whether Jimmy Thackery headlines a festival or jams for hours in one of numerous blues bars that dot the musical landscape, he'll always unleash an intense volley of rockin' blues guitar guaranteed to leave crowds emotionally spent. His double edged guitar dynamics allow him to fire off tracer missiles, bend a note so it will fit under a limbo bar, run off dive bomber riffs, and find space within the trembling of one stinging note.
On Thursday, August 3, Jimmy Thackery & The Drivers will be appearing at The Birk, 11139 Hwy 202, in Birkenfeld. Tickets for this 7:30 pm show are available in advance at TicketTomato.com for $10.00, or $15.00 at the door day of show.
Then Jimmy Thackery & the Drivers will be playing outdoors in the Columbia River Gorge for a special benefit concert for "Friends of the Stevenson and North Bonneville Community Libraries on Saturday, August 5. Tom and Barb's Zydeco Ranch, 1551 Wind Mountain Road, Home Valley, WA. will host this event, and show time is 3:15 pm. Tickets for this family friendly bash are $25.00 available at Eventbrite.com. Skamania Lodge, along with a variety of vendors, will provide food and drinks for sale and no outside food or drinks are allowed.