Journey To Memphis Competition 2021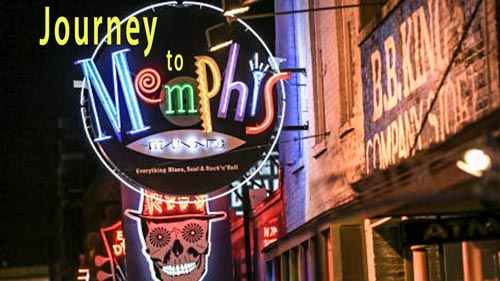 Journey To Memphis Competition 2021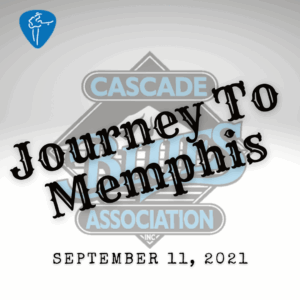 Saturday, September 11
Artichoke Music 2007 SE Powell
This is a fundraiser for the winning act.
Tickets on sale NOW! $20+$2.85 fee (limit 4)  If you'd like to donate without buying a ticket, just click on the ticket button, that takes you to the donation option.  No amount is too small, or too large! All funds will go to the winning act.
This will not be announced to the general public until Aug. 15, so members … get your place reserved!
We have two acts competing this year.
JME (Jenny Moriarty & Bradford Bleidt will go on at 1:30 pm.
Sugar Roots featuring Chad Rupp will be at 2:30 p.m.
Each set will be live streamed separately on the Artichoke Music Facebook page.
The winner will be announced at 3:15 p.m. on the Cascade Blues Association Facebook page.
Meet the competitors
JME
The JME Jazz is stylized blues and post-modern jazz for the next roaring '20s. The band combines decades of musical experience exploring the vast genres of rock, blues, and jazz.
Anybody that has been active in Portland's blues scene will be familiar with Jenny Moriarty's powerful and expressive vocals as she has performed with many of Portland's more prominent musicians. JME provides Jenny perhaps her most versatile and expressive vehicle where she can truly display her performance abilities and musicality.
The instrumental aspects of JME are anchored by Brad Bleidt on piano.  Brad's primary piano focus is providing a rich imaginative harmonic interpretation to Jenny's varied repertoire while injecting complementary solos to round out the ensemble's stylizing.
Jenny and Brad are active in Portland's music venues with other projects such as JME Jazz, Bedazzled, the Beacon Street Titans, and The Mystic Mama Band.
Sugar Roots Featuring Chad Rupp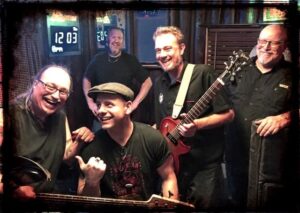 Sugar Roots Featuring Chad Rupp is a Portland, Oregon based blues band formed by multi-instrumentalist/vocalist Chad Rupp, guitarist Jason "JT" Thomas, keyboardist Sam Gendler, bassist Timmer Blakely and drummer Chandler Bowerman.
This band was forged from the roots of Portland's uniquely prodigious local blues scene with three Portland natives and two extremely talented transplants who appreciate the legacy of Portland's musical history and the amazing musicians that have provided a lasting tradition of blues performance. Sugar Roots draws on inspiration from Portland greats, like Curtis Salgado, Lloyd Jones, Jim Mesi, Paul deLay, DK Stewart, and Norman Sylvester, to name a few along with their supporting bandmates.
The band takes its name as a nod to popular local blues band, Brown Sugar, a pioneering staple of Portland's live music scene. Front man, Chad Rupp on the band forming, "Really, the band came together because we had been playing together regularly pre-pandemic for a few years at a popular local jam session, The 1-4-5 Blues Jam Party and we were having a great time! Sam Gendler and Chandler Bowerman brought their experience and mojo from the LA and Illinois scenes combined with veteran local and national act musicians, Timmer Blakely and Jason "JT" Thomas. This group really became a tight and organic unit for me to work with. When we looked at the chemistry we had, we decided that we should be recording and gigging together more! These guys have made it possible for me to stretch out on stage leading to some fun and powerful performances for me, personally! "
We are all looking forward to bringing our best to the stage as we approach the Cascade Blues Association's Journey to Memphis and the possibility representing Portland's live blues legacy at the International Blues Challenge in 2022! Sugar Roots will be releasing an album of originals on 10/3 with some sneak peeks via social media! Please visit our Facebook Page for news and events and support live music and the blues, wherever you are!
https://cascadebluesassociation.org/wp-content/uploads/2017/12/Journey-to-Memphis2.jpg
281
500
Shelley Garrett
https://cascadebluesassociation.org/wp-content/uploads/2020/10/CBA_Logo_top_main.png
Shelley Garrett
2021-07-30 19:47:59
2021-08-09 12:06:26
Journey To Memphis Competition 2021