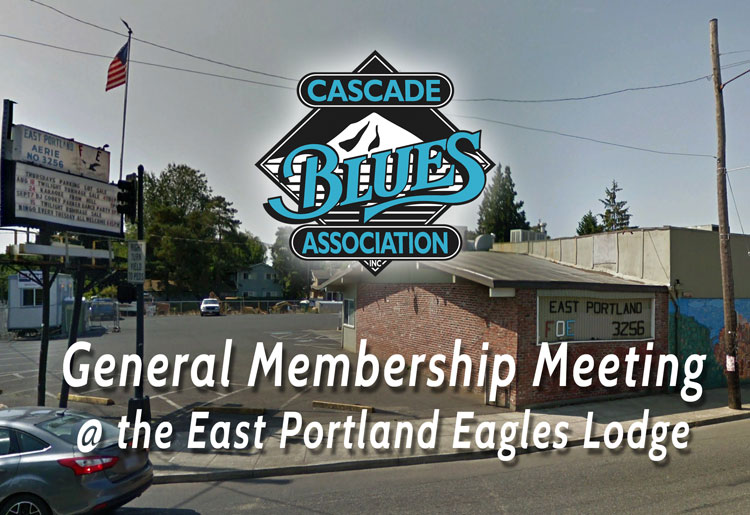 Due to the Waterfront Blues Festival occurring the first week of July, the Cascade Blues Association General membership Meeting is scheduled for Thursday, July 11 at The East Portland Eagles Lodge at 7:00 pm. Note that we're meeting on Thursday, not Wednesday, for July's meeting only. In August we'll be back to our regular Wednesday evening schedule.
We're sure that after a couple days off from the blues festival you're going to be ready for more music, so come out to The Hawthorne Eagles Lodge for a couple fun sets of blues — it's the right way to kick off your weekend a day early.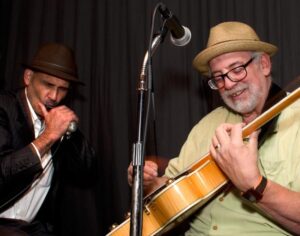 Our good friends David Pinsky and Phil Newton will be driving up from Medford to bring you a traditional acoustic guitar and harmonica performance. Longtime friends David and Phil have been a major part of the Southern Oregon Blues scene for over thirty years and have joined forces as an acoustic/electric duo. David's propulsive guitar, welded with Phil's harmonica chops, offer a steady groove reminiscent of the 1960s  Chicago style duets. The two on occasion will also employ a twin harp attack. Both David and Phil bring decades of vocal experience, with David concentrating on his original compositions and Phil interpreting Blues and roots. David and Phil are also past winners of the Journey to Memphis competition and have represented The Cascade Blues Association in Memphis during the International Blues Challenge. Dave has also represented The CBA as a solo performer. They have released two CDs together and are also committed to Blues education and teaching Blues to local kids to keep the Blues alive in the tradition of the great Delta masters.
For the second set, we welcome the Pat Stilwell Band. Formed in 2010, the band is a solid group of journeymen musicians that possess a great musical chemistry. The band is led by Pat Stilwell. Pat has lived in many places across the country, picking up musical flavors from each of his stops along the way, and has fronted a number of bands including the popular Seattle-based band The Cyclones. Since moving to Portland in 2009, he has been making his mark on the local music scene with his innovative guitar work, soulful vocals, and skillfully crafted original songs.  His playing and songwriting reflect a deep connection with the blues, infused with the many influences that have informed his style.  In addition to his skills as a guitarist, Pat is also an accomplished blues violinist.
Band members include keyboardist Michael McGinty. Trained in his youth on trumpet and jazz piano he has performed in rock, soul, and fusion groups from New England to the Virgin Islands. While living in San Diego he worked with renowned vocalist Michelle Lundeen. Now in Portland he has played with various groups including Mr. Misu and Dept. of R&B.
Drummer Doug Adair has paid his dues with just about every genre there is, including rock, blues, funk, and country.  Playing professionally from the 70's on, and aside from the Pat Stilwell Band he currently performs and fills in with a number of local artists including Kenny Lavitz, Ken Brewer, Rae Gordon, and Ben Rice.
The newest addition to the band Kirk Byant, an in-demand top level bassist who has travelled the globe touring in various high-profiled bands, garnering five Grammy nominations along the way with Bay Area jazz group Second Nature. While living in the bay area, Kirk has performed with a musical who's who of that region for three decades, with experiences ranging from rock to jazz to blues, and everything in between.
Pat Stilwell is also celebrating the release of his new CD, Tales From The Riverside. Expect to hear new music from the recording and other favorites.
The East Portland Eagles Lodge, 4904 SE Hawthorne St., Thursday, July 11. 7:00 pm. Members are Free, non-members $5.00. All ages welcome.
https://cascadebluesassociation.org/wp-content/uploads/2019/04/General-Meeting-eagals.jpg
515
750
Greg Johnson
https://cascadebluesassociation.org/wp-content/uploads/2020/10/CBA_Logo_top_main.png
Greg Johnson
2019-06-28 05:00:17
2019-07-09 12:04:16
July General Membership Meeting Thursday, July 11