Mr Handy's Blues – From Preacher's Son to Father of the Blues
By Randy Murphy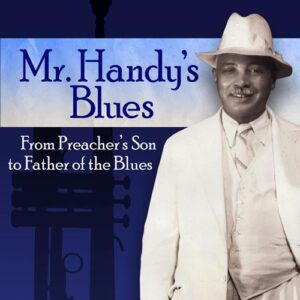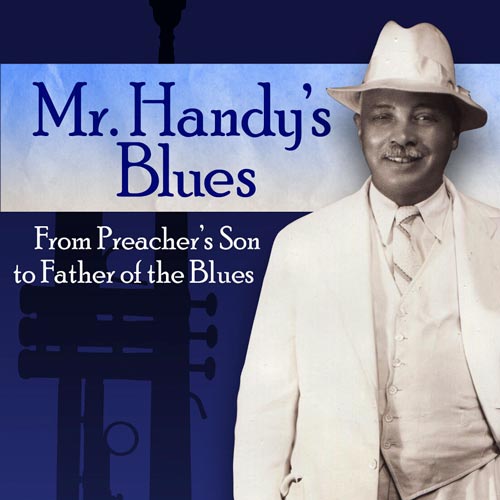 "History," T. S. Eliot observed, "has many cunning passages, contrived corridors," and effective biographical documentaries succeed in exploring those historical passages and corridors in a way that allow us not only to see the subject of the documentary, but the context in which he lived and worked. In the new "director's cut" of her film, Mr. Handy's Blues, documentarian Joanne Fish accomplishes just that, guiding us through the life of W. C. Handy and surveying his immense influence on American music — an influence one would find difficult to overvalue.
Fish's movie settles comfortably within the Ken Burns style of documentary storytelling. She blends archived film footage and original sound recordings, including portions of a compelling 1938 conversation with Handy, with contemporary interviews of musicians, writers, and academics including Taj Mahal, Bobby Rush, Garry Burnside, Willie Ruff, Elliot Hurwitt, and Adam Gussow. Fish paints a full portrait of Handy and accurately places her canvas within the framework of late 19th and early 20th Century America.
The film traces Handy's childhood in Florence, Alabama and offers several amusing anecdotes of his early life. For instance, when Handy brought home his first guitar he was immediately admonished by his father, who, along with Handy's grandfather, was the founder of and minister for the African Methodist Episcopal Church in Florence, to return that "plaything of the Devil" to the music store and replace it with a dictionary. Of course, guitars and dictionaries can coexist, but Charles Handy wanted more for his son than the life of a mere musician — the son, though, was having none of that advice; he would not be put off his musical dreams.
Fish chronologically traces the development of Handy's music and life, from his many hardships living as a young African-American man in St. Louis, to his time performing in minstrel shows and military bands, to his move to Memphis, and finally to his later period in New York collaborating with several musical icons, such as George Gershwin and Duke Ellington, as well as artists of the Harlem Renaissance, including the poet Langston Hughes. The portion of the film recounting Handy's work in minstrel shows serves to erode some of the explicit racism we normally ascribe to these shows. They were often real engines of musical invention, and Handy's time performing in them was well spent.
But the musical heart of the film is an extended analysis of the importance to American music of "St. Louis Blues," which includes a snippet from a 1929 filmed version by Bessie Smith that is drenched in a powerful poignancy. "St. Louis Blues" is a tune open to seemingly infinite interpretations, and the impressive variety of musicians who perform part of it in the film testifies to Handy's profound brilliance as a songwriter. Looking over my music collection, the four versions of "St. Louis Blues" I own are all the work of musicians one normally associates with Jazz — Dave Brubeck, Wilbur de Paris, Red Garland, and Louis Armstrong. The fact that "St. Louis Blues" thrives musically within such a diverse collection of genres, perhaps more than any other element of Handy's career, demonstrates Handy's musical genius.
The film also details the dispute between Handy and Jelly Roll Morton, and despite Morton's bitter complaints—throughly covered in the documentary—it's not puffery to call Handy, as Fish does, the "Father of the Blues."
This documentary is an impressive achievement, and Joanne Fish has created an important and captivating documentary that should be in the film collection of anyone with a keen interest in the foundations of America's musical heritage, a heritage made much more dynamic and rich by the life and work of W. C. Handy.
Mr Handy's Blues: From Preacher's Son to Father of the Blues, Cinema South, 2017. 84 minutes. Available from mrhandysblues.com $18.00
https://cascadebluesassociation.org/wp-content/uploads/2020/02/mr-handys-blues.jpg
500
500
Greg Johnson
https://cascadebluesassociation.org/wp-content/uploads/2020/10/CBA_Logo_top_main.png
Greg Johnson
2020-02-28 20:36:54
2020-03-16 12:47:16
Mr Handy's Blues – From Preacher's Son to Father of the Blues