Ramblings On My Mind-February 2021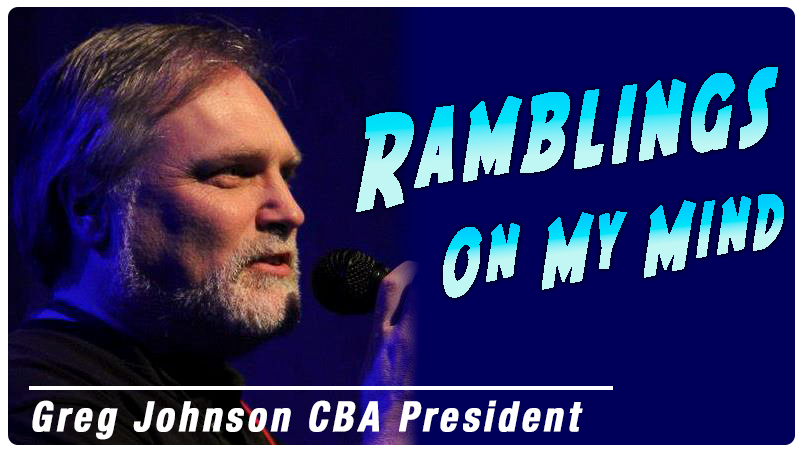 Ramblings On My Mind
Greg Johnson, President, Cascade Blues Association
I know that it is an ongoing theme and a bit on the dire side, but couldn't this pandemic just go away once and for all? We sit and wait to be able to go out regularly and see live music. Hell, we just really want to go out and see our friends, too. It seemed a little easier before winter came along. There were a number of places that were offering outdoor stages with socially distanced seating (though it has to be said that distancing kind of went out the window in a lot of places I visited when it came to dancing). But now that the weather has gotten on the colder side of things, most of those spots have kind of thrown in the towel at least until things get a little warmer. But we have gotta hand it to those who continue to give us a place to go (for those who are willing to go out publicly), like the Blue Diamond who've adapted their limited outdoor seating with walls and heaters. Thanks for offering such an outlet.
It certainly could be worse. All we have to do is look across the river to Washington. Not only has indoor dining been prohibited during the current COVID conditions, but all live entertainment is also currently not allowed statewide until further notice. (One local exception is the Line & Lure Restaurant at the Ilani Casino in Ridgefield)
I have said it before and it bears repeating, thank God for live streaming performances. To those musicians who take the time to do regular broadcast shows on Facebook and other social media outlets, be it weekly, monthly or sometimes even daily, a huge thank you to you all. At least we have this as an outlet to see our favorite artists locally and from around the world.
The Cascade Blues Association joined this mix a few months back, with a monthly live streamed event from the stage at Artichoke Music. It has been an interesting and intriguing project so far that only gets better. Last month we had to postpone the broadcast a week following the insurrection in Washington, D.C., on our initial date. It was a smart move to change it as the musicians are playing for your tips and we knew nobody would be focused on anything else that date to tune into our show. The following week we were broadcasting live, but found out during the show that it wasn't coming across on Facebook. For some strange reason the show had connected to a different Facebook event that had been scheduled for another date and was coming across live there; though nobody knew it was happening. Just one of those strange glitches that occur with live broadcast over the internet nowadays. Thankfully Mitch Kashmar and Terry Robb took it with a smile and understood the situation. At least we have been recording the shows and they're available on Artichoke Music's YouTube page, complete with all the information for donating your tips to the artists included. (Check out all of the CBA monthly shows to date there.) We will continue hosting these events each month, so keep an eye open on the CBA website and both our and Artichoke's Facebook pages for the live feed dates.
It is always sad to see or hear of one of our local musicians passing, and we regret to have to inform you of the loss of Calvin Eagon. He could often be found at various venues throughout the Portland area and along the coast playing harmonica and guitar. It had been suggested by his family that gifts in his memory be made to the Cascade Blues Association. Thank you for these thoughts and to those who have made such donations.
On another note, watch for new releases coming out and check out recent ones, too. This month's CD reviews include local artists Harvey Brindell and Ed Neumann (both mixed and/or recorded at Jimi Bott's Roseleaf Recordings). Plus Alligator Records will be releasing the brand-new Curtis Salgado disc in February and you know that one is going to knock it out of the park. You can't stop musicians from making music; even if it means making their new albums from long distance sharing mixes online with each other. Go over to Music Millennium or your nearest record outlet and pick up some new music. Always guaranteed to make your day.
We're going to get through this and once we do, it'll be time to celebrate. Eat, drink and be merry with good times and good music once again. That day will come sooner than we realize. We can certainly hope.
https://cascadebluesassociation.org/wp-content/uploads/2017/05/Ramblings_2017.png
453
805
Shelley Garrett
https://cascadebluesassociation.org/wp-content/uploads/2020/10/CBA_Logo_top_main.png
Shelley Garrett
2021-02-01 08:52:35
2021-02-01 09:15:36
Ramblings On My Mind-February 2021