Ramblings On My Mind – January 2019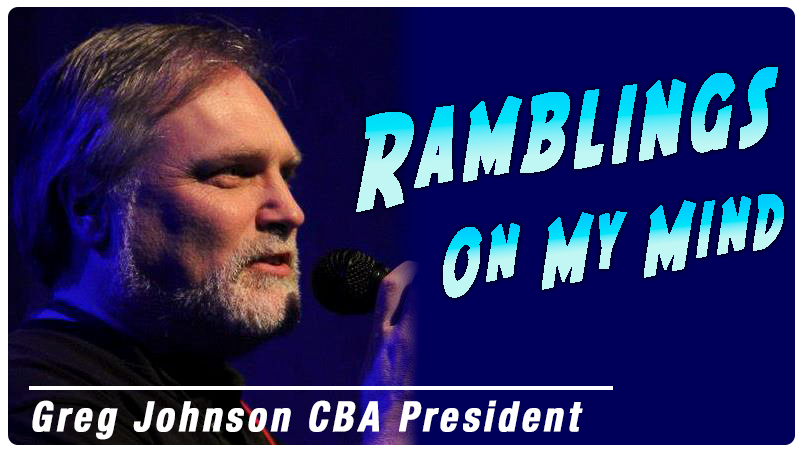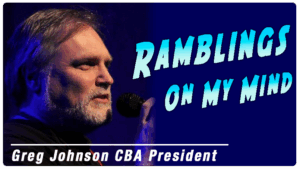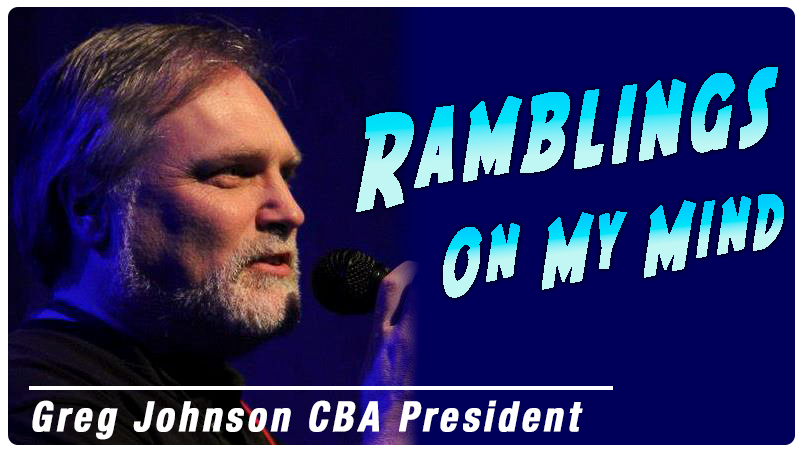 Greg Johnson, CBA President
2019 is here and things are already looking exciting. We'll be at a new venue for our monthly meetings, at least for the first four months as McMenamins has welcomed us to relocate to the Mission Theater. A larger room that will allow us to have minors attend, with a large stage. Thanks to Terry Currier for working this out for us.
To showcase the talent of our area, we will be bringing in some heavy-named acts for our time at the venue. Starting off with Ben Rice and Robbie Laws in January, we have Terry Robb, Lloyd Jones, Mary Flower, Lisa Mann and Michael Osborn lined up over the next few meetings. This will not continue in this pattern forever, though, so do not miss these special meetings. Our focus as always will be to bring in newer acts to help introduce them to our members, and to offer some of the regular musicians working in the area that you may not see as often as you'd like.
In May, the Mission will probably be switching over to first-run movies full time, so we are looking at other locations if this should occur. We have been talking with McMenamins about other venues and considering other spots also. We'll have everything figured out by the time this happens, but if you're a band or artist requesting to perform at a meeting, please hold tightly as I have been waiting to find out what will be happening before going too far into the year.
Another huge change for us will be going into the year with a different look to our board of directors. Four elected officers decided to step down this year after several years of hard and committed work for the organization, so we say thank you and goodbye to Wendy Schumer, Brenda Docken, Fred & JoAnn Morgan. Stepping into the role of Vice President will be Shelley Garrett, while Merry Larsen remains in her role of Treasurer and I will continue as your President. Two positions had nobody run in our election, Secretary and Membership Secretary. At Large member James Kosek ran against me for President, but many wrote him in on the ballot for these other two positions as well, which he would've won had he run for one of them. James has chosen to take on the Membership Secretary position, which is a huge undertaking and he deserves a huge thank you doing this. It is a lot of work and greatly appreciated. Kim Allmaras has also joined the board as an At Large member who will focus on assisting Merry with our finances and taxes. Welcome aboard Kim!! And Randy Murphy will also continue in his at large position and also work on the BluesNotes.
We still have the Secretary position open and if you're interested please plan on attending our next board meeting (third Tuesday after membership meeting every month) and seeing how we operate before declaring. There are multiple At Large positions also open, and we can fill those anytime throughout the year, and currently have a couple people considering taking those on.
This next year we want to look into several important items. Updating our by-laws, setting up investments that'll keep us financially stable for years to come, looking at new prospects for marketing (possibly even creating a new position for this purpose), and working closer with other music appreciation societies in our area. We'll look at giving programs like the Christopher Mesi Scholarship, Blues in the Schools and Musician Relief Fund a new jump start, and would like to have people involved with those. We'll also consider on taking up new events, and finding something that might be able to replace the summer concert in the park/picnic which was dissolved this past year due to extremely low turn-out in the recent past. We had fewer than 100 people attend this year for an event that can cost the organization as much as our annual Muddy Awards at times. It happens during a time when there is so much activity already taking place around the region (including a new blues festival that occurred the same weekend), so we just need to be watchful of not spending large amounts for something people do not attend. We're open to ideas that you may have for this or any other event that you feel might be worthy to consider.
But we're looking toward a successful and fun year ahead. Please help us out if you'd like to volunteer or join our board. And as always, thank you for being members of the CBA and helping to support the musicians and venues of our region!!
https://cascadebluesassociation.org/wp-content/uploads/2017/05/Ramblings_2017.png
453
805
Greg Johnson
https://cascadebluesassociation.org/wp-content/uploads/2020/10/CBA_Logo_top_main.png
Greg Johnson
2018-12-29 16:22:25
2020-06-27 15:12:28
Ramblings On My Mind – January 2019