The Randy Morrison Band — Veterans Who Rock the Local Blues Scene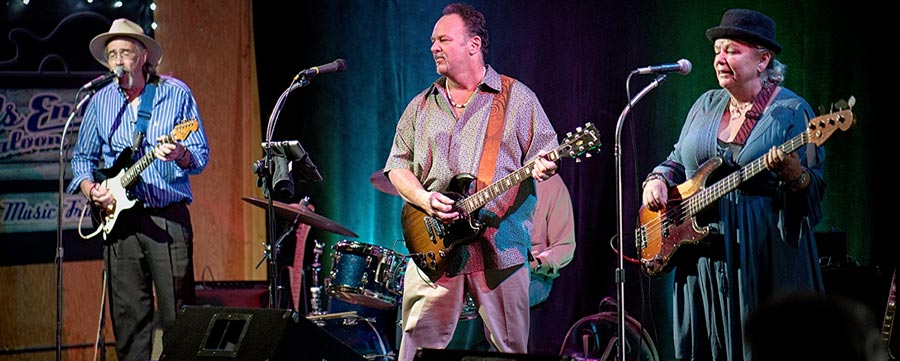 The Randy Morrison Band is one of the best in the Portland area. They proved that by being one of four finalists in the 2017 Journey to Memphis competition. The band consists of Randy Morrison on guitar and vocals, Steve "Midnight" Anderson on guitar and vocals, Laura Petch on bass and vocals, and Dusty Hill on drums. Everybody in the band is self-taught for the most part, though all have taken lessons from time to time.
Music was a part of Randy's upbringing—singing and playing violin from an early age. He picked up a guitar in the ninth grade and has been performing off and on, both in bands and solo, for over 35 years.
Steve and Laura are lifelong musicians and have been playing together for 36 years, although not continuously. At times, both have played in separate bands. They played with Dusty in a previous band called Midnight Blue here in Portland for three or four years.
Dusty has studied with the best and toured with various groups such as The Coasters and The Drifters. He was also the drummer for the popular Portland band The Sleazy Pieces. He has a solid background playing rock, country, top 40, and jazz.
But here's the real story of the band:
Randy met Laura and Steve at a camping trip about three years ago. A few months later they decided they should do a band thing. After 6 months, and a few drummers, they got Dusty on board and haven't looked back!
As a youngster growing up, Randy had a phase where he wanted to be a magician. Later, as his tastes refined, he either wanted to be a part time camp counselor or maybe a game show host. "Not landing either of those gigs, I settled on a hitch in the US Air Force, bought my tobacco sunburst SG, as soon as they would give me a loan, and started jamming with other guys on base. That's when I first thought it would be cool to play music for a living," explained Randy.
Laura started playing guitar when she was in fourth grade. Her grade school music teacher would accompany her on the standup bass. That's when she got the taste of what it is like to play with other people. Her first big performance was at her grade school talent show in the fifth grade where she took second place (Lisa took first), playing and singing "Four Strong Winds." She kept at the guitar and played her first paying gig in 1981 in John Day with Steve. Steve had an old Fender Precision bass and suggested Laura learn to play it. Three days later Laura played bass at their first duo gig in Mt. Vernon.
Steve has always wanted to be a professional musician from the time he first picked up a guitar when he was 12. He played his first paying gig at 13. He went on to live and play in Vegas before he hit the road for seven years playing in the Western states. Thereafter he settled in Oregon.
Day Jobs
When asked if they had day jobs, Randy commented that "Day jobs are a fact of life. It's expensive to play music!"
Randy works as a Quality Manager in a precision machining and sheet metal manufacturing environment. "I measure cool stuff using a lot of various cool stuff.
I've been in precision manufacturing for 30 plus years," he said.
Steve became legally blind a few years ago, so he is retired on disability.
Laura is Director of Human Resources at a large Portland law firm and has been working in the legal field for 25 years.
Dusty is a bus driver for the Beaverton School District.
Musical Influences
Randy–Steely Dan, Hall and Oates, Larry Carlton, Robben Ford, Billy Gibbons, Carlos Santana, lots of rock guys, and some singer-songwriters. "My favorite being Shawn Mullins. But the guy that made me want to play bluesy funky guitar stuff was Donald Kinsey from The Kinsey Report. That guy squeezed more tone and soul out of an old Peavey Classic and a beat up Epiphone Les Paul than I ever heard. No effects at all. Guitar, cord, amp. Vocally, I love killer 'feel singers.' Besides Daryl Hall and Curtis, one of my favs is Marc Broussard. Dude is amazing!"
Steve—All the Kings and all the Alberts, Little Feat, The Band, high powered soul like Tower of Power and Cold Blood. Of course the post-war blues giants like Muddy Waters and Howlin' Wolf.
Laura—Allman Brothers and Barry Oakley particularly. Also Katie Webster, Etta James, and Koko Taylor.
Randy describes their musical style as a combination of blues, R&B and soul, with a hint of a jazz vibe here and there just for good measure. "We are a very vocal band so there are lots of solid harmonies as well as some pretty catchy melodic and lyrical hooks. It's bluesy, it's funky, and it's fun. And we have fun playing it!"
CD's
The band is in the finishing stages of their first CD project. They hope to have it out early this fall.
Other Projects Band Members Have Been Involved In
After playing in a local rock band for a few years, Randy played with Rae Gordon in Rae and The Rebounders, back when she was just starting out. After that, he focused on solo acoustic stuff until the inception of the Randy Morrison Band.
Steve played with the Arnold Brothers, Coasters, Sheila Wilcoxon, Lee Blake, and Midnight Blue.
Laura also played with Midnight Blue, and with Paulette Davis, one of the original members of NW Women Rhythm and blues.
More Information
This band of veterans are a site to behold. Check out their schedule and get out and see them live. For more about The Randy Morrison Band and upcoming gigs, visit http://www.randymorrisonmusic.com.
https://cascadebluesassociation.org/wp-content/uploads/2017/08/randymorrisonband.jpg
361
900
Wendy Schumer
https://cascadebluesassociation.org/wp-content/uploads/2020/10/CBA_Logo_top_main.png
Wendy Schumer
2017-08-28 17:01:22
2019-02-21 14:07:42
The Randy Morrison Band — Veterans Who Rock the Local Blues Scene