Robert Cray Band – Oct. 15 – Aladdin Theater
Robert Cray Band
Oct. 15 – Aladdin Theater
Interviews with Robert Cray and Dover Weinberg
By Kirk Anderson
The Influence: Born in Clarksdale, Miss., in early 1931, Sam Cooke made the most of his 33 years traversing this Earth. He was on the downside of a racially segregated society in central Mississippi and on the heels of some of the original blues greats. He transitioned many artists from gospel into secular practitioners of the blues, rock 'n' roll and soul. "A Change is Gonna Come" is a favorite of lovers of Cooke's bluesier side about an ever-running man who yearns to have a better life. He knows this means leaving the fast life behind someday and that inevitably …" A Change is Gonna Come."
Peter Guralnick's Sam Cooke autobiography, "Dream Boogie" is a delicious trip through Sam's influences, those he influenced and the music sliding from the blues, gospel, soul and rock 'n' roll. Driving ambition, roots in the Mississippi Delta, a rise to the top with his career, people he helped as well as the unpolished dark side …oh, man! I want to read this history again. Amazon it if you must, but wouldn't it be more fun to go down to the local bookstore? And that would help support your local community.
What the heck is the connection between Sam Cooke and Robert Cray Band's new tour? Robert is quick to share the pre-recording story of him and producer Steve Jordan kicking around a definitive feeling for the upcoming recording.  Robert notes that Steve sent him a recording of some Sam Cooke's tunes and again the two clicked right into the new record.
The Interviews:
Two members of the Robert Cray Band have ties to the area. Robert spent his early years in Fort Lewis just south of Seattle and Dover Weinberg (keyboards) makes his home near the City of Roses. An exciting but busy time for a musician is getting ready for — and starting — the first week or so of a tour. It's a time of anticipation and a time of relearning to click with other musicians. So it is with appreciation that both took time out to talk with the Cascade Blues Association.
Dover was up first just a few days prior to the start of their fall 2021 tour in support of "That's What I Heard." Blues Notes readers will remember the article last year of another record released right before the pandemic started.
In talking about recording "That's What I Heard," Dover remembers that the grand piano that Nat King Cole played during his stint at Capitol Records' Studio B was a prominent part of history that carried a positive ghost to influence the upcoming recordings.
When asked about what instruments he plays on the record and on the road, Dover shared that in the Robert Cray Band, his main ax is the classic Hammond-Leslie pairing for a majority of the texture needed.  When the other needs arise, his Rhodes Electric Piano gives him the versatility to play a lead or rhythm role.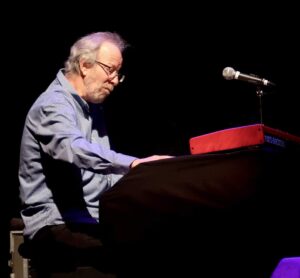 I asked Dover about one of his favorite memories of working with Robert  Cray. He was quick to recall that eight or nine years ago he was just minding his business when his phone rang. He felt compelled to answer, and a cat on the phone claimed he was Dover's longtime acquaintance, Robert Cray. Robert said he was calling to offer him a slot in his band as keyboardist.  With so many friends who love to get one over on each other, Dover was sure it was a friend playing a joke on him.
Robert tried to convince Dover, but he had been caught one too many times. Finally Robert asked Dover to ask him a question from their past that only he would know. Dover thought for a second and asked Robert to say the nickname that he had for Dover years earlier when they shared time in England.
Oh man, this should be a climax paragraph, but you know, if I tell you the nickname, then everyone would know. We'll just say that it had to do with a famous English landmark.
Dover has added his blues/rock keyboards to perennial blues in the studio and with road acts from Albert Collins to Otis Rush to Janiva Magnus, Curtis Salgado, Duffy Bishop, Kevin Selfe to Charlie Musselwhite and Elias McDaniel, better known as Bo Diddley. And that's just eight musicians/bands out of several dozen. He's been influenced by and continues to influence many others.
Robert's interview took place about a week and a half later, after the tour had already started.
Robert's memory of recording was finally entering the building he had driven by so many times, the Capitol Records Building. He remembers walking down the hallway, lined with so many pictures of music's heroes, who had walked down that same hallway toward that same Studio B to record memories that marked good times throughout our lives. "Respect the building. Respect the people," notes Robert.
When asked about his guitars of choice, Robert sticks with the American Standard Stratocaster with the Alder body, Maple Neck, Rosewood Finger Board, three Custom Vintage Fender Stratocaster single coil pickups.  He also mentions his preference for using a pair of Matchless Clubman 35 as his main amp with its Class A 35 watts with a 4×10 cabinet.
As an artist whom critics have awarded five Grammy wins over 20 strong records, Robert is always quick to talk about how this isn't about him, but about the musicians that he's worked with to ply a profession based on love of music. "Love of playing, listening, sharing. This is what we do every night and we can't do it without love."
I asked Robert who he has been listening to recently, and he mentioned Larry Young and Art Blakey.  Both are known as trail-blazers in the blues sister genre, jazz. Larry was an American jazz organist who pioneered a more experimental modal approach to the Hammond.  Larry also is known for his jam with Jimi Hendrix that was captured and then posthumously released on the record, "Nine to the Universe."
Art is a revered American jazz drummer and bandleader who is influenced by and has influenced the likes of Dizzy Gillespie, Charlie Parker, Thelonius Monk and Wayne Shorter. Want to learn more about the music you love by hearing what your favorite musicians like Robert Cray are being influenced by?  The two cats and their influences are a helluva start.
The Tour: It is with these feelings that the Robert Cray Band brings their 2021 tour to the Aladdin Theater in the Brooklyn neighborhood of southeast Portland, Friday, Oct. 15. The tour that started in September will wind its way across the United States, headed for the Pacific Northwest. A week into the tour, I asked Robert if they are able to bring the vibe from recording at Capitol Records to the tour.
Robert shared that the recording was more than 20 months ago. The lockdown put time between the recordings and the tour.  Locking into each other's playing at the recordings and the contributions of Steve Jordan, although still remembered, had faded some from muscle memory. But Robert was quick to add that as they play more gigs together, the magic from the recording's interplay is coming back.
A longtime friend, schooled in the ways of live music, saw an early gig for this tour at the State Theatre in Kalamazoo, Mich. A fan of Robert Cray since just before Cray's "Strong Persuader" record came out in 1986, the friend confirms that the current live performance didn't suffer from the pandemic break.  Adding this first-person gig review to Robert's comment that more of the recording memories are coming back as the tour progresses makes me mark the Aladdin date on the calendar as "Can't Miss."
The Community: Vaudeville is a term I had to look up as this type of early 20th century entertainment was the impetus of so many theater venues being built. Oxford Languages define vaudeville as, "a type of entertainment … featuring a mixture of specialty acts such as burlesque, comedy & song and dance."
The Aladdin was built in the late 1920s as a venue for Vaudeville acts. The original name was Geller's Theatre. As the Great Depression hit, a new form of entertainment known to us now as "movies" forced the change for many vaudeville houses to new places for families to enjoy the medium together. With this change, in 1934, the Geller changed its format from vaudeville to movies and changed its name to the Aladdin Theater.
Forty years later saw a change in the makeup of these neighborhoods and the prosperity that America was graced to enjoy post-World War II. In the 1970s and '80s, family films turned into adult movie theaters. Then VHS proved too strong for the adult movie theater, leaving the building with a history of performances for the community with property values that had tanked.
This formula has been proved over and over again in Portland, the United States and around the world to provide a low-cost venue with an infrastructure for renovation back to the live performances of the '90s through to the present. Forwar- thinking people with their own passion around music invested their fortunes in the community and took the chance to put money into the renovation of the building and booking acts to come in and fill a much-needed hole in the fabric of their communities.
Well, now you're mentally prepared for the Oct. 15 show of the Robert Cray Band at the Aladdin Theater in Portland. Now you need to get your tickets and start looking around for a pre-concert place for dinner before the show … or just drinks. Maybe make plans to meet up with some of your Cascade Blues Association sisters and brothers.
In doing research for this article, another comment that Robert posted on his website, RobertCray.com, hung with me and I thought you might like it, too.
"Hearing is a funny thing. It's not just receiving sound – it's understanding and interpreting it, making sense of variations swirling around in our heads. That's how people can listen to the same thing, and come away with opposite impressions. The sounds may be the same, but the comprehension isn't." Robert Cray – robertcray.com
"My Baby Likes to Boogaloo."  I hope you're ready and like to Boogaloo, too.
https://cascadebluesassociation.org/wp-content/uploads/2021/10/CrayFMallert.png
2048
1365
Shelley Garrett
https://cascadebluesassociation.org/wp-content/uploads/2020/10/CBA_Logo_top_main.png
Shelley Garrett
2021-10-04 09:46:31
2021-10-05 12:50:37
Robert Cray Band – Oct. 15 – Aladdin Theater