The Sportin' Lifers Bring Jump Blues to Local Venues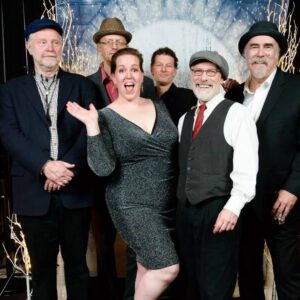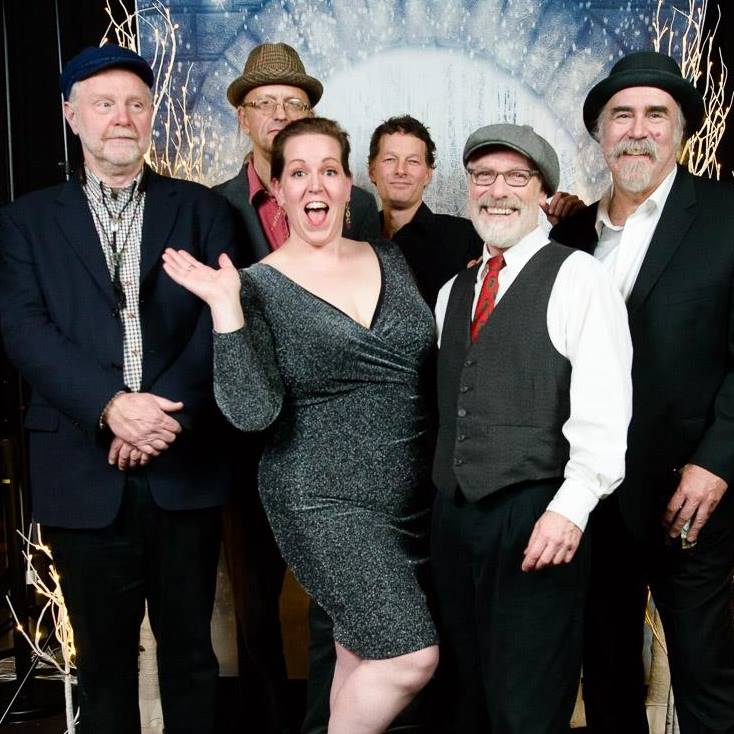 The Sportin' Lifers describe their music as a mixture of "jump blues," "rhythm and blues," "boogie woogie," and "swing," and the longer they perform as a unit the more their music fuses eras and bends genres. "As much as possible, we play what inspires us."
Who are the band members and what part do they play in the band?
Erin Wallace – vocals
Whit Draper – guitar and vocals
Don Campbell – bass and vocals
Steve Cleveland – keys and vocals
Fred Ingram – drums and vocals
Were you all born and raised in the Portland area?
Erin: I grew up in Vancouver, BC. I moved to Portland originally to go to college. After I graduated, I moved to Boston to attend the Berklee College of Music for a few years, but Portland called me back.
Don: I was raised in southern Oregon, of redneck descent, and migrated north to Eugene where I fell in with Bill Rhoades, Curtis Salgado, D.K. Stewart and the blues community. In 1981, I got a gig with the Paul deLay Band and moved to Portland.
Fred: I was born in Portland and grew up in Eugene and Roseburg.
Steve: I was born and raised in Oregon, and I've lived in Portland most of my adult life.
Whit: I spent a big portion of my youth in Greece, where my parents were working.
How long have you been performing together professionally and individually?
Erin: Whit started the band about 8 years ago, then I joined about a year after that. He and I had previously met in another band and really enjoyed working together so we stayed in touch. He could not have picked a more talented, enjoyable group of people for this band. We have an absolute blast together.
Fred: I met Whit Draper thru the auspices of Steve Morelli. He got us a gig playing blues at a friend's birthday party one scorching August day; it was so hot outside the balloons were popping. Whit introduced me to Johnny Ward and Steve Cleveland, then Brad Ulrich and Erin Wallace. When Morelli had to leave the band Whit brought in Don Campbell. It's been clicking ever since and I'm having an absolute ball playing with these guys.
Steve: I met Whit and Fred over a decade ago, through Johnnie Ward. I've played with Erin and Don for quite a few years. It's a privilege to play with all of them.
Don: I have known Whit Draper by association for many years, and played once in a while with Brad Ulrich. Brad called me four or five years ago to fill in for some Tuesday nights at the Blue Diamond with the Sportin' Lifers. I was way out over my skis with those guys because they played frisky, arranged music that swung so hard and was way more than three-chord blues. It turned into a very groovy thing.
Did each of you always want to perform professionally or if not, what did you "want to be when you grew up"?
Don: I grew up around music. I saw Tennessee Ernie Ford do "16 Tons" on TV and that was it. I started playing in school bands in grade school, but fell prey to rock and roll in the '60s, and found my way to blues and jazz (even though I am by no means a jazz guy). I have never not played music.
I played professionally all through the '80s–meaning it was basically my sole means of income, though that income was, um, for the poverty-level kind. I have held various jobs over the years, most of them in the editorial field, another extremely lucrative profession.
Steve: I knew early on in life that I wanted to play music professionally on some level. I didn't really know how to go about it though. So it took a while.
Who has influenced your music?
Erin: I have always been heavily influenced by female artists. Growing up my parents used to play a lot of Ella Fitzgerald, Sarah Vaughn, Edith Piaf, Joni Mitchell, Joan Baez. When I got a little older I discovered Aretha Franklin, Carol King, Bonnie Raitt, Dolly Parton, Nina Simone, Tina Turner, Etta James, Cassandra Wilson. And as a singer and a child of the '80s, I can't go without mentioning Whitney Houston. I'm sure my bandmates will appreciate that. In my adult life, I listen to everything from Ruth Brown and Little Esther to Janelle Monáe, Lake Street Dive and Missy Elliott. And Sharon Jones all day long. I'm all over the map. Currently I have Meshell Ndegeocello's latest album on repeat.
Don: My influences are numerous: anybody who ever played bass with B.B. King, Leroy Vinegar, Ray Brown, Christian McBride, Ron Carter, Jaco (mostly for inspiration for what a bass could do), Scott LaFaro, Paul Chambers, Carol Kaye, James Jamerson, Jerry Jemmott, Mingus (again, mostly for butt-kicking inspiration), Rocco Prestia, George Porter, Jr., a whole ton of African bass players whose names I don't know, and hundreds of others, and those are just the bass guys. I met Victor Bailey in the Cape Town airport one time, and that was oddly and cooly inspirational. I love anything with soul.
Fred: I come from a musical family. My Grampa Joe would entertain us kids with vaudeville songs, accompanying himself on a tenor banjo. Dad was a professional musician and played trumpet and vibes in his own trio. He brought us up on Dixieland and swing music… Louie Armstrong, Benny Goodman, Ray Charles, Oscar Peterson, Milt Jackson, Shelly Manne, Clark Terry, Stan Getz, Jimmy Smith, Wes Montgomery. He brought home an old Slingerland drum set when I was in 5th grade and had his drummer, Stan Rhees, give me drum lessons. A few years later, my older siblings introduced me to Miles' Filles de Kilamanjaro, Gary Burton's Duster with Roy Haynes, John Coltrane's Africa Brass with Elvin Jones, then Horace Silver's 27th Man with Mickey Roker and the world of CTI thru Freddie Hubbard's album First Light. Even though I was immersed in rock n' roll music with my friends, the exposure to jazz stretched my idea of possibilities. The summer before my senior year in high school I got a gig playing drums in an organ trio–my first professional job. I've been playing ever since, everything from country to funk, zydeco to jump, cumbia, samba, second line, hillbilly, bebop, polka… find that groove.
Steve: I'm influenced by any soulful music of any genre. I like roots music. Music with deep roots. When I play in this band, I draw specifically on Ray Charles, Otis Spann, Duke Ellington, Count Basie, Jimmy Rowles, Nat Cole, Bud Powell, Horace Silver, Thelonious Monk, Teddy Wilson, Jimmy Smith.
How would you describe your music?
Steve: I think this music we play is swingin', danceable, and drenched in the blues.
Erin: My personal musical endeavors are pretty broad. Right around the time I joined The Sportin' Lifers, I also started with a band called The Sentiments–a big, fun, energetic 9-piece soulful ska and rocksteady band. It is a complete blast to play with those folks as well and a whole different world than my other projects. The connections I made in that band led to me having the opportunity to do a couple of tours singing with the amazing Ernest Ranglin – Jamaican jazz guitar legend. More recently, I started a solo project called Wallace. That band plays almost all my own original material and influences range from soul to funk to rock to pop with a little bit of hip hop mixed in. It is a much more personal endeavor for me. I definitely take what I have learned from the Sportin' Lifers with me into that project.
Don: My music? Anything roots based played with soul and inspiration. I love authentic country, blues, jazz, reggae, rock, soul, world beat, and anything that draws or melds or pushes the envelopes of those. I hate music with no lineage, no historical sensibility, and no soul.
Did you have any formal training or self-taught?
Erin: I started singing lessons at age 11. After years studying classical, jazz and musical theatre, I attended the Berklee College of music and started focusing on soul, blues, jazz and rhythm and blues. Honestly, I loved being at music school and wouldn't trade it for the world. But I have learned so much more from my real-world experiences – particularly with a group as challenging, fun and supportive as The Sportin' Lifers. They are such bad-ass musicians, they push and inspire me to learn more and do better every time.
Don: I had minor formal training, but mostly curiosity about how to make cool sounds and find grooves on an instrument. Playing with the Sportin' Lifers is constantly inspirational and educational. These nutballs bring a lot to the party.
Steve: I had some good piano teachers as a kid, and I've had some wonderful mentors, such as the late Kent Glenn, a brilliant post-bop pianist, composer, and arranger. And I continually learn from everyone I play with. Music is a lifelong endeavor and we are all self-taught at some fundamental level, even as we continue to learn from others.
What CD's do you have out?
We have one album out: Cigars, Billiards, Lunches. It was released about 4 years ago. Available on CD Baby, Amazon, iTunes, etc.
Any more CD's in the works.
Don has an amazing studio space out in the Gorge. We keep threatening to lock ourselves up there for a while and write and record until we have another finished album. Hopefully soon!!
Who have you played with?
We usually play shows on our own but we have, on occasion had the pleasure to share the stage with amazing local bands/musicians like The Jumptown Aces, The Pepper Grinders, Jim Wallace, Suburban Slim and others.
Are there any former band members you want to mention?
Bass player, Steve Morelli was one of our founding members. He put a lot of love into this project. You can see the restaurant name is "Morelli's" in the photo on our album cover. That was our loving shout out to him.
Brad Ulrich was also a big part of the band from the beginning. You can hear him on the album on sax and clarinet. We have been really lucky to have such talent come through our ranks.
Closing comments:
We can be found playing Happy Hour at the Secret Society on the third Friday of every month. The Sportin' Lifers Trio (that's Whit, Don and Steve) plays the fourth Friday of every month at The Muddy Rudder. You can find some version of the band at Catfish Lou's and The Blue Diamond on a fairly regular basis.