Tommy Emmanuel – Guitar Players' Guitarist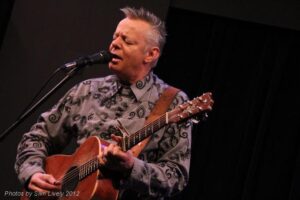 Tommy Emmanuel, widely acknowledged as the international master of the solo acoustic guitar, has achieved enough musical milestones to satisfy several lifetimes. Or at least they would if he was the kind of artist who was ever satisfied. At the age of six, he was touring regional Australia with his family band. By 30, he was a rock n' roll lead guitarist burning up stadiums in Europe. At 44, he became one of five people ever named a Certified Guitar Player by his idol, music icon Chet Atkins. Today, he plays hundreds of sold-out shows every year from Nashville to Sydney to London. All the while, Tommy has hungered for what's next. Tommy's musical diversity, the range of expression that stretches from authentic country-blues to face-melting rock shredding, by way of tender and devastating pure song playing is testament that he can cover it all with a technique all uniquely his own.
Aladdin Theater, 3017 SE Milwaukie Ave., Thursday, December 6th, 8:00 pm. Tickets $39.50 advance at Ticketfly.com, $45.00 at the door. All ages.