Watch Out Memphis, Ben Rice is Headed Your Way!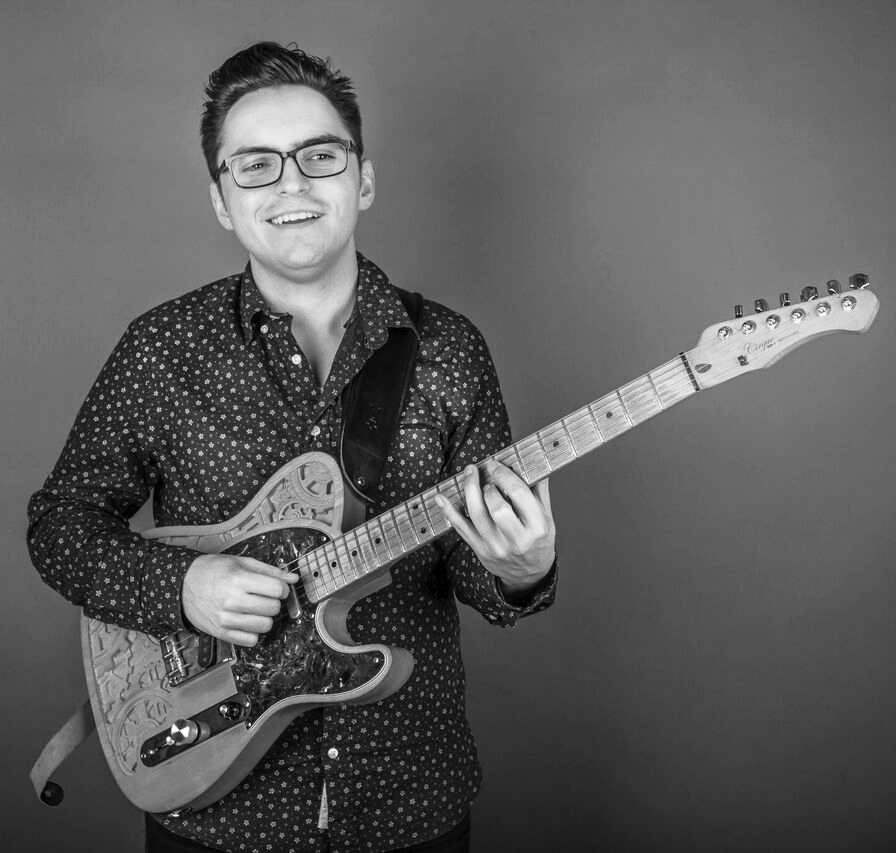 They say third time is the charm, and that's what Ben Rice is hoping. He won the privilege to represent the Cascade Blues Association (CBA) at the International Blues Challenge (IBC) for the third time. He was in Memphis for the IBC in 2007 (Ben Rice & The Youth of Blues), 2014 (Ben Rice & The iLLamatics), and will return to compete in January of 2019 (Ben Rice Band.) He's hoping 2019 will be his year to bring home the win for himself and the CBA.
In 2015 he and Lucy Hammond represented the Ashland Blues Society, making it to the finals in the solo/duo category. He wowed the crowds with his rendition of "Key To The Highway." That year he was awarded the St. Blues Guitarist award for best guitarist.
The Beginning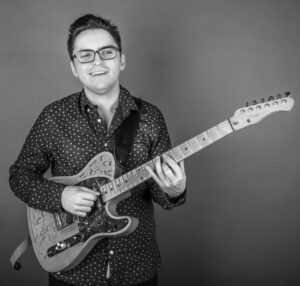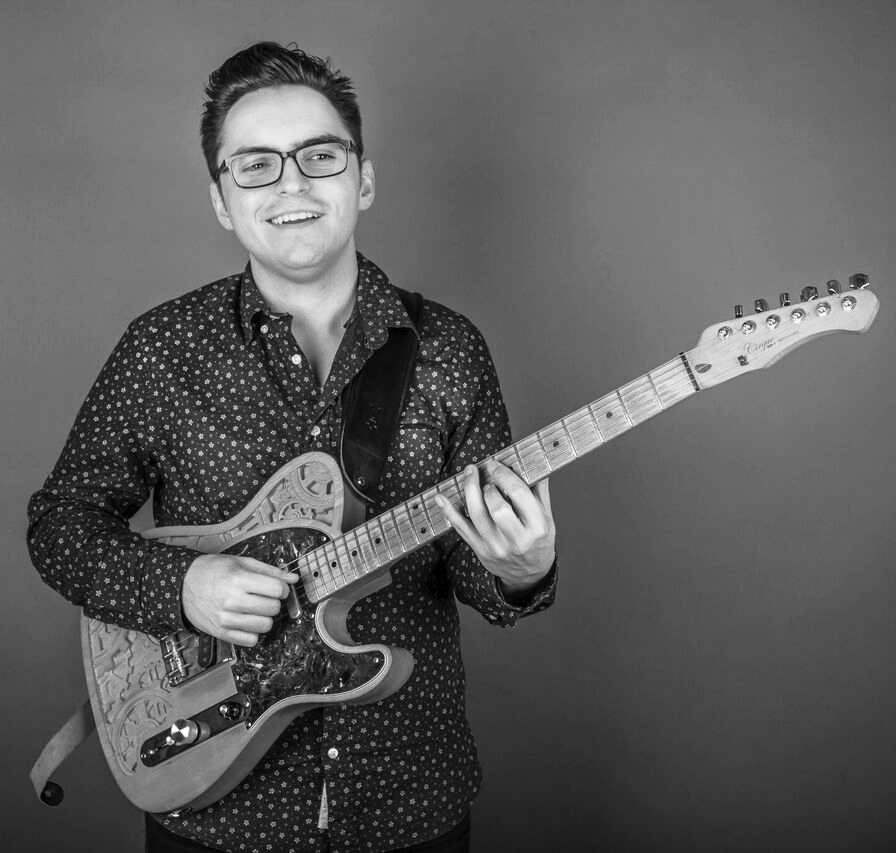 Ben began performing in a garage band at the age of 12. The band consisted of his brothers: Andy on drums and Tommy on Bass. He continued to perform and eventually started his own band with classmates and continued to perform though middle school, high school, and college. In those early years, Ben would frequently be seen at CBA events, watching and learning from Portland's finest.
The current configuration of The Ben Rice Band includes Ben Rice, Calen Uhlig on bass, and Dave Melyan on drums. The band frequently expands to include other players such as Paul Biondi on horns, Dave Fleschner, Ben Partain, on keys and Mark Banner on drums when Dave Melyan is on the road.
This lineup has been together for about 4 years. Ben and Calen met each other at Chad Rupp's Jam a few years back. Calen played as a substitute for about a year then joined on as the bassist. Dave and Ben met each other at Duff's Garage during a B3 Organ monthly residential gig called Blues Train. Quickly after that they started performing with Dave Fleschner in a B3 Organ group and started a weekly Thursday gig at The Lodge. This group currently plays every Tuesday at Catfish Lou's from 7-10pm.
"We all grew up in the Portland area and our music has certainly been inspired by the Portland music scene. We have had many long drives sharing stories about how we got into playing blues music and who inspired us. Often putting in CD's like Margo Tufo's Live At the Candlelight, Lloyd Jone's Trouble Monkey, Damian Erskine's So To Speak, Paul deLay's Ocean of Tears, and more," Ben said.
When asked if he always wanted to perform professionally or if not, Ben said, "I think everyone wants to be a rockstar when you're 14. I just loved to play guitar as a child. Performing was never the main motivation personally. Especially after I graduated from college, performing definitely was an afterthought, next to writing and learning songs. I think having grown up with three brothers who were all naturally entertaining on stage, I realized I'd have to work hard to be comfortable and appear that it came naturally. For me the choice of playing music professionally came when I started to look at colleges and learned I could study guitar in school. When I learned I could pursue guitar as a major I had found my path."
Ben plays music full time with very limited teaching on the side. "Over the last four years I had been teaching guitar students privately and an after school mariachi program at the Chehalem Cultural Center. Within the last year and a half though my performing and touring schedule has been very dense not allowing me the time to teach or be consistent enough to hold down regular students. Which has been very difficult to step away from completely because I really enjoy teaching music. I really love helping people grow their love and understanding in music. Teaching has also added a lot more depth to my playing helping students study and work on music that I normally wouldn't approach myself. Teaching makes me focus on finding multiple ways to think about the same concepts. Right now my full time job is performing and I currently play Monday nights in Gresham at Spud Monkey's on Fairview, Tuesday nights at Catfish Lou's with a B3 Organ trio, Wednesday at Voodoo Martini in Newberg, Thursday at Clyde's Prime Rib with my band as well as playing Fri and Sat night various places on the West Coast," he said.
Ben describes his music as a blend of blues, funk, soul, and Americana rock. Blues has, and will always be, at the forefront of the sound that comes out when I play or sit down to write a song. That being said, my musical goal currently is to play music that I write and songs that inspire me. I'm also trying to write songs that have weight and meaning."
Influences
Musical influences have helped Ben become the musician he is. "I believe anything you've ever listened to influences the music you create. Growing up my parents listened to people like Al Green, Teddy Pendergrass, The Isley Brothers, Average White Band, Marshall Tucker, Steely Dan, Alice Cooper, ACDC, Bob Marley. At age 7 I began finding my own music through guitar lessons." He says B.B. King, Robert Cray, Jonny Lang, Albert King, R.L. Burnside, John Hurt, Robert Johnson, Fred McDowell,  Keb Mo, among others, were some of those influences.  "When I went to college, I began to study the jazz guitar of Kenny Burrell, Grant Green, Wes Montgomery, and Tal Farlow. I also got turned onto people like Sam Cooke, Dwight Yoakam, O.V. Wright, Thomas Mapfumo, Oliver Mtukudzi. Right now I'm listening to a lot of Bobby Bland, Jon Cleary, Anderson Paak, and Vulfpeck, among other things."
Training
Ben began guitar lessons when he was seven and studied music in school through college. "I definitely recommend lessons, but there are a ton of amazing musicians who are self taught. Some of the most important things I ever learned were from watching and listening to people play. Both on the bandstand and off the bandstand," he said.
CD's
Ben's seventh album was released in late June, titled, Wish The World Away. "I recorded it over the last year and a half at Roseleaf Studio. It was recorded and mixed by Jimi Bott who did a fantastic job with it. It is a pile of original songs with one song that I've been having a lot of fun playing at my live shows, 'Higherground.' I had a really fun time making the album. Each song was treated as it's own work of art and the arrangements and orchestration of each song is different. This time around I tried to hear what each song was needing rather than playing the song as written. We built arrangements around the story and emotional content of the sounds. So far, reviews have been really great, which I am really excited about."
Ben also has a live recording called, Live At The Purple Fox Loft. "This was a live release and snapshot of the band when it was sounding the best it had ever sounded at that point," he said.
No other CD's in the near future, but Ben says the writing process is always continuous. "There are a few recorded band tunes waiting in the wings for when the summer craziness settles down and we're able to get back into the studio."
In Closing
"A huge THANK YOU to everyone who is part of the Cascade Blues Association and local Portland music scene! The band and I travel near and far. We are always grateful to come home to a great city filled with incredible talent that you can see any night of the week and be inspired!"
For all the up-to-date information and where you can catch Ben Rice live, visit his website at https://www.benricelive.com/. Be sure to watch for upcoming fundraisers to help the band make their way to Memphis in January.
https://cascadebluesassociation.org/wp-content/uploads/2018/07/benriceby-Sam-Gerke.jpeg
853
896
Wendy Schumer
https://cascadebluesassociation.org/wp-content/uploads/2020/10/CBA_Logo_top_main.png
Wendy Schumer
2018-07-25 10:34:37
2018-07-30 16:34:19
Watch Out Memphis, Ben Rice is Headed Your Way!