William Chapin – Guitar Superman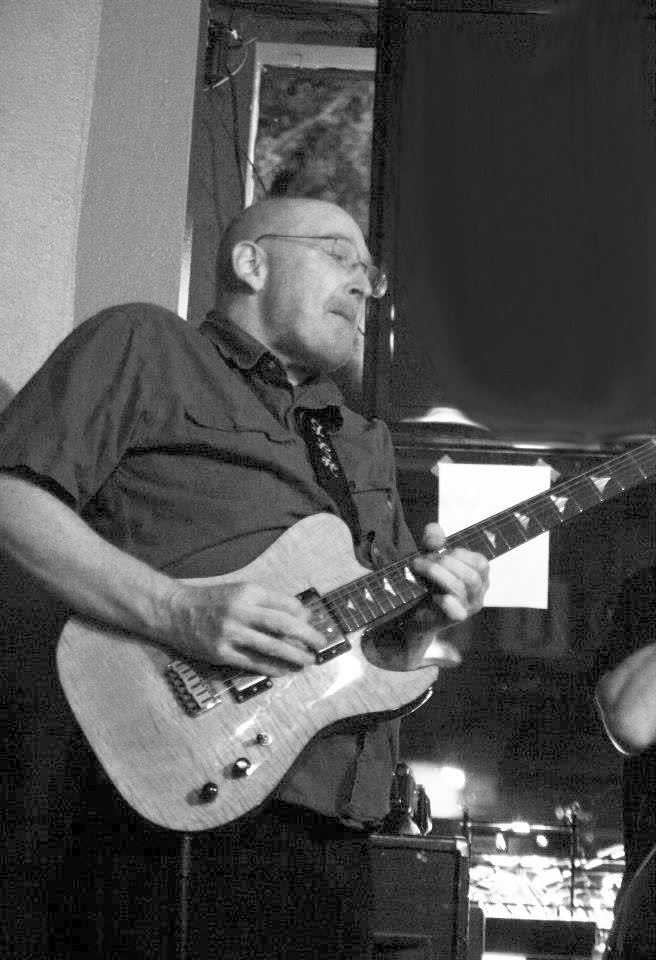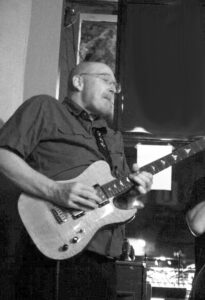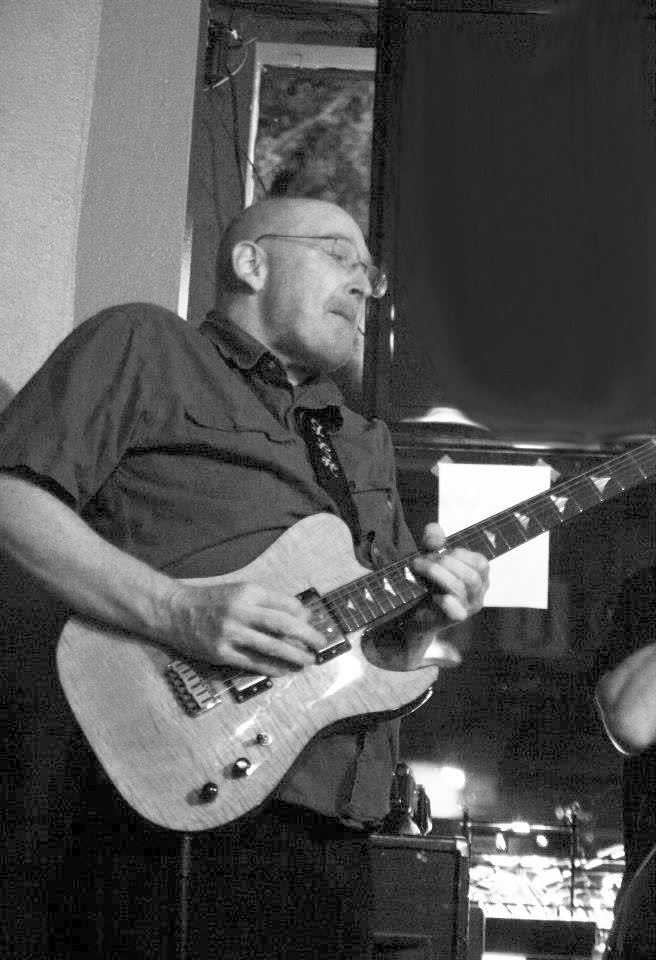 He's like a super hero — guitar builder by day and guitar player by night. That's the life of William Chapin, who has been playing music professionally for over 30 years. "I always loved music, but really was struck with the bug to play in high school. I did repair work on instruments before I really played," he said. His day job is building custom guitars, basses, and wind pickups. His clients include Kirk Fletcher, Kid Andersen, Lloyd Jones, Eddie Martinez, and Josh Smith, among others.
William describes his music this way: "The core of everything I do is blues. It may lean towards soul, Latin, rock, jazz, psychedelic, or wherever…but it is all flavors of blues. The song is the foundation. I certainly stretch on things, but it isn't form stock or cut and paste, it all goes back to singing the song harmonically through the guitar and rhythmically supporting, improvising and interpreting compositions. "
"I put myself all in when I play. I have a perspective, and try to get that across. I just try to get 'me' across and try not to worry about being a guitar slinger, which plenty of people can do far better than I."
Musical Training
"I took lessons in college from some talented players including Dave Creamer (who played with Miles Davis), Billy Johnson (who played with John Lee Hooker and a bit with Chet Baker), Rick Vandivier, Tim Volpicella and saxophonist Hafez Modirzadeh (Chris Cain had the lesson slot after me)."
Influences
His list of influences include many blues greats—BB King, Hubert Sumlin, Albert Collins, Freddie King, Billy Butler, Jimmie Vaughan, Luther Tucker, Otis Rush, Earl Hooker, John Lee Hooker, Snooks Eaglin, Horace Silver, Jim Hall, Kenny Burrell, Bill Frisell, Harvey Mandel, Pat Martino, Peter Green, Mike Bloomfield, Clarence White, Ry Cooder, David Lindley Jerry Reed, Jim Nichols, Hugh McCracken, Eddie Hazel…the list goes on and on.
CD's
William has a CD in the works with his band Catahoula Soul Stew. "We have to finish up, hopefully by the end of this year. "
Bands and Other Musicians
William currently plays in a band called Catahoula Soul Stew with Mitch Kashmar, bassists Federico Pol or Allen Markell, drummers David Melyan or Ed Pierce, and keyboardist Pat McDougall. Previously he played with Stan Ruffo, Ben Partain, and Dave Meylan.
He also plays with Monterey Purple, a rock/blues/folk band playing California music of the late 60's, with Phil Garfinkel, Carey Rogers, Paul Noel and Keesha Wallace; and The Unspoken Four, blues and rock with Phil Garfinkel, Carey Rogers, and Paul Noel.
"I've been lucky enough to work with truly remarkable players, both as a sideman and in groups of my own," he said. They include: Duke Jethro (B.B. King's organist and the piano player on his Live at the Regal album), D.K. Stewart, Billy Johnson, jazz guitarist Scott Sorkin, Lady Kat, Blues Train, Mike Sarver (blues singer/harmonica/guitarist), Buddy Smith, Ned Torney (syndicate of sound/Chocolate watchband), Fuzzy John Oxendine (Moby Grape/Rhythm Dukes), Bryant Mills (John Lee Hooker's Coast to Coast Blues Band), Stan Poplin (Robben Ford/Jimmy Witherspoon), and Bob Boehm (Spang a Lang, Witherspoon). "Also some side projects with people like Phil Wagner, John Neish, Billy Blue, Dennis Lusk (All Bald Blues Band), Chris Carlson, David Kahl, Randy Monroe, Ed Neumann, Melissa Buchanan, Joe Conrad, Mike Klobas, and Les Hutchinson, as well as others that I know I am forgetting."
In Closing
"The Portland area is a really fertile ground musically, the sheer level of talent here is truly staggering. On top of that, it is a tremendous community, and I am truly proud to be a part of that community," William said.
Monterey Purple and Catahoula Soul Stew have Facebook band pages you can visit to see about upcoming shows.
https://cascadebluesassociation.org/wp-content/uploads/2017/06/chapinby-tonykutter.jpg
960
656
Wendy Schumer
https://cascadebluesassociation.org/wp-content/uploads/2020/10/CBA_Logo_top_main.png
Wendy Schumer
2017-06-23 17:43:35
2017-06-27 08:17:36
William Chapin – Guitar Superman