Young Guns Of The Blues Return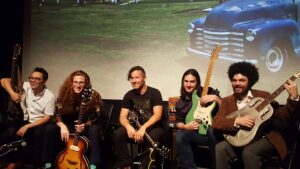 Both earlier performances of The Young Guns of the Blues have been hits with their audiences, and they intend to keep the fun growing as they become more accustomed to working with each other. These five young guitarists offer their performances as an old-fashioned guitar circle, playing together as each member takes a turn as lead guitar. This intimate show will include three-time 2019 Blues Music Award nominee Ben Rice along with 2018 Willamette Week Best of Portland winner Kivett Bednar, traditional American music historian and recreator Tevis Hodge Jr, blues & jazz finger-stylist Justus Reece, and teenage prodigy songwriter and player Timothy James. Each musician has represented the Cascade Blues Association in Memphis at the International Blues Challenge over the years. Presented by Cherie's Blues Highway in association with At The Garages Satellite Pub.
At The Garages Satellite Pub, 4810 SW Western Ave., Beaverton. Sunday, August 18. 5:00 pm. Admission $10.00. All ages.