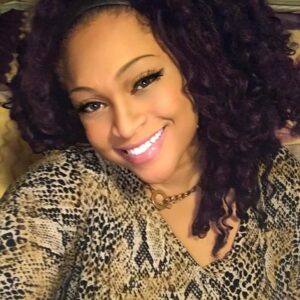 Mississippi blues diva JJ Thames has certainly collected her share of accolades. Legendary "Misty Blue" recording artist Dorothy Moore dubbed her "future of the blues" and Living Blues Magazine calls Thames a true "blues trailblazer." Known as is the "leave-it-all-on-the-stage" front-woman of the Violet Revolt, she possesses the mesmerizing je ne sais quoi star-quality of Tina Turner, Etta James, Janis Joplin, Koko Taylor, and Ruth Brown — all in one raw, often wistful, powerful, and passionate voice. Her voice and stage presence is one that often incites goosebumps, tears, encores and standing ovations. Capable of commanding the attention of any room whether it be a 100 person capacity, hole-in-the-wall Mississippi juke joint, or a 20,000 seat stadium.
Thames has been wowing audiences since first being shown the ropes of performing at an early age from the likes of Bobby Bland, Denise LaSalle, Peggy Sott Adamas, and Marvin Sease. On the road since she was 18, she is known for grabbing an audience's attention with her funny anecdotes, messages of hope, positivity, love, and encouragement.
JJ Thames & The Violet Revolt will be appearing in Portland on Saturday, January 13 at Jack London revue, 529 SW 4th Avenue. This is a 21 & over only show, starting at 9:00 pm. Tickets are available at Ticketweb.com for $12.00.
For those in Southern Oregon, Thames and the band will be performing in Ashland on Monday, January 8 at Southern Oregon University's Center for the Visual Arts at 6:00 pm. Then on Tuesday, January 9, they will be performing in Medford at the Grape Street Bar & Grill at 7:00 pm. And on Thursday, January 11, she will appear at the Axe & Fiddle, 657 E Main Street in Cottage Grove at 7:00 pm. Contact the venues for ticket information.